Concrete Kibbles
+ Add to Quote Request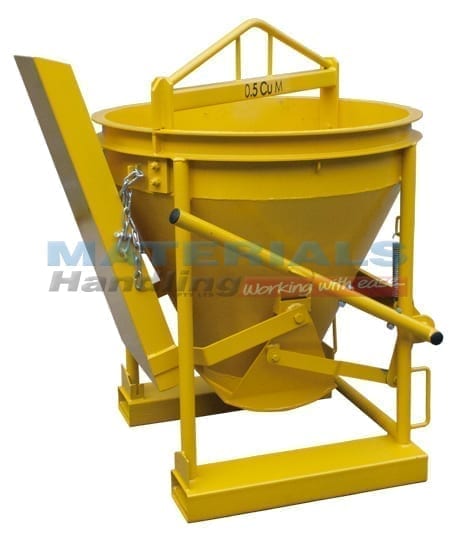 Our Concrete Kibbles easily transfer concrete on site via overhead cranes. Adopted on many work sites as a great way to handle materials, these models are available in 0.5, 1.0 or 1.5 cubic metre capacities.
Designed to be lightweight with heavy duty abilities, they feature optional discharging points – either via the bottom of the unit or on the side, with the use of an adjustable chute. All models are lever operated for flexible use and heightened user control. Easily transport around a working environment or job site with its included forklift pockets.
Concrete Kibbles are also available with an additional Concrete Funnel. This accessory helps facilitate safe and manageable pouring of concrete.
Additional Information
Choose from our range of Concrete Kibbles to find the model that best suits your application!
These particular Concrete Kibbles all feature a durable painted 'safety yellow' enamel finish. Designed in accordance with relevant Australian Standards, each model is supplied with a serial plate and certificate of compliance. For further information, download our comprehensive product specification sheets.
MCK05 Concrete Kibble
Volume Capacity of 0.5 cubic metres
Safe Working Load (WLL) – 1500 kg
Unit Weight – 260 kg
Fork Pocket Size – 185 x 60 mm
For Pocket Centres – 800 mm
MCK10 Concrete Kibble
Volume Capacity of 1.0 cubic metres
Safe Working Load (WLL) – 3000 kg
Unit Weight – 320 kg
Fork Pocket Size – 165 x 65 mm
For Pocket Centres – 870 mm
MCK15 Concrete Kibble
Volume Capacity of 1.5 cubic metres
Working Load Limit (WLL) – 4000 kg
Unit Weight – 415 kg
Fork Pocket Size – 185 x 60 mm
For Pocket Centres – 870 mm
Now with Remote Control Hydraulic Functions!
Turn your Concrete Kibble into wireless operation with this hydraulic option. This function allows the machine to open, move and close with the touch of a button. Facilitating workplace safety and increasing operator control, this enables an operator to stand clear of the point of pouring. Operation is now effective and easier to complete.
Please note, the Wireless Remote Control is only available for the MCK10 and MCK15 Concrete Kibble models.
Improve your pouring processes with the additional Funnel attachment!
The MCKUF200 Concrete Funnel Tray and Hose allows for easy pouring of concrete into columns or any confined space. The unit is supplied with a lay-flat hose, 1.5 metres in length. It ensures that the concrete flow is smooth, safe and controlled, reaching the delivery point with no spills or leakages. This model can be retrofitted to existing kibbles. It is installed or removed in seconds. The kibble chute does not have to be removed when using the funnel tray.
Specifications:
Fitted with a 1.5 m lay-flat hose for smooth concrete flow
Tray Dimensions – 772 x 702 x 228 mm
Unit Weight – 17.5 kg + hose weight
200 mm opening flange
Lifting handles for positioning
Fast and easy to install
Enamel paint finish
Not what you're after?  Continue to explore some of our other options for Concrete Equipment.
Click the PDF button to learn more.
Product Variations
| | | | | |
| --- | --- | --- | --- | --- |
| | Concrete Kibble 0.5 cubic metre | MCK05 | $3,120.00 | |
| | Concrete Kibble 1.0 cubic metre | MCK10 | $3,880.00 | |
| | Concrete Kibble 1.5 cubic metre | MCK15 | $6,140.00 | |
| | Concrete Kibble Funnel only | MCKUF200 | $550.00 | |
| | Wireless and Hydraulic Option for Kibbles | MHPP-REMOTE | $6,930.00 | |