Chain Hoists – Manual any angle YaleLift
+ Add to Quote Request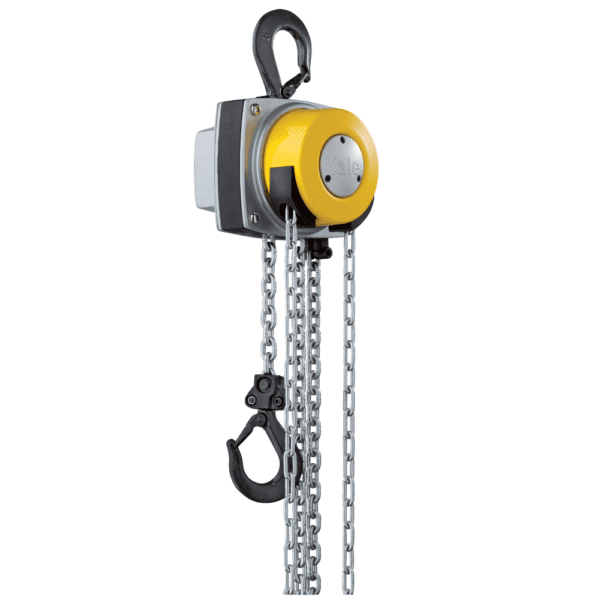 The YaleLift-360 Manual Chain Block is a revolution in the world of manual hoists! It combines technical innovation with a modern and robust design to create an incredible lifting and handling solution. Its strong construction makes it appropriate for a wide range of applications. The load is even secured in any position thanks to an incorporated load pressure brake.
Made in Europe, this lifting aid is high-quality, robust and application-orientated. The design features a patented rotating hand chain guide, which makes it unlike other chain blocks of its kind. This revolutionary 360° operation allows the work to operate from virtually any position. This ensures the device is also simple and flexible to use.
The YaLelift-360 handles loads between 500-2000 kg. It can be easily integrated with pushed or geared trolley.
Additional Information
A revolution in the world of manual hoists!
The YaleLift-360 ATEX Hoist is specifically built for explosive and hazardous environments. It's ideal for a range of applications and suits industries like wood processing, chemical processing, agriculture and farming, mining, oil and gas, and waste disposal (just to name a few!). It features a patented 360° rotating hand chain cover, that allows loads to be lifted, pulled and positioned from any angle. It offers the operator a safe way to handle the load, without needing to stand under the load.
Extremely easy to use and operator friendly
This option ensures the user can easily move and operate the device, away from the heavy load and out of harm's way. It provides spark, explosion and corrosion resistance, making it extremely safe for use in harsh environments. With trusted reliability, these units are built to last and perform lifting tasks with precision.
Reliable load guidance
The gearbox and chain guide are completely enclosed. This allows the internal gearbox to be protected in even the most extreme situations.
Compact and flexible construction
Because of the extremely low headroom, the lifting height of the device can be used to its full potential. The load chain is moved precisely thanks to the reinforced load sheave with four precision-machined pockets.
High-quality load chain
The hoist features surface-protected zinc-plated or yellow chrome alloy steel load chains. As a result, it complies with national and international regulations and standards. They are perfectly fitted to the load sprocket and assure the device's safe and long-term functioning.
Easy to maintain
High tensile steel is used for drop forged load and suspension hooks that give instead of breaking under load. The hooks have strong safety locks and revolve 360 degrees.
Conventional load pressure brake
In all manual hoists across many markets, the Weston-type load pressure brake is still in use. This axial braking pressure is created by the load itself and is thus always proportionate to the magnitude of the load, especially while the load is always kept safe in any position. When lowering, the difference between the brake-momentum and the load-momentum must be overcome before the brake may be opened. Due to the associated load, the brake will automatically close during the whole lowering procedure.
ATEX design
All our YaleLift-360 Manual Chain Blocks feature ATEX designs. Copper-plated bottom blocks/hooks are utilised in the ATEX Medium variant. The medium version's trolley wheels are similarly constructed of solid bronze.
Choose the right model for your application!
The YaleLift comes in three designs to help improve your lifting and handling abilities. Not sure which one you require? Ask our Sales Team for more information!
YaleLift Standard
A classic chain hoist with lifting capacities of between 500-20000 kg. Both, the type of application and the operating conditions go far in this model. Available with optional overload protection.
YaleLift IT
A Hand Chain Hoise that features an integrated push or geared trolley. When the Yalelift-360 is combined with a low-headroom manual trolley, the application becomes even more versatile. It is suitable for capacities ranging from 500 to 20000 kg.
YaleLift LH
Hand Chain Hoist with integrated push or geared trolley and suitable for low headroom. The YaleLift LH hand chain hoist with integrated low headroom manual trolley is a natural progression from the Yalelift IT. This model is appropriate for situations when even less headroom is required. It suits capacities ranging from 500 to 10000 kg.
Please Note: These hoists and trolleys are not designed for passenger elevation applications and must not be used for this purpose.
Require an alternative solution? 
Continue browsing our wide range of Hand Hoists and Trolleys!
Click the PDF button to learn more.
Product Variations
| | | | | |
| --- | --- | --- | --- | --- |
| | Manual Chain Block 500 kg | YALE360-0.5 | | |
| | Manual Chain Block 1-Tonne | YALE360-1 | | |
| | Manual Chain Block 2-Tonne | YALE360-2 | | |
| | Manual Chain Block 3-Tonne | YALE360-3 | | |
| | Manual Chain Block 5-Tonne | YALE360-5 | | |
| | Manual Chain Block 10-Tonne | YALE360-10 | | |
| | Manual Chain Block 20-Tonne | YALE360-20 | | |