Wheelie Bin Rotator Base
+ Add to Quote Request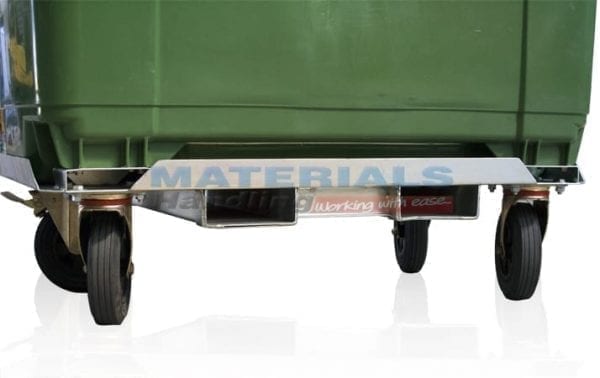 The MW660RB Wheelie Bin Rotator Base is a robust metal attachment that allows complete rotation of a bin. When secured to a forklift, a 660-litre wheelie bin can be turned up 360° degrees. This allows for efficient handling and emptying of bins.
The Base increases the overall functionality of industry-standard bins. In the workplace, it provides an alternative solution to waste management. The device allows heavy loads, up to 500 kg, to be emptied with ease. Each MW660RB unit features a zinc plated finish, with bolts and an optional tow hitch attachment.
Please note, wheels are not supplied as standard with base plates. They are removed from wheelie bins and refitted to the rotating base with supplied bolts. Bins (MW660B) and Bases (MW660RB) can be purchased separately or as an assembled unit (MW660PRB).
Additional Information
Our Bin Rotator Base is a great option for waste management!
With a sturdy and heavy-duty design, the MW660RB is a great handling solution. Fitted with fork pockets that bolt to a wheelie bin in four locations, they increase functionality and productivity in the workplace. The base can rotate 660-litre bins 180° degrees for emptying and 360° degrees full circle. An optional Tow Hitch MW660T is available and can be fitted to the device to allows multiple bin transport (via a towing vehicle).
Specifications of MW660RB:
Working Load Limit (WLL) – 500 kg
Unit Weight – 30 kg
Fork Pocket Size – 160 x 60 mm
Fork Pocket Centres – 365 mm
Zinc Finish
Tow Hitch MW660T Unit Weight – 7 kg (including tow are and tow point)
Purchase as a complete unit!
Purchase as a complete unit, with an assembled 660 L Wheelie Bin and Rotator Base. In this model, the wheelie bin is also fitted with fork pockets for rotation and emptying of the bin (on a forklift fitted with a rotator attachment). It's ideal for building site clean-ups and the 660 L suits high volumes of waste and recycling.
Specifications of MW660PRB:
Capacity – 660 litres
Dimensions (mm) – 1370 x 780 x 1246
Unit Weight – 72 kg
Fork Pocket Size – 160 x 60 mm
Fork Pocket Centres – 365 mm
Bin Colour – Blue
Bin Material – HDPE
This unit is stackable x 3 bins high.
Need an alternative solution?
View our extensive range of Forklift Attachments and find the right tipper for your application.
Click the PDF button to learn more.
Product Variations
| | | | | |
| --- | --- | --- | --- | --- |
| | Wheelie Bin Rotator Base | MW660RB | | |
| | Optional Tow Bar Attachment for MW660RB | MW660T | | |
| | Wheelie Bin fitted with Rotator Base | MW660PRB | | |
| | Wheelie Bin (Blue) | MW660B | | |