Tipping Bins (Lever Release)
+ Add to Quote Request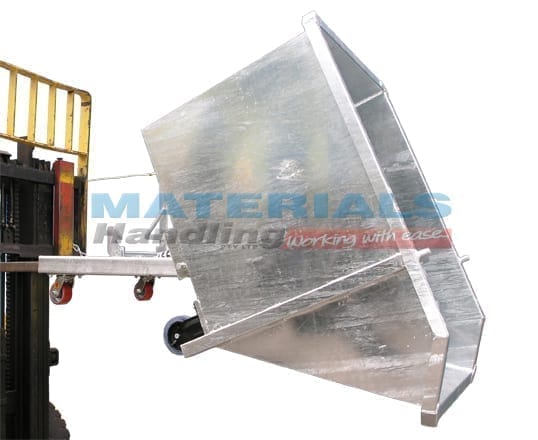 The MTU range of Tipping Bins provide a heavy duty option for waste storage and handling. They feature a low profile design, which adds to their versatility when used in confined spaces. Their pouring lip and smooth edges ensure the Lever Release Tipping Bins are suitable for food industry applications as well.
When using the bin, the tipping release mechanism is activated by a forklift operator. Tipping Bins spring to life when the pull cord is drawn, from the drivers seat. Having a forward centre of gravity allows the bin to tip. After emptying, the bin can be lowered and closed by driving backwards.
Tipping Bins also feature a custom built shock absorber, fork pockets and safety chains. Optional crane lugs, wheel kits, drain valves and strainers are available.
Additional Information
Tipping Bins are great for waste disposal, storage and food industry applications!
Our Tipping Bins provide a unique solution to bulk handling.  With shock absorbers that prevent impact forces being transmitted to a forklift driver, they are safe, durable and easy to use during the tipping cycle.  Fork pockets and safety chains allow for quick connection to and from a forklift.  Their low profile design suits a variety of applications and makes the bin easy to clean and maintain. Manufactured from 3 mm plate, the bins have a galvanised finish as standard. Optional painted finishes are available.
Crane lugs
Cast iron or rubber wheels
Drain cocks & strainers
Lids manufactured from 1.6mm sheet
Stainless steel or painted finish
Product Variations
Image
Description
Product Code
Price (excl. GST)

Volume 0.5 cubic metre
Weight 185kg
Dimensions (LxWxH) 700x1450x1000
SWL 700kg

MTU6

Volume 0.75 cubic metre
Weight 200kg
Dimensions (LxWxH) 1000x1450x1000
SWL 700kg

MTU9

Volume 1.0 cubic metre
Weight 215kg
Dimensions (LxWxH) 1300x1450x1000
SWL 700kg

MTU12

Volume 1.25 cubic metre
Weight 240kg
Dimensions (LxWxH) 1600x1450x1000
SWL 1000kg

MTU15

Volume 1.5 cubic metre
Weight 260kg
Dimensions (LxWxH) 1900x1450x1000
SWL 1000kg

MTU18