SmartLift – Scissor Lift Tables
+ Add to Quote Request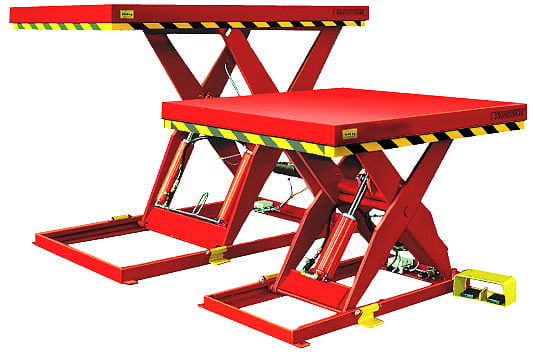 Our SmartLift Scissor Lift Tables improve manual handling processes and reduce the risk of worker injuries or strains. They successfully bring handled products to an optimal and ergonomic working level. This allows for smooth and safe unloading/loading procedures to take place. As a result, SmartLift will:
Increase production efficiency.

Enhance safety.
Reduce work-related fatigue.
Improve product quality.
Reduce physical and mental stress.
Improve employee morale.
Reduce direct costs for insurance, medical and sick leave.
Reduce indirect costs for replacing skilled workers, downtime and loss of production.
Optionally, Scissor Lift Tables can be fitted with either a Palring or Paldisc turntable to bring the product to a worker, not a worker to the product.
Additional Information
SmartLift Scissor Tables provide user-friendly control!
The control of the unit is functional, clever, and provides maximum safety with a number of important features, including:
Diagnostic Function

: In the unlikely event of a malfunction, indicator lights pinpoint the fault 

Indexing Function

: During loading, the pallet can be programmed to drop a preset distance when another layer is loaded.

Safety Recoil

: If the safety bar senses an obstruction it will instantly move away from a short distance – ultimate safety.

Safety Bar Alarm

: Sounds when the table comes into contact with an object or person. This provides added safety by alerting others nearby that there is a potential problem.

Cycle Counter

: Lets you know when a service is programmed. This improves the working life and avoids breakdowns.  
Additionally, select either a foot pedal, hand pendant or wall mount push-button control.
SmartLift Scissor Tables exceed the 10-year design requirement of Australian Standards. Thus, this innovative lifting and handling solution meets and exceeds these high standard requirements, especially when compared to alternatively sourced scissor lifts.
Non-standard platforms are also available on request. We welcome your special applications and can customise a turnkey solution for any warehouse.
Require an alternative Scissor Table?
Learn more about Custom Table Details.
Click the PDF button to learn more.
Product Variations
Image
Description
Product Code
Price (excl. GST)

Capacity: 1000kg
Low Height: 175
Raised Height: 1090
Platform: 1300×1150
Voltage: 240v
Weight: 320kg

MAS1900

Capacity: 1000kg
Low Height: 175
Platform: 1300×1200
Voltage: 240v
Weight: 340kg
Raised Height: 1090

MAS1900W

Capacity: 1000kg
Low Height: 200
Platform: 1800×1150
Voltage: 240v
Weight: 500kg
Raised Height: 1420

MAS11200

Capacity: 1000kg
Low Height: 200
Platform: 1800×1200
Voltage: 240v
Weight: 520kg
Raised Height: 1420

MAS11200W

Capacity: 1000kg
Low Height: 250
Platform: 2350×1150
Voltage: 415v
Weight: 850kg
Raised Height: 1860

MAS11600

Capacity: 1000kg
Low Height: 252
Platform: 2300×1550
Voltage: 415v
Weight: 950kg

MAS11600W

Capacity: 1000kg
Low Height: 297
Platform: 2550×1600
Voltage: 415v
Weight: 1050kg

MAS11800W

Capacity: 2000kg
Low Height: 175
Platform: 1300×1150
Voltage: 240v
Weight: 335kg
Raised Height: 1090

MAS2900

Capacity: 2000kg
Low Height: 175
Platform: 1300×1200
Voltage: 240v
Weight: 355kg
Raised Height: 1090
Wide deck version

MAS2900W

Capacity: 2000kg
Low Height: 200
Platform: 1800×1150
Voltage: 240v
Weight: 520kg
Raised Height: 1420

MAS21200

Capacity: 2000kg
Low Height: 200
Platform: 1800×1200
Voltage: 415v
Weight: 520kg
Raised Height: 1420

MAS21200W

Capacity: 2000kg
Low Height: 250
Platform: 2300×1150
Voltage: 415v
Weight: 870kg
Raised Height: 1860

MAS21600

Capacity: 2000kg
Low Height: 297
Platform: 2550×1600
Voltage: 415v
Weight: 1060kg

MAS21800W

Capacity: 2000kg
Low Height: 362
Platform: 2800×1600
Voltage: 415v
Weight: 1300kg

MAS22000W

Capacity: 3000kg
Low Height: 200
Platform: 1300×1150
Voltage: 415v
Weight: 390kg
Raised Height: 1115

MAS3900

Capacity: 3000kg
Low Height: 200
Platform: 1800×1150
Voltage: 415v
Weight: 545kg
Raised Height: 1420

MAS31200

Capacity: 3000kg
Low Height: 200
Platform: 1300×1200
Voltage: 415v
Weight: 410kg
Raised Height: 1115

MAS3900W

Capacity: 3000kg
Low Height: 200
Platform: 1800×1200
Voltage: 415v
Weight: 565kg
Raised Height: 1420
Wide deck version

MAS31200W

Capacity: 3000kg
Low Height: 250
Platform: 2300×1150
Voltage: 415v
Weight: 960kg
Raised Height: 1860

MAS31600

Capacity: 4000kg
Low Height: 310
Platform: 2050×1300
Voltage: 415v
Weight: 610kg

MAS41250