Pallet Lifting Table Lift Pilot
+ Add to Quote Request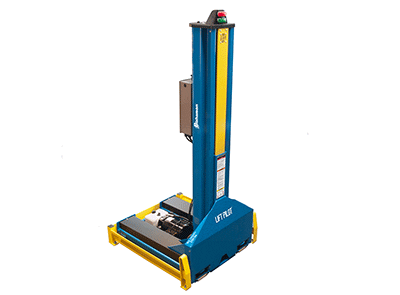 The Lift Pilot is different to any other pallet levelling product currently available! Offering advanced safety features, this unique Pallet Positioner has the smallest footprint within the industry.  Within this space, the device can easily lift pallets or skid loads directly off the floor. Using its telescopic forks, the Lift Pilot ensures complete unobstructed access, without the need for ramps, stumbles or bumps.
A smaller device than its standard competitors, the Lift Pilot makes no compromise for quality. Its unique design allows operators to have full access to a pallet from all sides and ends. This makes pallet loading and unloading incredibly easy as it eliminates the need for reaching. Equipped with state-of-the-art sensors the guide an operator, a pallet can be effectively and correctly positioned.
Designed to operate with the worker in mind, the Lift Pilot is the next generation of clever ergonomic equipment.
Additional Information
The Lift Pilot Pallet Positioner is a beneficial and cost-effective pallet lifting solution. 
It has a number of safety features to have operators working with ease. The device is completely intuitive – it helps an operator guide pallets into place, it alerts when an obstruction is detected and a user is completely protected with its patented 'foot clear' design.  The Lift Pilot also eliminates the need for a forklift and has been specially engineered to work with pallet trucks.
The Lift Pilot handles both pallets and skids, and ensures an operator has complete control of pallet height.  Its inventive space-saving construction includes many smart features – like telescoping forks, pallet presence or obstruction sensors, highly visible function lights at top of mast, voice instructions and a "foot-clear" safety system. Loading and unloading is faster, easier and safer.
Lift Pilot Pallet Positioner Specifications:
Raised Height –  950 mm
Capacity – 1,140 kg
Overall Width – 940 mm
Overall Depth – 1015 mm
Overall Fork Width – 710 mm
Hydraulic Lift and Lower Operation
Individual Fork Width – 170 mm
Fork Lowered Height – 90 mm to 117 mm
Electro-Mechanically Driven Forks
Patented 'Foot Clear' Safety System
Handles pallets from the end or side
Post and Toe Guard anchored to floor
115 V AC Power Operation with Push Button Hand Control
Foot Guard around rear of structure with independent pallet stop at each side of the carriage to prevent impact damage
Learn more about some of our other Pallet Handling Solutions!
Browse our range of Pallet Lifters and Turntables to find the right device for your workplace.
Product Variations
Image
Description
Product Code
Price (excl. GST)

Lift Pilot Floor Level Pallet Lifter
Lifts 1140kg up to 940mm

MLP25