Retractable Dock Safety Barrier- Dok-Guardian®
+ Add to Quote Request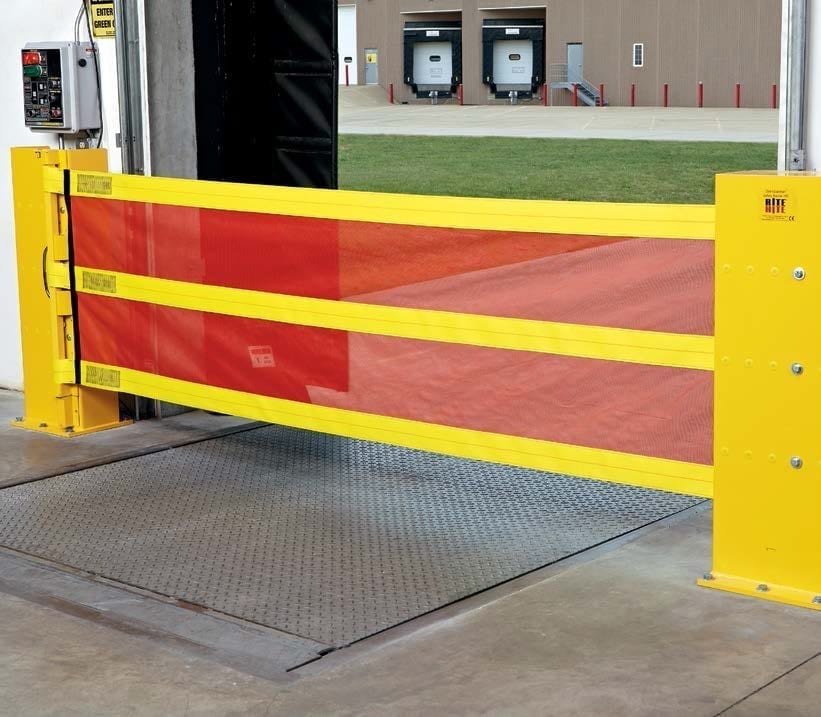 Stop loading dock accidents with our innovative Dok-Guardian! This intelligent solution helps to prevent fork trucks, pallet jacks, and pedestrians from falling off a loading dock. They protect the dangerous 1.2-metre drop off at the loading dock that can result in serious injuries that are sometimes fatal.
Dok-Guardian Safety Barriers are designed to stop up to 13,600 kg. They consist of an 1120 mm high bright-red PVC-coated fibreglass mesh curtain with three bright yellow heavy-duty restraint straps. They also serve as a highly visible warning sign.
With a manual operation, they easily fit across openings up to 5000 mm wide and are anchored on either side by 1220 mm tall safety yellow Warden guards, which provide excellent door track protection. They retract into one of the Wardens when loading or unloading a vehicle. Refer to the BLAST rating chart in the PDF below for complete weight and speed ratings when loading or unloading trailers.
Additional Information
Ensure maximum safety at the loading dock with the Dok-Guardian!
The Dok-Guardian stops carts, pedestrian, fork trucks and pallet jacks from falling off loading docks.
Designed for impact
Dok-Guardian systems are designed to stop heavy-duty loads from falling dangerously off a loading dock edge. They prevent loads from seriously injuring personnel or causing significant damage. Their bright yellow and red design is highly visible and serves as a warning, alerting pedestrians and drivers. It fits across openings up to 5000 mm wide and is anchored on either side by safety yellow warden guards, which provide excellent door track protection.
Fast and easy use
To use the system, simply extend the barrier across the opening. Latch the system and secure it into the warden guard barriers. Store and remove the barrier from the bracket and walk back into position when the dock needs to open. The barrier automatically retracts.
Flexible construction
The Dok-Guarding can be used inside a facility to segregate people from production. It can be integrated with other products to complete a full-customised warehouse solution and ensure loading dock safety throughout all processes.
Require an alternative solution?
Browse our wide range of Loading Dock Safety equipment.
Click the PDF button to learn more.
Product Variations
| | | | | |
| --- | --- | --- | --- | --- |
| | Clear Opening Width 3200 to 3480mm | MDG3480 | | |