Bollards Retractable
+ Add to Quote Request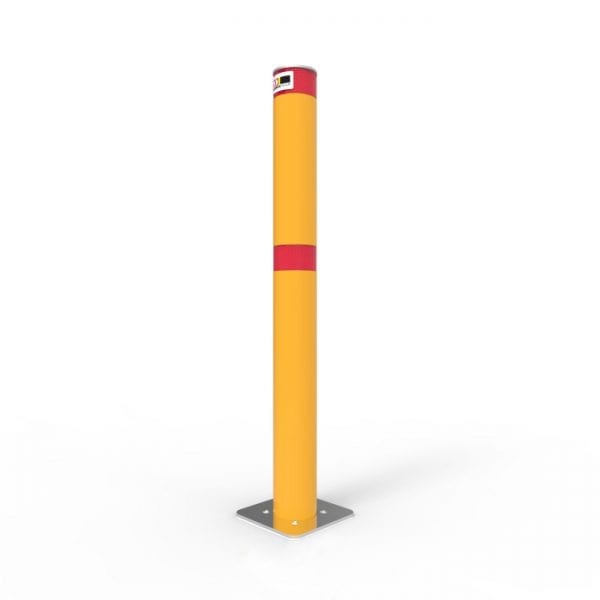 Retractable bollards are designed for medium security applications such as traffic and parking control. The high strength bollard is manufactured from circular tube having a wall thickness of 5mm making it much stronger than similar square designs. Using the unique "T" handle key to access the internal locking mechanism, simply lower the bollard into the inground casing.
Note: Retractables should not be used where high security locking is required, such as car yards etc. For these applications insurance companies insist on our Cam-Lok removable bollards.
Fast – Simple – Trouble free – Only 2 moving parts
Additional Information
Specifications
Description: Retractable bollard for vehicle access and parking control.
Material: Bollards 90mm diameter with 5mm wall mild steel.
Inground casing: 140mm diameter with 5mm wall mild steel.
Finish: Bollards powder coated safety yellow.
Inground casing: 140 mm diameter with 5 mm wall mild steel.
Height: Above ground 900mm. Below, 1150mm.
Locking: Unique internal locking mechanism with 'T' handle key. Tamper and foul proof.
Installation: Excavation and concrete footing.
Product Variations
| | | | | |
| --- | --- | --- | --- | --- |
| | Retractable bollard assembly 900mm – Galvanised & Powder Coated (2xBRKEY-P p.o.) | BR900 | $945.00 | |
| | Retractable Bollard 900mm – Galvanised | BR900-G | $914.00 | |
| | Retractable bollard assembly 900mm – 316 Stainless steel (2xBRKEY-P p.o.) | BR900-SS | $1,282.00 | |
| | Replacement bollard 900mm – Galvanised & Powder Coated | BR900R | $545.00 | |
| | Retractable Bollard Replacement 900mm – Galvanised | BR900R-G | $500.00 | |
| | Replacement bollard 900mm – 316 Stainless steel | BR900R-SS | $1,042.00 | |
| | T' handle key for BR900 & SMTL | BRKEY-P | $35.00 | |