Bollards Knock-Down
+ Add to Quote Request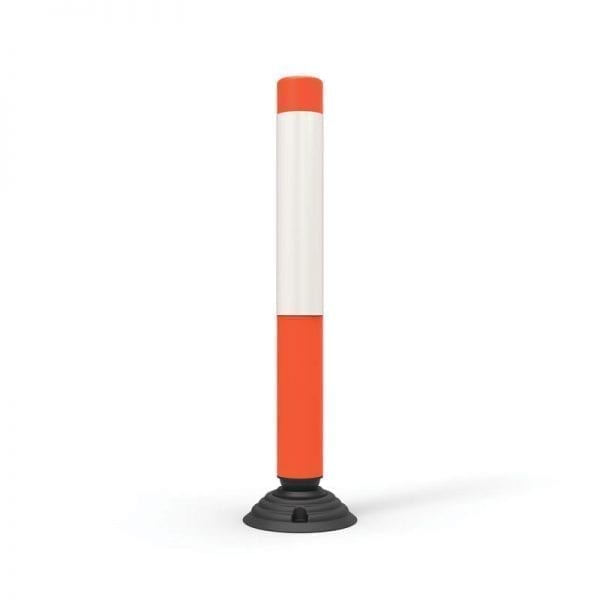 Our Knock-Down Bollards easily rebound if struck or knocked. Causing no damage to the vehicle itself, their elasticated spring allows them to return to their original upright position. This makes them great for use in temporary or permanent delineator applications.
Supplied as a two-piece design, they can easily be stored, assembled and installed as required. The rubber base can easily be fixed with epoxy or masonry anchors, or the bollard can be completely removed from the base. The post twist locks into place and each bollard is manufactured in a high visibility fluorescent orange with a reflective band.
Knock-Down Bollards are soft, lightweight and flexible. Made from a tough polyethylene material, they are durable when positioned, however, they are not designed to be driven over.
Additional Information
Knock-Down Bollards easily rebound and return to their upright position!
These bollards are perfect for use in parking lots, warehouses, construction sites and similar applications. With a flexible build, its elasticated joint allows the bollard to spring back if knocked by a vehicle. The bollard is manufactured in fluorescent orange polyethylene and stands at 1000 mm. Its rubber base can be removed via a twist-lock action.
Specifications: 
Supplied as a two-piece bollard.
Material – Polyethylene with elasticised joint and rubber base.
Finish – Fluorescent orange bollard, black rubber base and reflective bands around the post.
Height – 1000 mm.
Diameter – 100 mm.
Not designed to be driven over.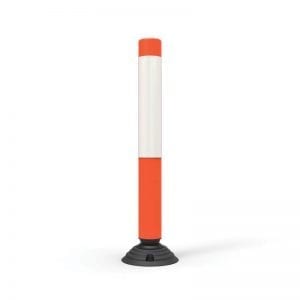 Need another safety solution?
View our great range of Bollards and other Asset Protection equipment and ensure the safety of your workplace!
Product Variations
| | | | | |
| --- | --- | --- | --- | --- |
| | Plastic two piece rebound bollard – 100 x 1000mm | KDB1000 | $60.00 | |
| | Replacement base only | KDB1000B | $32.00 | |
| | Replacement bollard top only | KDB1000T | $45.00 | |