Tub Trolleys Order Picking Prestar
+ Add to Quote Request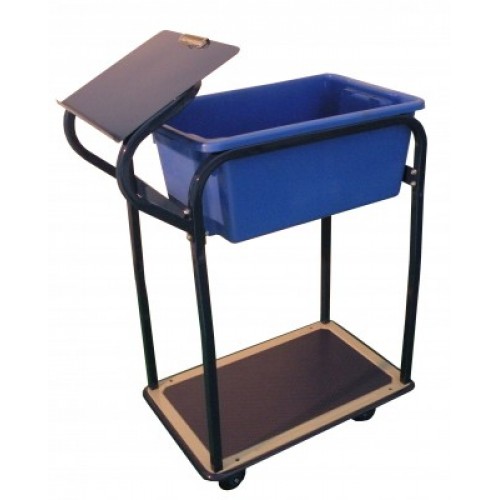 The Prestar Bin Trolley is the perfect companion for order picking duties. Complete with a clipboard holder, the trolley also includes varying levels for supplies. With the tub included, this is a great option for light duties around any workplace.
This trolley allows the load to be maintained at the correct working height, thus eliminating manual handling risks. As part of Prestar's range of quality and modular devices. The Bin Trolley features a durable structure with a pressed steel platform, plastic bumper and anti-peel, non-slip mat.
Avoid imitation models by ensuring you choose Prestar. This trolley comes with a 5-year safety warranty.
Additional Information
The Prestar Bin Trolley is versatile and durable!
These trolleys are ideal for hospitality, healthcare, service and warehouse facilities. They come complete with a tub and clipboard holder, which is suitable for A4-sized documents (like medical charts, stock supply lists, etc.). The Bin Trolley has a working load limit of up to 150 kg and additional brake kits are available (fitted to fixed wheels only).
Prestar Bin Trolley BNBBT Specifications: 
Working Load Limit (WLL) – 150 kg
Platform Dimensions – 740 x 480 mm
Platform Height – 134 mm
Handle Height – 1200 mm
Tub Dimensions – 650 x 405 mm
Castors – 100 mm
Unit Weight – 17 kg
Continue browsing our Prestar Trolleys!
Check out our great selection of Prestar Platform Trolleys.
Click the PDF button to learn more.
Product Variations
Image
Description
Product Code
Price (excl. GST)

Single deck platform trolley with bin level
150kg Capacity
740 x 480mm Platform size
134mm Platform height
1200mm Handle height
17kg Unit weight
100mm Castors

BNBBT