BRUTE Storage Containers and Dollies
+ Add to Quote Request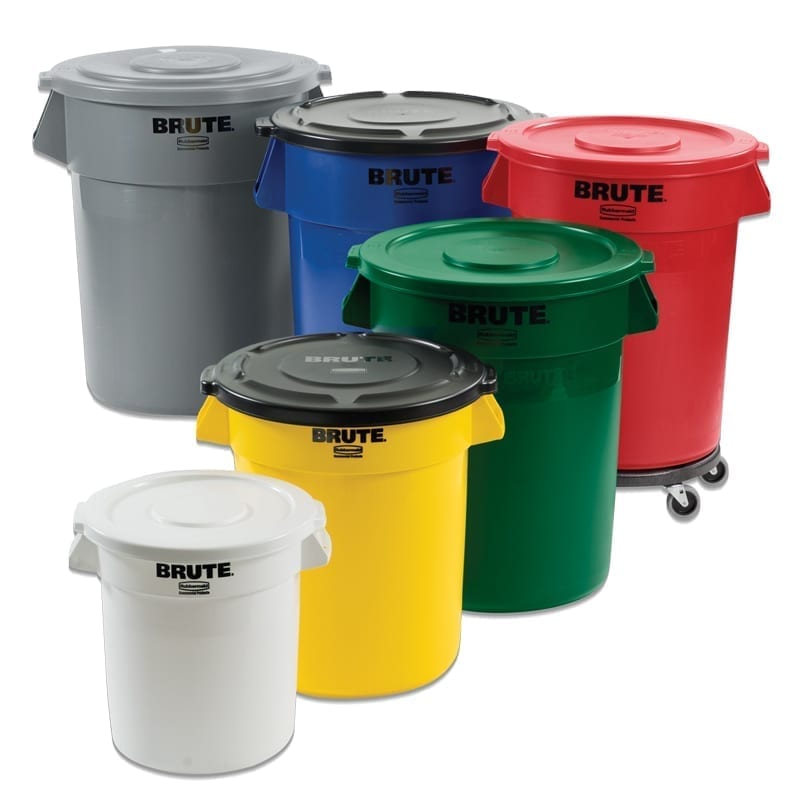 Our BRUTE Storage Containers are professional-grade storage units and are a leading product in the industry. Used mostly for waste and materials handling applications, these containers are strong enough to resist dents and will not rust, chip or peel. Made from heavy-duty plastic, their double-ribbed base and design increases their durability and dragging capacity. The reinforced rims also provide added strength.
Snap-on lids are also available to add security and stacking abilities. Built-in handles allow for easy lifting, moving and anti-jam nesting. Our Grey and White containers are also food quality controlled.
BRUTE Containers can easily be attached to the M2640 dolly, via a twist on/twist off action. Our BRUTE Round Dollies ensure easy mobility around the workplace. Heavy loads can be manoeuvred simplistically, as the swivel castors provide added strength, long life and durability.
The M2640 suits M2620 (75 litre), M2632 (121 litre), M2643 (166 litre) and M2655 (208 litre) BRUTE bins
The D2650 is only for the M2655 BRUTE bin. The bins sit inside the dolly (not twist fit) and also fit standard 205-litre drums
Product Variations
Image
Description
Product Code
Price (excl. GST)

Container without lid
Dimensions (mm): 397 dia x 435 h 37.9
Capacity 37 (L)
Colour: White

M2610WHITE

Lid for M3526
Dimensions (mm): 560 sq x 51 h
Colour: Grey

M3527GREY

Dolly for Brute square containers

M3530

Rectangular container with lid
Dimensions (mm) 708x441x271
Capacity (L) 53
Colour White

M9S30WHITE

Container without lid
Dimensions (mm): 397 dia x 435 h 37.9
Capacity 37 (L)
Colour: Grey

M2610GREY

Container without lid
Dimensions (mm): 495 dia x 581 h
Capacity 75 (L)
Colour: White

M2620

Container without lid
Dimensions (mm): 559 dia x 692 h
Capacity 121 (L)
Colour: Grey

M2632

Container without lid
Dimensions (mm):610 dia x 800 h
Capacity 166 (L)
Colour: Grey

M2643

Container without lid
Dimensions (mm): 673 dia x 838 h
Capacity 208 (L)
Colour: Grey

M2655

Rectangular container with lid
Dimensions (mm) 708x441x271
Capacity (L) 53
Colour Grey

M9S30

Square Container without lid
Dimensions (mm): 546 sq x 572 h
Capacity (L): 106
Colour: White

M3526

Lid for M3526
Dimensions (mm): 560 sq x 51 h
Colour: White

M3527

Lid for M2610
Dimensions (mm): 406 dia x 25 h
Colour: Grey

M2609

Lid for M2620
Dimensions (mm) 505 dia x 32 h
Colour: White

M2619

Lid for M2632 and M2634
Dimensions 565 dia x 35 h
Colour: Grey

M2631

Lid for M2643
Dimensions (mm) 622 dia x 38 h
Colour white

M2645

Lid for M2655
Dimensions (mm): 679 dia x 51 h
Colour: Grey

M2654

Dolly for Brute containers
Dimensions (mm): 464 dia x 168 h
Colour: Black

M2640

Plastic Drum Dolly

D2650