Nifty Lift Wheelie Bin Tipper (30 kg)
+ Add to Quote Request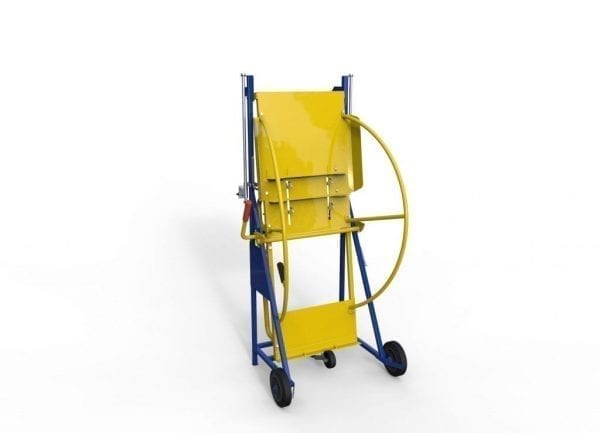 Rid your home or office of waste with our small and strong Nifty Lift Bin Tipper. The device latches onto wheelie bins up to 30 kg and in a full swing action disposes their contents.
This model is small in nature but powerful in action. A manually assisted device, its most suited to operations where 1-2 bins are emptied per day – such as small offices, retail outlets, schools, council depots, caravan parks, factories, and remote locations.
Its unique design saves users from back injuries or lifting strains, as the Nifty Lift tips heavy loads for you, bearing the total weight and ensuring the user is safe at all times.
Additional Information
The Nifty Lift is compatible with 120 and 240 litre wheelie bins. They promote a safe and healthy work environment necessary for long-term production efficiency. The units are mobile, have chutes for product direction, are incredibly simple to use and easily attach to bins full to capacity.
How safe is it?
The Nifty Lift is an ideal solution for activities with infrequent lifting of bins up to 30kg in weight. It protects operators from severe back injuries (associated improper lifting techniques) and simplifies processes. Featuring an innovative safety design with a mechanism to prevent the tipper from lifting if the device isn't secure. If the connection catches are not properly attached, the unit will not move, and if the bin is not placed correctly, the unit will not tip. The Nifty Lift also comes with a safety padlock to prevent unauthorised usage.
 Find out why you need the Nifty Lift:
 How does it all work?
Technical Data and Specifications
Full swing bin lifter
Lifts up to 30kg
Suits 1500mm skip bins
Compatible with 120 and 240 litre bins
Manual assisted lift operation with slow-release gas struts
Suitable for 2 lifter per day, per person
Fits through internal doorways
Made in Australia
Safety features include: padlock, bin catches, and base cradle hook
Comprehensive 12-month warranty available
Nifty Lift not heavy duty enough for you? Click here to access all of our wheelie bin tippers
Click the PDF button to learn more.
Product Variations
Image
Description
Product Code
Price (excl. GST)

Nifty Lift Wheelie Bin Tipper
1500mm Tipping Height
30kg capacity
Manually operated tip with gas strut assist
Cradle accepts 120 & 240L bins

MBLS25