Simplicity Plus Wheelie Bin Tipper (150 kg)
+ Add to Quote Request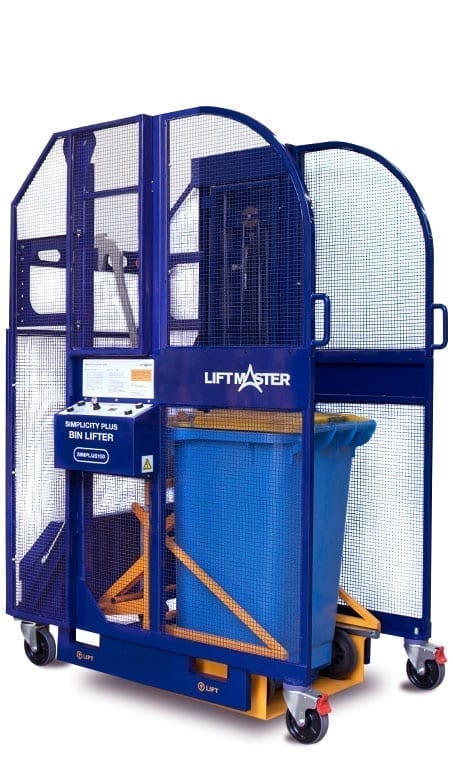 The Simplicity Plus Wheelie Bin Tipper assists in lifting and emptying of a variety of wheelie bins into dumper bins.  Available with a lifting capacity of up to 150 kg, it's suitable for a powerful 100 lifts per person, per day.
With the push of a button, the Simplicity Plus Wheelie Bin Tipper jumps into action.  It's unique and robustly designed hydraulic lift does all the heavy lifting, ensuring an operator is free from any manual handling risks or hazards.  Its construction and features allow for high levels of user comfort during operation and it's incredibly easy-to-use.
Additional Information
Why do you need the Simplicity Plus?
This unit is ideal for medium weight, frequent lifts.  It can perform 100 actions per person, per day, making it an extremely durable and powerful model. A simple push of the button engages the system and it lifts and empties waste within a 40-second cycle.  The bin tipper operates on 12 V rechargeable battery, which means it is portable and can be moved around an organisations.
The Simplicity Plus also features a safety cage to ensure the unit, when in use, is segregated from operators and surrounding environments.  The safety cage eliminates hand and foot crush points of operators and bystanders.
Who uses it?
The Simplicity Plus Wheelie Bin Tipper is perfect for larger offices, construction sites, apartment blocks, waste disposal companies and event organisers, who require to empty wheelie bins several times a day.
Technical Data and Specifications
Lift and tilt action
Lifting capacity of 150kg
Suitable for 100 lifts per person, per day
Features safety panels for added protection during operation

Safety cage eliminates hand and foot crush points

Two models available to suit 1500 and 1800mm skip bins
Compatible with 80, 120, 140 and 240 litre wheelie bins (manual adjustment)
Battery operated (12V rechargeable battery)
Push Button Hydraulic system
Braking castors for stability
Comprehensive 12-month warranty available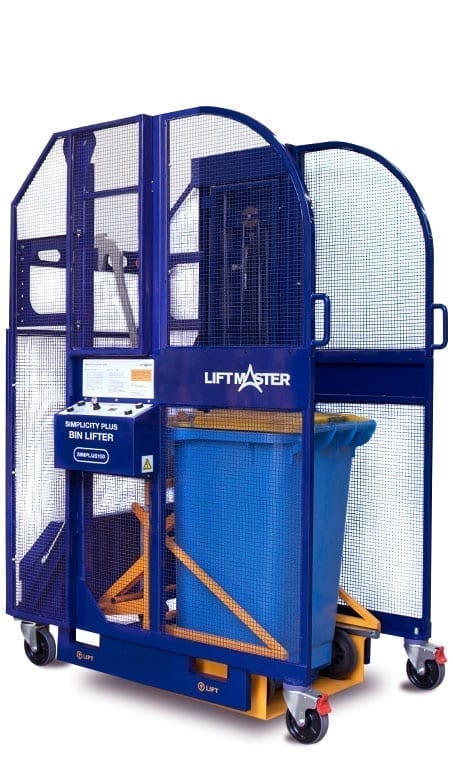 Looking for something else?
Try our EcoLift Bin Tipper, for smaller and less frequent lifting loads (of up to 50kg).  Or alternatively, our Universal Bin Tipper can power a lifting capacity of 250kg and over 100 empties per day.
Click the PDF button to learn more.
Product Variations
Image
Description
Product Code
Price (excl. GST)

Simplicity Plus Wheelie Bin Tipper
1800mm Tipping Height
150kg capacity
Push-button electric-hydraulic operation
Cradle to accept 80 120 & 240L bins

MBLEH240