Heavy Duty Wheelie Bin Tipper (250 kg)
+ Add to Quote Request
Our Heavy Duty Wheelie Bin Tipper is an extremely robustly designed lifting machine. Boasting a lifting capacity of up to 250kg, this device is ideal for facilities where 100 lifts are being conducted per person, per day.
An incredibly durable bin tipper, it features push button control and safety cage panels. This ensures the unit securely lifts and empties wheelie bins (of 80, 120, 140 and 240 litres) and user safety is prominent. The Heavy Duty Wheelie Bin Tipper (also known as the Universal Bin Lifter) is the model for you for effective waste management.
Additional Information
A lift-and-tilt system that maximises safety!
The Heavy Duty Wheelie Bin Tipper is ideal for moving and lifting heavy bins that require frequent emptying. It's suitable for a range of applications and has been utilised in a many workplaces, including supermarkets, retail outlets, schools, construction sites, apartment blocks, event planning projects and waste disposal/management companies.
How does it work?
The unit is controlled by push buttons to eliminate all manual handling operations. When activated, the bin tipper springs in to action to lift and empty the bin in a 40 second cycle. Its interlocked safety cage and door, removes all possible hand/foot crush points. This guarding guarantees extra protection for users and bystanders. The bin tipper functions on a battery (making the unit completely portable) with a charger. It also can run permanently on mains power, while the battery is charging.
Technical Data and Specifications
Lift and tilt bin lifter
Lifts up to 250 kg safely (over 100 times per day)
Configured to suit 1500 or 1800 mm skip bins
Compatible with 80, 120, 140 and 240 litre wheelie bins

Manual adjustment required between varied bin sizes

Battery operated push button hydraulic system
Mobile rechargeable 12V operation with smart charger
Can lift over 100 times on one battery charge
Safety cage and door eliminates crush points
Simple push button operation
Made in Australia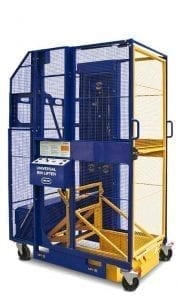 Looking for a simpler bin lifter?
Try our EcoLift Bin Tipper, for less frequent lifting loads of up to 50 kg, or alternatively our Simplicity Plus Bin Tipper can handle applications up to 150 kg. Click here to access all of our wheelie bin tippers
Click the PDF button to learn more.
Product Variations
Image
Description
Product Code
Price (excl. GST)

Heavy Duty Wheelie Bin Tipper
1800mm Tipping Height
250kg capacity
Push-button electric-hydraulic operation
Cradle to accept 80 120 240L bins
Full cage guarding with interlocked door latch

MUBL250