Order Picking and Access Platforms – LiftTruk
+ Add to Quote Request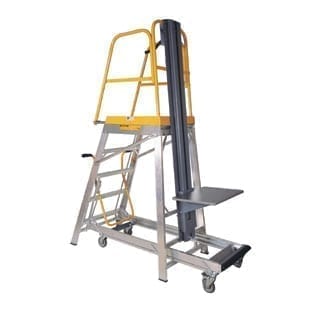 Our Lift-Truk Order Picking and Access Platforms are a fast and low-risk stock picking ladder. Ensuring a more profitable and efficient workplace, these devices are ergonomically designed and user-friendly. Pick, lower and transport items weighing up to 60 kg with ease and reduce handling time or need for extra labour.
Designed as a mobile platform with a lift, the Lift-Truk is quick to raise, lower and stock heavy products in one seamless action. Furthermore, the entire stock picking process can be handled by one person. Goods are placed on the lift table and either lowered/raised according to the application. The operation is similar to a forklift, however, this unique device acts as a trolley as well.
This platform ladder is suited to retail stores, warehouses and similar stock loading/unloading applications. It's completely Australian Made and works best on levelled operating surfaces.
Additional Information
The Lift-Truk grants fast, low-risk stock picking!
Eliminate dangerous manual handling risks with this safe access solution. No longer will employees have to carry large items up or down a ladder. The Lift-Truk utilises a winding mechanism, similar to that of a forklift, and positions items at the exact shelf height. This allows users to simply transfer to their desired location. Additionally, the platform can be lowered as required. All in all, it saves time during the unloading and loading process and reduces the need for a trolley as the ladder can perform both duties.
The whole stock picking process can be handled by one person removing the need for a second person to pass items up or down. Featuring a reliable manually operated winch, maintenance costs are minimal, and there is no downtime for charging of batteries.
Standard Features: 
Auto-safe manual order picking platform ladder.
Designed and tested to a 150 kg load rating.
Lifts, lowers and transports items weighing up to 60 kg.
Manually operated winch.
Reduces handling time.
Reduces extra labour or equipment needed to complete the task.
Reduces maintenance downtime.
Reduces potential accidents or manual handling injuries.
Costs less than other products that deliver similar benefits.
Australian Made.
Meets Australian, New Zealand, United States and European Union Standards.
Additional Extras: 
Upgrade your model to a Lift-Truk PRO and protect employees from accidentally stepping off the front of the platform with additional yellow powder-coated rails.
Also, the fully automatic Auto-Gate can be equipped to protect against the risk of falls. When personnel enters the platform area the gate automatically closes behind. Lastly, the Rota-Gate feature provides a side opening gate-way at the side of the platform creating easy access for stock-picking, inspection and many other tasks. To open or close, the gate is rotated into position. 
Select the right Lift-Truk model!
The primary function of the Lift-Truk is for picking and shelf stocking. It can be moved in any direction to maximise the speed in delivery of these related applications. The maximum recommended storage height for an item is dependent on its weight and the working range of the selected product. The maximum load rating is 60 kg.
To operate most effectively, the Lift-Truk requires a smooth and level surface. When mobile, the feet of the device clear an operating surface by approximately 20 mm. Typically a concrete slab floor provides a suitable operating surface, however, areas around sumps, drains and other variations that exceed 20 mm will not permit safe use. This platform ladder features good movability and can be used in confined spaces. Before using, check for doorway height, overhead fixtures, space turning at the end of storage bays and space for movement in aisles or between machinery and furniture.
Lift-Truk Size Selection Chart: 
Stock Code
Platform Height
(mm)
Working Range up to 5 kg item
From – To (m) 
Working Range up to 20 kg item 
From – To (m)
SSMN4LT
1145
1.4 – 2.8
1.4 – 2.3
SSMN5LT
1435
1.7 – 3.1
1.7 – 2.6
SSMN6LT
1720
2.0 – 3.4
2.0 – 2.9
SSMN7LT
2005
2.3 – 3.7
2.3 – 3.2
SSMN8LT
2295
2.5 – 3.9
2.5 – 3.4
SSMN9LT
2580
2.8 – 4.2
2.8 – 3.7
SSMN10LT
2865
3.1 – 4.5
3.1 – 4.0
SSMN11LT
3155
3.4 – 4.8
3.4 – 4.2
SSMN12LT
3440
3.7 – 5.1
3.7 – 4.6
SSMN13LT
3735
4.0 – 5.4
4.0 – 4.9
SSMN14LT
4015
4.3 – 5.7
4.3 – 5.2
Lift-Truk Dimensions: 
Model
A
B
C
D
E
SSMN4LT
1145
755
1765
1510
550
SSMN5LT
1435
792
1895
1795
550
SSMN6LT
1720
835
2025
2085
550
SSMN7LT
2005
875
2155
2370
550
SSMN8LT
2295
915
2285
2655
550
SSMN9LT
2580
955
2415
2945
550
SSMN10LT
2865
995
2545
3230
550
SSMN11LT
3155
1035
2675
3515
550
SSMN12LT
3440
1075
2805
3805
550
SSMN13LT
3725
1115
2935
4090
550
SSMN14LT
4015
1155
3105
4375
550
Note: All dimensions are in mm
Require a Platform Ladder that handles all grounds?
For more versatile use, we recommend our All Terrain mobile work platform, known as the Tracker. Alternatively, view some of our other access and order picker platforms, like the Tracker Step-Through or the Navigator.
Click the PDF button to learn more.
Product Variations
Image
Description
Product Code
Price (excl. GST)

Navigator Lift-Truk
Platform height: 1145mm
Working range: 1400-2800mm

SSMN4LT

Navigator Lift-Truk
Platform height: 1435mm
Working range: 1700-3100mm

SSMN5LT

Navigator Lift-Truk
Platform height: 1720mm
Working range: 2000-3400mm

SSMN6LT

Navigator Lift-Truk
Platform height: 2005mm
Working range: 2300-3700mm

SSMN7LT

Navigator Lift-Truk
Platform height: 2295mm
Working range: 2500-3900mm

SSMN8LT

Navigator Lift-Truk
Platform height: 2580mm
Working range: 2800-4200mm

SSMN9LT

Navigator Lift-Truk
Platform height: 2865mm
Working range: 3100-4500mm

SSMN10LT

Navigator Lift-Truk
Platform height: 3155mm
Working range: 3400-4800mm

SSMN11LT

Navigator Lift-Truk
Platform height: 3440mm
Working range: 3700-5100mm

SSMN12LT

Navigator Lift-Truk
Platform height: 3735mm
Working range: 4000-5400mm

SSMN13LT

Navigator Lift-Truk
Platform height: 4015mm
Working range: 4300-5700mm

SSMN14LT

Auto-closing safety gate
Standard on PRO units

SM-AUTOGATE

Rota-gate RH side gate folds down
Provides better order picking access
Standard on PRO range

SM-ROTAGATE

Lift-Truk PRO
Platform height: 1145mm
Working range: 1400-2800mm

SSMNP4LT

Lift-Truk PRO
Platform height: 1435mm
Working range: 1700-3100mm

SSMNP5LT

Lift-Truk PRO
Platform height: 1720mm
Working range: 2000-3400mm

SSMNP6LT

Lift-Truk PRO
Platform height: 2005mm
Working range: 2300-3700mm

SSMNP7LT

Lift-Truk PRO
Platform height: 2295mm
Working range: 2500-3900mm

SSMNP8LT

Lift-Truk PRO
Platform height: 2580mm
Working range: 2800-4200mm

SSMNP9LT

Navigator Lift-Truk
Platform height: 2865mm
Working range: 3100-4500mm

SSMNP10LT

Navigator Lift-Truk
Platform height: 3155mm
Working range: 3400-4800mm

SSMNP11LT

Navigator Lift-Truk
Platform height: 3440mm
Working range: 3700-5100mm

SSMNP12LT

Lift-Truk PRO
Platform height: 3735mm
Working range: 4000-5400mm

SSMNP13LT

Lift-Truk PRO
Platform height: 4015mm
Working range: 4300-5700mm

SSMNP14LT