Ladders – Multipurpose
+ Add to Quote Request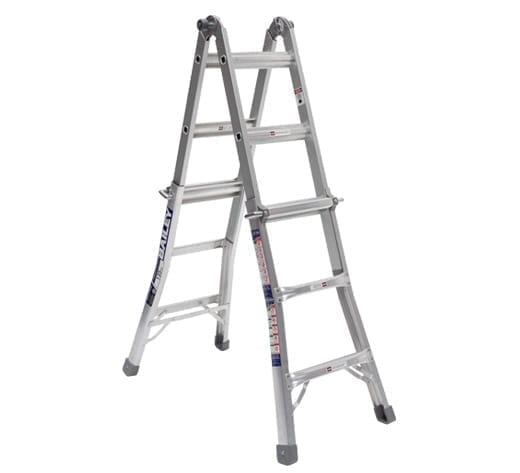 Our Multi-Purpose Ladders shape to four different styles to suit your changing requirements. An incredibly versatile solution, its telescopic design easily adjusts to create unique configurations. Use the device as a stairway ladder, stepladder, straight ladder or a trestle ladder – it's that easy!
Featuring a strong and lightweight aluminium construction, Multi-Purpose Ladders are ideal for any trade activity or DIY task. The ladder is incredibly useful; it has become one of the most adaptable designs currently available on the market.
Its wide flared bottom provides firm frame support and user stability. Anti-slip feet are included for additional safety. The ladder has an overall load rating of up to 135 kg.
Additional Information
Multi-Purpose Ladders are the most versatile ladder on the market!
Adjust both the height and angle of the ladder via its spring-loaded 'J' locks and push knobs. Its telescopic design ensures you can configure the ladder to a comfortable working height, suited to your application. The unit is Industrial Duty Rated and is used on industrial work sites. Each ladder is manufactured in accordance with relevant Australian and New Zealand standards.
Multi-Purpose Ladder Specifications:
135 kg load rating
Strong and durable aluminium construction
Incredibly versatile solution
Height adjusts via spring load 'J' knobs
Angle position adjusts via push knobs
Wide Flared bottom for support
Anti-slip feet for safety
Telescopic design for comfortable working heights
Configure to be used as a stairway ladder, stepladder, straight ladder or trestle ladder
Product Code
Description
Size
Max. Height
Weight
SFS13644
BXS20
Multi-Purpose 135 kg
2.3/4.5 m
3.1/5.5 m
16.7 kg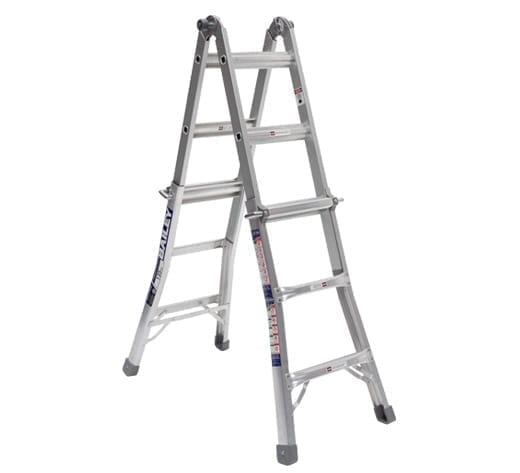 View some of our alternative access solutions!
We have a great range of access equipment and a variety of ladders to choose from. Browse our range to learn more.
Product Variations
Image
Description
Product Code
Price (excl. GST)

Multi-Purpose Ladder
BXS20 2.3m/4.5m (7'6″/14'8″) – 135kg

SFS13644