IBC Tilting Stand Spring Operated Container Emptying
+ Add to Quote Request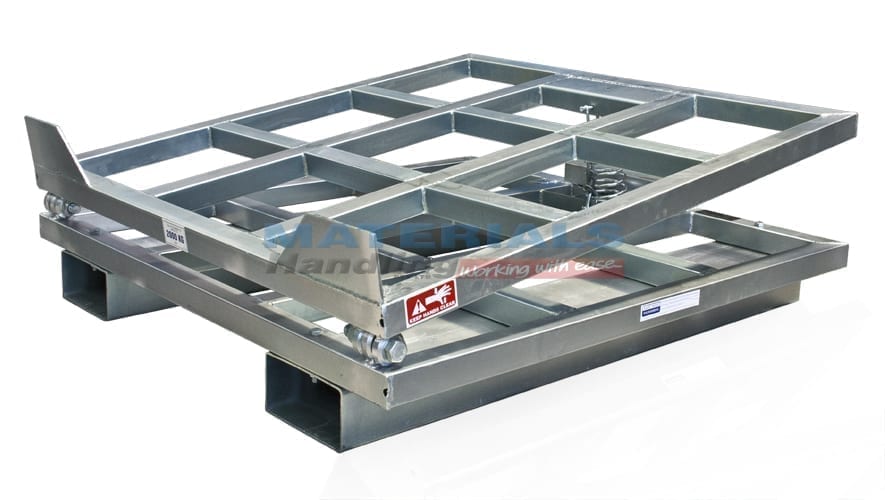 The IBC Container Tilting Stand is perfect for full environmental protection against spills and when discharging liquids. Featuring spring-operation, the device has a durable construction that's completely user-friendly and suits most applications. They perfectly remove contents and liquids from any intermediate bulk container (IBC).
Ensure your staff work effectively and free from strain injuries with this clever device. When the tilting stand's volume decreases (liquid is reduced) its spring mechanism actions, raising the container to a 10-degrees inclination, to allow any excess liquid to be completely drained.
A clever tool for waste management applications, the IBC Bin Tilter is used extensively in disposing procedures.
Additional Information
Prevent and contain spills with the IBC Container Tilting Stand!
Also known as an IBC Bin Tilter, the stands spring load action makes easy work when removing liquids from IBC containers. The unit is supplied with a single spring that's suitable for most applications, however, additional springs are available upon request.
For easy transportation around the workplace, the stand is fitted with fork pockets. This makes the device easy to handle and position, and enables the unit to be used in multiple areas. The stand also has a zinc finish.
MBTS10 Features and Specifications:
Platform Size (mm): 1200 long x 1130 wide
Working Load Limit (WLL): 2000 kg
Unit Weight: 110 kg
Fork Pocket Size (mm): 190 x 90
Fork Pockets Centre (mm): 730
Finish: Durable zinc finish
Tilt: 10 degrees (decanting directly from IBC)
Supplied with single spring suitable for most applications. Additional springs are available to suit heavier metal construction IBCs.
Fork pockets fitted for easy transportation and movement of the device.
Require a spill bin with your application?
View our IBC Spill Bin and Spring Tilter to complete the perfect safety package for your workplace!
Click the PDF button to learn more.
Product Variations
| | | | | |
| --- | --- | --- | --- | --- |
| | IBC Bin Tilter with wheels | MBTS10-W | $1,140.00 | |
| | IBC Bin Tilter 10 Degrees | MBTS10 | $1,110.00 | |