IBC Container Tilting Stand – Spring Operated
+ Add to Quote Request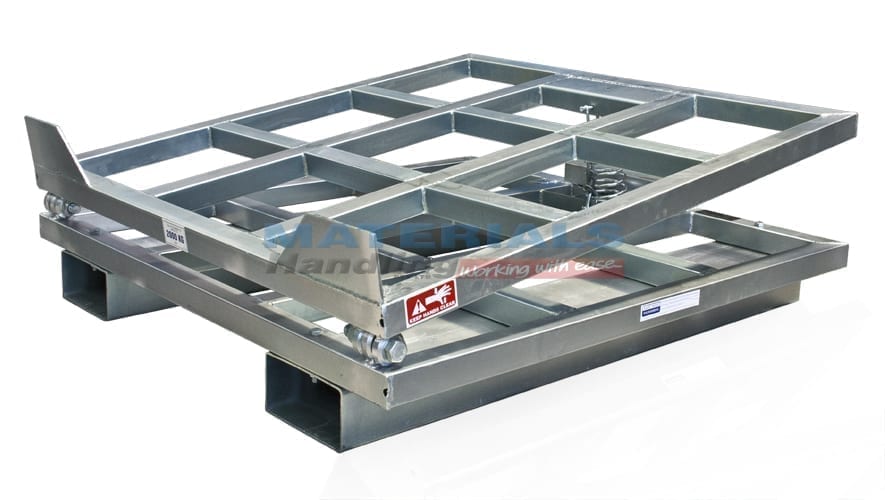 Use our IBC Container Tilting Stand for full environmental protection against spills and when discharging liquids. The unit is spring operated and the perfect way to decanter liquids from any intermediate bulk container (IBC).
When the Tilting Stand's volume decreases (liquid is reduced) its spring mechanism actions, raising the container to a 10-degrees inclination, to allow any excess liquid to be completely drained. A clever tool for waste management applications, the IBC Bin Tilter is used extensively in disposing procedures. Ensure your staff work effectively and free from strain injuries with this clever device.
Additional Information
Prevent and contain spills with the IBC Container Tilting Stand!
Its spring load action makes easy work when ridding IBC containers of liquid. The unit is supplied with a single spring (that's suitable for most applications). Additional springs are available upon request.
Comes complete with fork pockets to enable easy transportation.
Platform Size: 1200 long x 1130 mm wide
Working Load Limit (WLL): 2000 kg
Unit Weight: 63 kg
Finish: Durable zinc finish
Tilt: 10 degrees
Height of the device when fully compressed is 205 mm
Height including the front lip is 260 mm
Height at the rear of the unit when extended is 425 mm
Click here for details on the tilter with spill bin.
Product Variations
| | | | | |
| --- | --- | --- | --- | --- |
| | IBC Bin Tilter 10 Degrees | MBTS10 | | |