Calematic Multi-Chock Vehicle Restraint
+ Add to Quote Request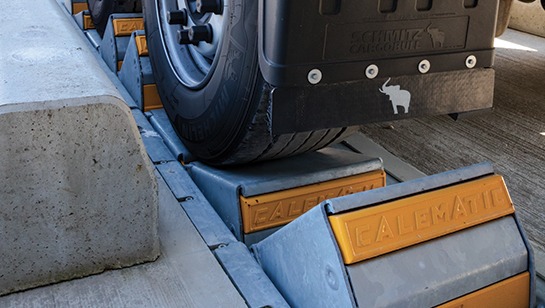 The Calematic Multi-Chock Vehicle Restraint is an automatic wheel chock system that restrains vehicles at a loading dock. It helps to secure vehicles in position, especially during loading and unloading processes. This ensures dock safety and efficient operational processes.
As a universal solution, it suits all types of loading dock environments. When installed, this restraint system prevents vehicles from driving away from the dock before it is safe to do so. This eliminates potential problems or hazards, due to trailer creep.
With various features and options available on the market, the Calematic Multi Chock Vehicle Restraint is a proven, safe loading dock solution for various industries. With an innovative design, the system is maintenance-free and unaffected by loading bay debris, rain or snow.
Additional Information
A universal solution for all loading docks!
The Calematic is a truck chocking system. Its universal design allows it to work in a variety of loading dock environments. This is a fantastic, completely automated system that ensures safety during loading and unloading applications. The Calematic, which is buried in the ground, decreases the danger of damage to trucks and trailers while allowing forklifts easy access to deliveries. The Calematic is a tough and dependable solution that requires very little maintenance.
How does the Calematic work?
When a truck enters and exits a loading bay, lateral and vertical forces cause the truck and trailer to separate. Some factors include the weight and speed of loading, the surface of the working environment, suspension softness, dock leveller in use and whether the trailer has been dropped off or is still connected. The restraint stops unnecessary movement, ensuring safety across all dock loading and unloading procedures. It automatically engages the wheel chocks, which are either stowed or raised, whilst also minimising accidents and potential hazards.
A system unlike any other
Calematic's Multi Chock Vehicle Restraint is unlike anything else on the market. Many similar vehicle restraint systems differ in complexity and expense, but this device has unique qualities including maintenance and damage-free operation.
Many great safety features
When stowed, this wheel chock system is perfectly flat with the loading dock floor. As a result, it is incredibly tough to damage and is long-lasting. It's great for use in loading dock situations where there's not enough room for vehicles to turn and they can only reverse in or out of a loading bay. The Calematic is designed to be completely maintenance-free and unaffected by debris.
Completely automated operation
The system is fully automated and only opens/closes loading bay doors when triggered. This is perfect for protecting staff and employees in hazardous working environments. It has a simple construction and can be installed easily. With only five mechanical parts per chock, the Calematic has no complicated sensors or control system. That means you won't have to worry about motors, bearings, chains, gears, hydraulics or grease to be lubricated, tightened or maintained
Safe and easy to use
The Calematic operates on compressed air, which eliminates any potential Health and Safety or Environmental risks (hazards normally associated with electrical or hydraulic operation respectively). There are no trip hazards either as any surface mounted parts are between vehicles when in use. When the system isn't in use, it sits completely flush with the floor level.
Require an alternative loading dock safety solution?
Continue browsing our many options for Loading Dock Safety.
Click the PDF button to learn more.
Product Variations
Image
Description
Product Code
Price (excl. GST)

Multi Chock Truck Restraint Kit
Single line 8 chocks + 6 half cover plates

MDMC