Calematic Multi Chock Vehicle Restraint
+ Add to Quote Request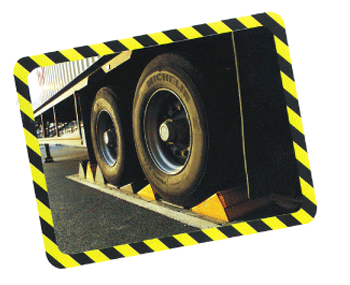 The Calematic Multi Chock Vehicle Restraint is an automatic wheel chock system that restrains vehicles parked at the loading dock. It secures the vehicle in position while a dock leveller is being used and a fork truck is loading or unloading the vehicles.
This vehicle restraint system prevents vehicles driving away from the dock before it is safe to do so and eliminates potential problems due to trailer creep.
With various features and options available on the market, the Calematic Multi Chock Vehicle Restraint is a proven, safe loading dock solution to various industries. The innovative design allows the system to be maintenance free and unaffected by loading bay debris, rain or snow.
Additional Information
Here's why you need this device at your dock…
The Calematic Multi Chock Vehicle Restraint is a system unlike any other. Many similar vehicle restraint methods vary in complexity and cost, but this device features unique functionalities such as maintenance and damage free usage.
How does it work?
When a truck enters and exits a loading bay, lateral and vertical forces cause the truck and trailer to separate. Some factors include the weight and speed of loading, the surface of the working environment, suspension softness, dock leveller in use and whether the trailer has been dropped off or is still connected.
The Calematic Multi Chock Vehicle restraint stops unnecessary movement, ensuring safety across all dock loading and unloading procedures. The unit automatically engages the wheel chocks (which are either stowed or raised), whilst minimising accidents and potential hazards.
A range of great features!
The Calematic sits completely flush with yard floor when stowed away. This makes it extremely difficult to damage and long-lasting in nature. Its ideal for situations where room is restricted, meaning vehicles cannot turn and only have an option to reverse in and out of a loading bay. The Calematic has been designed to be maintenance free and is unaffected by any debris.
The system is fully automated and only opens/closes loading bay doors when triggered. This is perfect for protecting staff and employees in hazardous working environments. It's simply constructed and can be installed easily. With only five mechanical parts per chock, the Calematic has no complicated sensors or control system. That means you won't have to worry about motors, bearings, chains, gears, hydraulics or grease to be lubricated, tightened or maintained
The Calematic operates on compressed air, which eliminates any potential Health and Safety or Environmental risks (hazards normally associated with electrical or hydraulic operation respectively). There are no trip hazards either as any surface mounted parts are between vehicles when in use. When the system isn't in use, it sits completely flush with the floor level.
Click the PDF button to learn more.
Product Variations
| | | | | |
| --- | --- | --- | --- | --- |
| | Multi Chock Truck Restraint | MDMC | | |