Electro-Hydraulic Wheelie Bin Tipper (150kg)
+ Add to Quote Request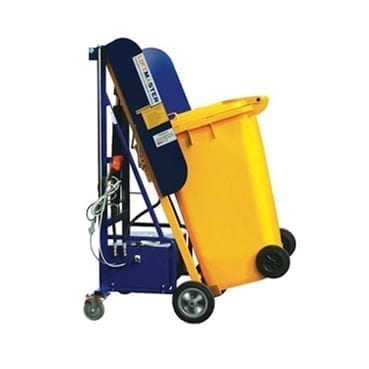 Our Electro-Hydraulic Wheelie Bin Tipper is a strong and robust device that can handle bins loaded up to 150 kg in capacity. It is ideal for applications that frequently empty waste as it powers up to 50 lifts per day.
This bin tipper has been designed to be versatile and easily manageable. It is light weight but strong in construction and features a small footprint. Combined with the electro-hydraulic operation, it completes jobs in seconds, with very little effort from the operator.
In fact, manual handling risks are completely removed as the Electro-Hydraulic Wheelie Bin Tipper bears the weight for you!
Additional Information
The Electro-Hydraulic Wheelie Bin Tipper is most suited to applications within construction sites, local councils and factories. It has also been implemented in a number of apartments, hotels and hospitality organisations as it handles waste easily and manages processes effectively.
It packs a lot of punch!
The lifting mechanism in this bin lifter allows for full swing operation. It's a light, strong and rugged device, ideal for mobile use. It can easily be moved around along uneven surfaces on construction sites and other industrial environments.
View the bin lifter in action on a Lend Lease construction site to see how it all works!
The unit features a battery built into its frame, which allows the operator to control the lifting and lowering via a push-button control. This operation allows users to stand clear, have a clear view of the area and operate the unit electronically. A battery and charge is provided with the unit, however it can also be plugged into any 240 V outlet for direct electrical operation.
Technical Data and Specifications
Lifts up to 150 kg safely
Suitable for 50 lifts per day, per person
Full swing motion
Models to suit 150 0mm or 1800 mm skip bins
Compatible with 80, 120, 140 and 240 litre wheelie bins
Battery operated push button hydraulic system
Fits through internal doorways
All-terrain model available for 1500 mm skip bins
Made in Australia
Select from mobile rechargeable 12V operation or 240V electric operation
12 month warranty available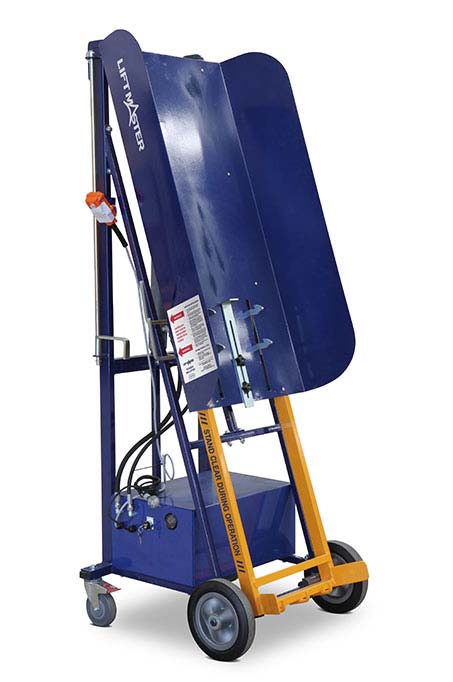 Do you require a less powerful model? Try our Nifty Lift Bin Tipper for infrequent jobs of up to 30kg. Alternatively, check out our manually hand-operated Hand Hydraulic Bin Lifter for jobs up to 100kg in capacity. Click here to access all of our wheelie bin tippers
Product Variations
Image
Description
Product Code
Price (excl. GST)

Electro-Hydraulic Wheelie Bin Tipper
1800mm Tipping Height
150kg capacity
Push-button electric-hydraulic operation
Cradle to accept 80 120 240L bins

MBLEH12
$8,250.00