Drum Crusher (205 litre)
+ Add to Quote Request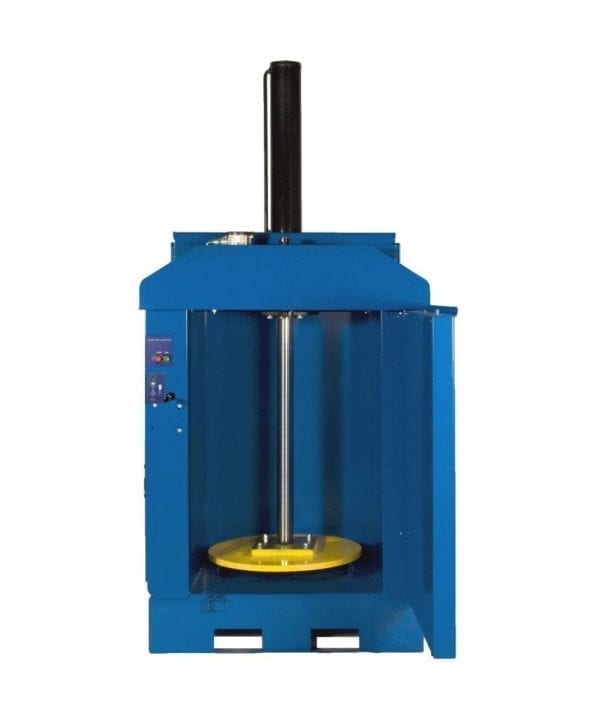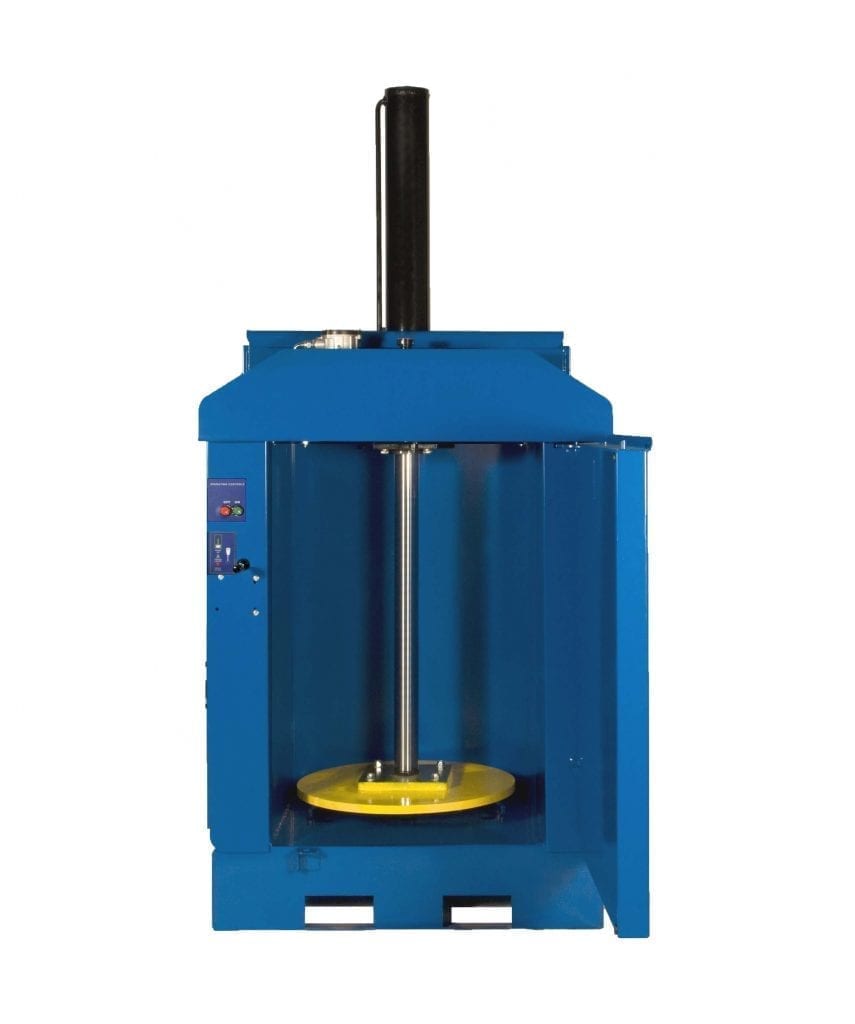 Our Drum Crushers are robustly built machines with a lot of safety features. They crush steel drums quickly and easily and are ideal for capacities up to 205 litres. These devices have drum piercing spikes as well as a 30-litre oil retention tank to catch any leftovers.
The sole purpose of our Drum Crushers is to dispose of damaged or unwanted 205-litre drums and save on space, transport and handling, whilst enabling easy recycling. Insert the drum, close the interlocking door and press the button for automatic compaction. The unit will reduce a 205-litre drum to a 75 mm high disc in less than a minute.
This crusher has a high compaction force ratio and a totally enclosed chamber ensuring a high level of safety. It is simple to operate, low maintenance and has an ergonomic design.
Additional Information
Improve drum recycling with our drum crusher!
The easy loading and quick cycle times save time and money!  When complete, a pallet with 48 crushed drums has a product height of only 900 mm. This makes it ideal for disposing of drums in any workplace, like remote mining sites and similar industries. Furthermore, the drum crusher is fitted with a 30-litre oil collection tray with a tap connection and fork pockets for easy relocation.
Compact and Safe
With the Drum Crusher, the compaction is 6:1. When in operation, the device features a fully enclosed compaction chamber, which ensures a maximum level of user safety. 
Quick Recycling
This is an incredibly strong system, with a pressing force of up to 24 tonnes. A complete recycling cycle takes approximately 57-seconds – so it's quick to control your waste management!
Optional Extras Available
Optional accessories for the Drum Crusher might help optimise waste operations. Such additions include an adapter head to compress inside 205-litre steel drums, a galvanised finish, an insert for crushing oil filters, or a smaller bale head inside to compact 200-litre steel drums.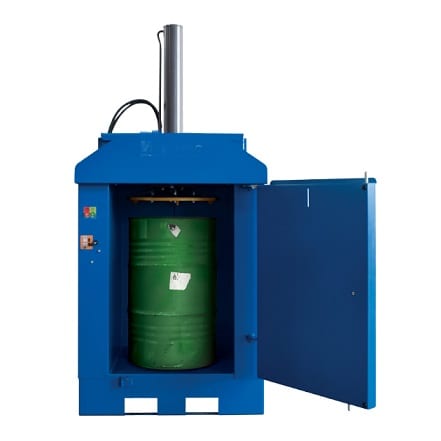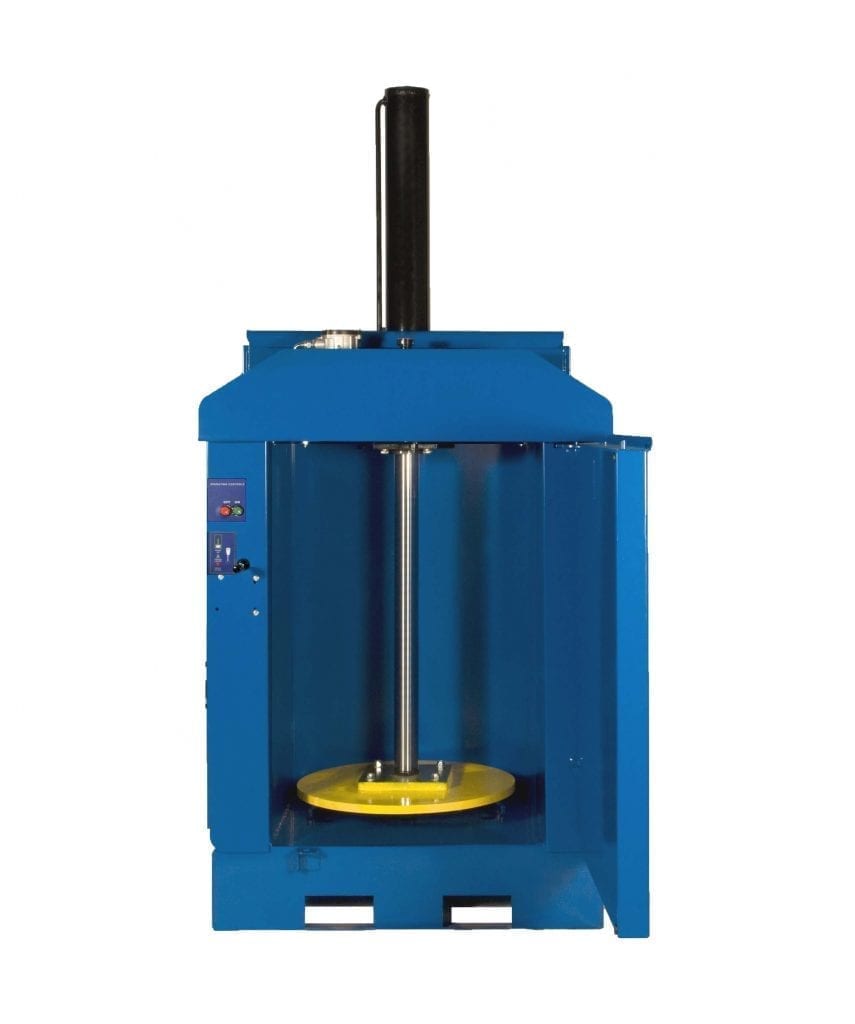 MDC205 Specifications:
Height – 2.579 m
Width – 1.198 m
Depth – 1.000 m
Weight – 600 kg
Transportation Height – 1.80 m
Power Supply – 415 V 3 Phase
Motor – 11 kW 32A
Pressing Force – up to 24 tonne
Noise Level – 74 decibels
Cycle Time – 57 seconds
MDC205 Loading Aperture Size: 
Height – 1.202 m
Width – 0.823 m
Depth – 0.816 m
Want to recycle cans instead of drums?
Also view our Can Crusher. The MWP75 Vertical Baler that can be fitted with a Can Crusher Insert that raises the can to allow the press head to compact with a full stroke for large volumes of small cans.
Click the PDF button to learn more.
Product Variations
| | | | | |
| --- | --- | --- | --- | --- |
| | MatHand 205L drum crusher | MDC205 | | |