Aerosol Can Recycling Aerosolv
+ Add to Quote Request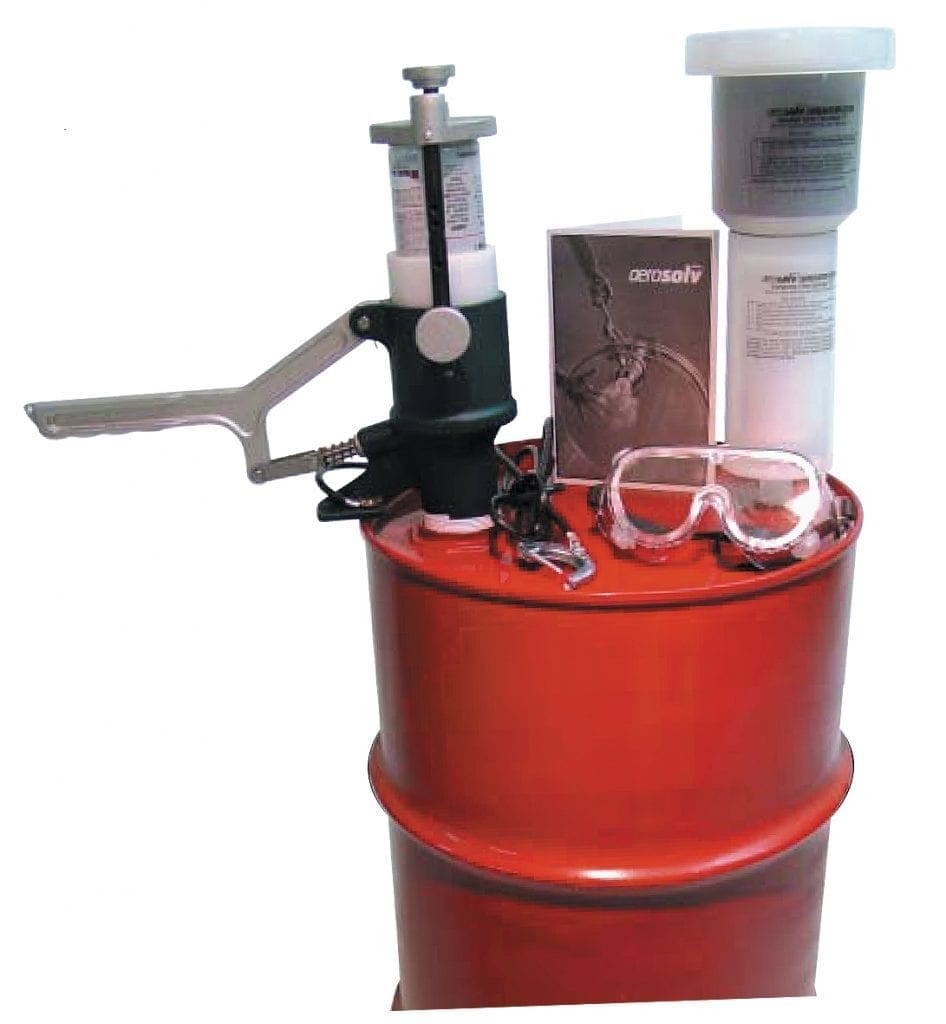 The Aerosolv aerosol can puncture tool and recycling system, offers an efficient and environmentally-friendly solution for aerosol can disposal. This innovative system includes a puncture tool for safely releasing residual propellants and liquids from aerosol cans in a controlled manner.
With the press of a handle, it is that easy to have an empty steel can, with no compressed gas, that is ready for recycling. All you need to do is simply place an aerosol can into the unit and lock the safety cap. A carbide-tipped puncture pin pierces the dome of the can in as little as five seconds. Compliant with global environmental standards, the Aerosolv aerosol can puncture tool is a user-friendly system that promotes safe and efficient aerosol can recycling, making it an excellent investment for businesses seeking a sustainable approach to waste management.
Additional Information
Aerosolv makes tough jobs easier by simplifying can disposal.
The result? No spills, no jagged edges and no leftover chemicals.
This device simplifies aerosol can disposal, safely and efficiently. With the press of a hangle, a non-sparking puncture pin pierces the dome of the can and disperses to the receiving drum. After processing cans with the Aerosolv system, you're left with an empty steel can that's recyclable with other scrap steel.
The great advantage of the Aerosolv System is that all residual liquids collect safely into the drum, with the Combination Filter threading directly to the 20 mm bung of the drum. The filter meets air quality and emissions standards by filtering volatile organic compounds. After 1500 cans (or when the indicator colour changes), the Colourimetric Carbon Filter should be replaced. The Coalescing Filter will accommodate up to 3000 cans.
Features: 
Eliminates an entire RCRA waste stream and reduces disposal costs.
Angled pin ensures a clean puncture every time.
Two-piece Combination Colourimetric filter captures odours and potentially harmful VOCs.
The Filter also indicates saturation by changing colour.
Units mount on a steel 205 L drum via the 2″ or

¾"

bung.
The system works with domed mini, standard and jumbo aerosol cans.
Includes ground wire to prevent static build-up.
The slide bar on can chamber includes a lock to provide tamper resistance.
The entire unit is coated for easy cleaning.
Specifications: 
Weight – 4.5 kg
Colour – Black / Silver
Composition –

Body – Aircraft Aluminium
Puncture Pin – Stainless Steel
Gasket – Aeroprene
Sleeve – Nylon
Coating – Material Resistant Coating
You'll appreciate our Aerosolv System as there are so many safety features, it's a must-have in your organisation. The system includes an Advanced Puncturing Device, Automatic Shut-off Valve, Combination Coalescing / Colourmetric Carbon Filter, Gasket for Rustoleum and Krylon cans, Anti-Static Wire, Safety Goggles, Padlock and Key and Aerosolv Can Counter.
Find other recycling solutions!
Try our new Aerosolv 360 with an innovative handwheel operation. Alternatively, the Aerosolv Can Recycler is an ideal partner with our Can Press, which crushes cans, or if larger drums are required, then our heavy-duty Drum Crusher is a great choice.
Click the PDF button to learn more.
Product Variations
| | | | | |
| --- | --- | --- | --- | --- |
| | Aerosolv 7000 aerosol can recycling system | M7000 | | |
| | Aerosolv Combination Coalescing Filter with Colormetric Carbon Cartridge | M7163 | | |
| | Replacement colormetric carbon& filter cartridges (Packs of 2) | M7363 | | |