Destuff-IT and Restuff-IT Container Unloader and Loader
+ Add to Quote Request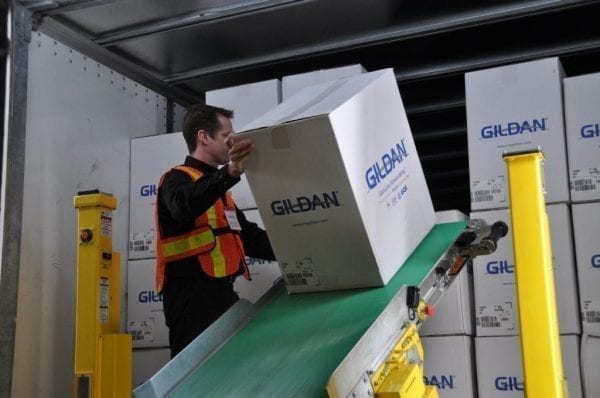 Restuff-It and Destuff-It are PLC controlled ergonomic assist devices for loading and unloading floor loaded transportation, shipping containers and trailers. These self-propelled machines have an integrated DC powered dual travel drive and steering system capable of negotiating dock leveller slopes and transition plates while driving in and out of containers or trailers. A pivoting conveyor, with a high grip belt, is effortlessly guided up, down, left and right to put it right where the product is. A height adjustable platform also puts the operators in the best ergonomic position. Comes complete with LED lights mounted on top of one mast and a cooling fan mounted to the other front mast to illuminate and cool the interior of the container or trailer. See the 2 videos to the left on this page and an animated version at the bottom of this page.
The Restuff-It is a bi-directional device that loads and unloads.
The Destuff-It is a single direction device to unload only.
Additional Information
Workers are less fatigued and there is reduced muscle strain and injury from repetitive lifting, twisting, carrying and overhead reaching. They are designed for demanding, continuous multi shift operations and are usually integrated with extendable/flexible conveyor systems. In a recent one-week trial, one prospect was able to see an increase in case rate of 59% and a reduction in overall labour of 49%.
Restuff-It and Destuff-It ergonomic handlers can:
Increase Case Rate – handle more in less time

Improve Dock Utilisation – reduced time to unload/load

Reduce Injuries – ergonomic design minimises lifting, twisting and carrying reaching

Increase Profit  – fewer injuries and greater efficiency contribute to increased profit

Enhance the Workplace – better work environment

Reduce Product Damage – excellent for fragile products
ASK US ABOUT LEASING
Ergonomic features include:
Height adjustable worker platform (max 600mm) reduces overhead reaching

Optimized conveyor belt positioning increases productivity

Convenient operator controls mounted on pivoting conveyor

Ergo mat on worker platform

Stress relieving non-slip surface
Options:
Click here for an animated explanation of how Destuff-It works
Click here to go to the Destuff-It website
Keep browsing our range and view our some of our other container loading and unloading devices.
Product Variations
Image
Description
Product Code
Price (excl. GST)

Destuffit ergonomic container unloader

DESTUFF

Restuffit ergonomic container loader and unloader

RESTUFF

Powered Expanding Flexible Conveyor 600mm wide
Contracted/Extended 3330/8050mm

CEX6008