Cleanline Flexible Conveyor Combination
+ Add to Quote Request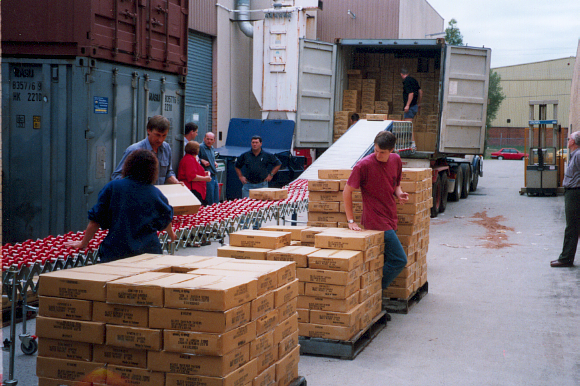 Now a cost effective & productive solution for the loading/unloading of delivery vehicles and shipping containers or loading without a dock. Unique combination of mobile booster belt and flexible conveyors. The in-feed and outfeed powered conveyor is hydraulically height adjustable and powers the packages in and out of trailers, containers etc. By integrating with our gravity or powered cobra flexible and extendable conveyor to each end, you have a mobile, reversible and extendible vehicle loading/unloading system. Each system is to the individual client's requirement for width, height, length etc. This flexible, custom arrangement assists with the delivery of products to store or palletising and can be positioned inside truck or container.
* In retracted form it can be easily and quickly loaded into container or truck via forklift.
* Length extends into truck or container as required
* Optional support brackets fitted to booster belt allow for the extendible to be permanently mounted onto the booster conveyor for ease of loading when fork trucks are not available. Speak to our sales facilitators to custom prepare a system that suits your facility.
Also view our productive Van and Truck Loader/Unloader conveyors.