Ladders – Corrosion Proof
+ Add to Quote Request

Corrosion Proof Ladders are an excellent choice for environments with challenging elements (like water, salt or chemicals). Not only are they a lightweight climbing solution, but these ladders are all-weather resistant, electrically safe and extremely durable. Constructed from stainless steel and fibreglass, their handy design makes them easy to position.
Some environments are too harsh for regular ladders. Instead, our Corrosion Proof range handles tough and rough situations. With no timber to rot, no aluminium to corrode and no mild steel to rust, they provide peace of mind so your workplace can focus on the task at hand and have equipment built to last.
These single ladders are designed to provide world-class safety, customer satisfaction and a reliable solution. Our MFNF range has models that reach 5.4 m.
Additional Information
Corrosion Proof Ladders are proven in harsh environments! 
With fibreglass rungs, stainless steel and a patented box rail construction, our Corrosion Proof Ladders ensure their safety and superiority. Not only do they comply with relevant standards and regulations, but they meet and exceed user expectations. Our ladders suit all challenging environments and are electrically safe. They also have a swivel foot, which maximises grip on uneven ground and support up to 150 kg.
Features: 
Suits several challenging environments where water, salt or chemicals are present.
Fibreglass stiles with patented box rail construction.
All-weather resistant and electrically safe.
Lightweight design that is easy to move and position.
Outstanding durability.
Dramatic reduction in sway and twist.
Swivel foot maximises grip on uneven ground.
Load capacity of up to 150 kg.
Complies to relevant ladder standards.
Specifications: 
| | | | |
| --- | --- | --- | --- |
| Model | Height | Weight | Load Rating |
| MFNF24 | Fly: 2.465 m / Base: 2.420 m | Fly: 6.2 kg / Base: 6.6 kg | 150 kg |
| MFNF30 | Fly: 3.075 m / Base: 3.030 m | Fly: 7.9 kg / Base: 8.3 kg | 150 kg |
| MFNF36 | Fly: 3.685 m / Base: 3.640 m | Fly: 9.6 kg / Base: 9.9 kg | 150 kg |
| MFNF42 | Fly: 4.295 m / Base: 4.250 m | Fly: 12.8 kg / Base: 13.3 kg | 150 kg |
| MFNF48 | Fly: 4.905 m / Base: 4.860 m | Fly: 14.6 kg / Base: 15 kg | 150 kg |
| MFNF54 | Fly: 5.515 m / Base: 5.470 m | Fly: 16 kg / Base: 16.5 kg | 150 kg |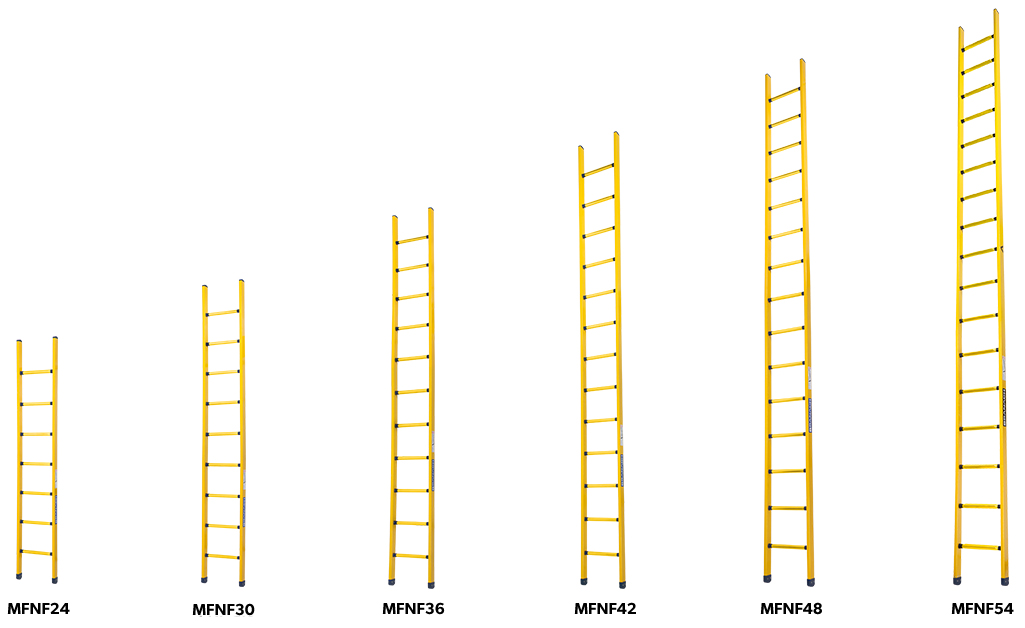 For each ladder, customised accessories can help maximise features, grip, stability and safety. They can also allow for easy identification of the ladder or company ownership, especially when the ladder is in use or transit.  Ladders can be mounted onto walls, tanks or containers for easy access and storage. Please let our sales team know if you'd like to add any additional accessories to your preferred model.
View other access solutions!
Check out our great Corrosion Proof Step Ladders, which also suit tough and challenging environments.
Click the PDF button to learn more.
Product Variations
| | | | | |
| --- | --- | --- | --- | --- |
| | Height 2400mm | MFNF24 | | |
| | Height 3000mm | MFNF30 | | |
| | Height 3600mm | MFNF36 | | |
| | Height 4200mm | MFNF42 | | |
| | Height 4800mm | MFNF48 | | |
| | Height 5400mm | MFNF54 | | |
| | Height 6000mm | MFNF60 | | |