Access Platforms – Mobile Aluminium
+ Add to Quote Request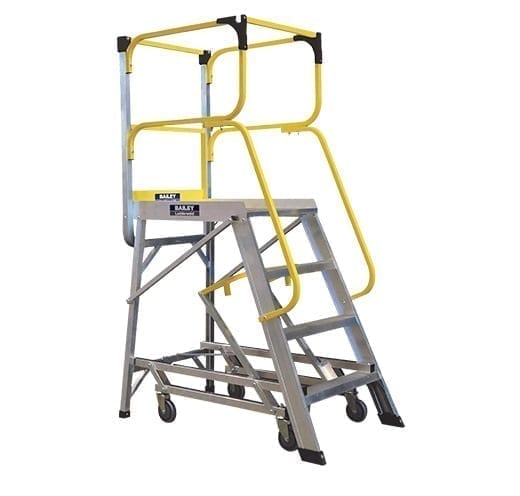 Mobile Access Platforms are a great solution for working at heights. They are super strong, reliable and made from heavy-duty aluminium. The fully welded construction features steel bracing underneath the bottom and side treads for additional protection against any impacts or external factors and it is supplied standard with an aluminium shelf.
The devices have an incredible 'walk-thru' design that allows operators special access to mezzanine floors – a great benefit when picking the stock, walking onto trailers or entering a work zone at a height. Two safety gates are fitted for a 2 in 1 product allowing for the walk-thru access. This also allows employees to work from three sides and the platform remains stable thanks to its manually operated brake.
These platforms are perfect for frequent use and are commonly adopted for safe access and order picking in warehousing, vehicle maintenance, mining, and aviation workplaces. They are industrial duty rated and can support a load of up to 170 kg. Mobile Access Platforms comply with Work Cover requirements and meet relevant Australian standards.
Additional Information
Increase safety and functionality with our Mobile Access Platforms!
Perfect for frequent stock-picking duties, these Mobile Access Platforms can be easily moved around a work site. Their large wheels improve movement; allowing for an easy glide action. Each device is equipped with a manually operated brake. Its activation arm is powder coated in high visibility yellow to prevent unauthorised access. Two safety gates have also been fitted to allow 'walk-thru' access and a toe board ledge has been included on the platform, preventing tools or accessories from falling off. A working shelf is also included.
Mobile Access Platforms Specifications:
Nine sizes are available with heights from 828 to 3866 mm

170 kg load rating
Stable Work Platform – 590 x 800 mm
Large 125 mm wheels with improved portability
Two fitted safety gates
100 mm deep treads to improve safety when climbing
Aluminium construction
900 mm Handrails
Toe board on three sides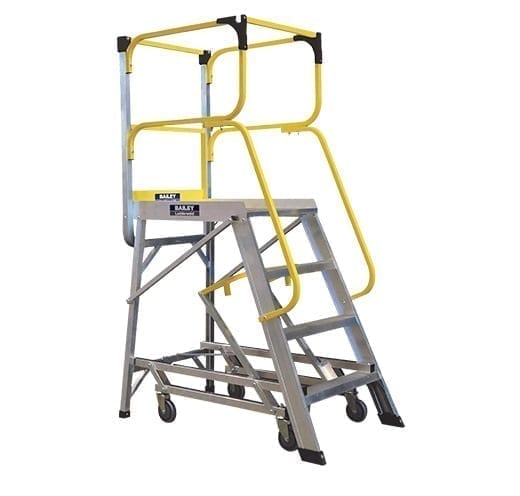 Product Code
Description
Platform Height
Work Height
Fully Open Dimensions
(WxD mm)
Weight
SFS13591
Platform 3 step
828 mm
2.8 m
724 x 1168
38.1 kg
SFS13592
Platform 4 step
1104 mm
3.1 m
764 x 1309
40.6 kg
SFS13593
Platform 5 step
1381 mm
3.4 m
804 x 1451
43.0 kg
SFS13594
Platform 6 step
1656 mm
3.7 m
844 x 1592
46.0 kg
SFS13595
Platform 7 step
1933 mm
3.9 m
884 x 1733
48.5 kg
SFS13596
Platform 8 step
2209 mm
4.2 m
924 x 1875
51.0 kg
SFS13597
Platform 10 step
2761 mm
4.8 m
1003 x 2157
62.0 kg
SFS13598
Platform 12 step
3313 mm
5.3 m
1083 x 2440
69.0 kg
SFS13599
Platform 14 step
3866 mm
5.9 m
1164 x 2723
76.4 kg
This device can be configured to your requirements – in either a standard design, with a walk-thru ability or with a shelf functionality. Improve your assembly with additional fasteners or learn how via our instructional video (below). The Temporary Work Platform is supplied as a flat-pack for easy transportation.
View another solution for maintenance activities!
Our Order Pickers are another great option if you require an economical work platform!
Product Variations
| | | | | |
| --- | --- | --- | --- | --- |
| | Mobile Access Platform 3 step 170kg | SFS13591 | | |
| | Mobile Access Platform 4 step 170kg | SFS13592 | | |
| | Mobile Access Platform 5 step 170kg | SFS13593 | | |
| | Mobile Access Platform 6 step 170kg | SFS13594 | | |
| | Mobile Access Platform 7 step 170kg | SFS13595 | | |
| | Mobile Access Platform 8 step 170kg | SFS13596 | | |
| | Mobile Access Platform 10 step 170kg | SFS13597 | | |
| | Mobile Access Platform 12 step 170kg | SFS13598 | | |
| | Mobile Access Platform 14 step 170kg | SFS13599 | | |