Container Ramp (6.5T x 1500mm)
+ Add to Quote Request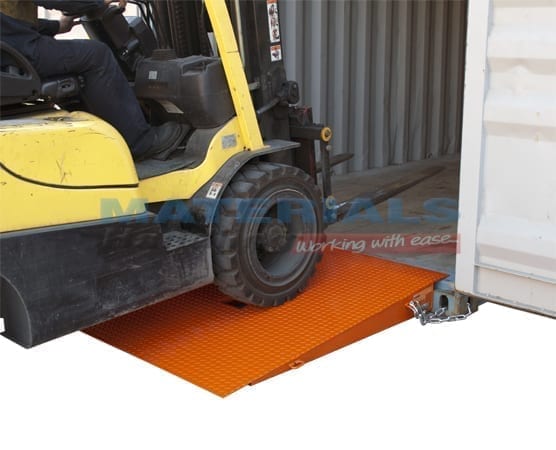 Our Forklift Container Ramp is an innovatived and economic solution that improves the efficiency and safety of loading/unloading goods from a container. Rated at an incredible 6500kg Working Load Limit, it successfully pairs a container and floor with an easy accessible ramp.
The Forklift Container Ramp (Code MCR6) is fitted with a handy flip-up fork pockets for easy and safe transportation around a facility. These handles fold up and enable handling. The unit is further supplied with safety chains on either side of the device to ensure the ramp is securely connected to the container, when the ramp is in use.
This ramp is ideal for most general applications, as it strong enough to support machinery like forklifts. Keep browsing our range and view our some of our other container loading and unloading devices.
Additional Information
A great forklift attachment for easy access into containers!
The Forklift Container Ramp MCR6 is fully reinforced. Its strong steel design eliminates worker fatigue and the unit handles many general applications. The device is certified in accordance with relevant Australian Standards and comes complete with an instruction manual, certification and risk assessment.
MCR6 Specifications: 
Ramp Length – 1.5 metres
Working Load Limit (WLL) – 6500 kg
Unit Weight – 180 kg
Width – 2000 mm
Length – 1542 mm
Enamel Paint Finish
After a different type of Container Ramp?
Then continue browsing our wide range of Dock Safety products to find your perfect solution.
Click the PDF button to learn more.
Product Variations
| | | | | |
| --- | --- | --- | --- | --- |
| | Forklift Container Ramp 6500kg | MCR6 | | |