C-hooks for lifting and turning coils
+ Add to Quote Request
The C-Hooks accessories have been specially designed for lifting and turning coils. They are fitted with a swivel shoe, that is locked during transportation and secured to allow for load progression and regular turning. Equipped with an operating handle, positioning is incredibly easy.
C-Hooks are great for lifting applications where a coil is to be turned from a horizontal to vertical position (and vice versa). Its working temperature ranges between -20° to +100°C and coils must be placed on shims first, for shoe positioning.
This accessory performs two functionalities – turning and lifting. Download our supported brochure for more information regarding its abilities.
Additional Information
TURNING COILS FROM THE VERTICAL TO THE HORIZONTAL POSITION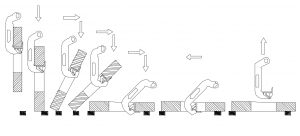 TURNING COILS FROM THE HORIZONTAL TO THE VERTICAL POSITION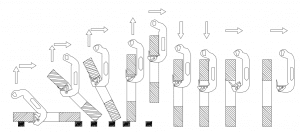 Continue browsing our range of Lifting Attachments.
These accessories are just one part of our versatile range of Lifting Attachments and Clamps. Check out some of our other solutions!
Click the PDF button to learn more.
Product Variations
Image
Description
Product Code
Price (excl. GST)

CR C-hook for lifting and turning coils
WLL: 500 kg
Coil width: 50-120 mm
Weight: 6 kg

LCH000

CR C-hook for lifting and turning coils
WLL: 1000 kg
Coil width: 70-140 mm
Weight: 9 kg

LCH001

CR C-hook for lifting and turning coils
WLL: 2000 kg
Coil width: 100-200 mm
Weight: 16 kg

LCH002

CR C-hook for lifting and turning coils
WLL: 2000 kg
Coil width: 160-300 mm
Weight: 31 kg

LCH004