Vertical Roll Lifters
+ Add to Quote Request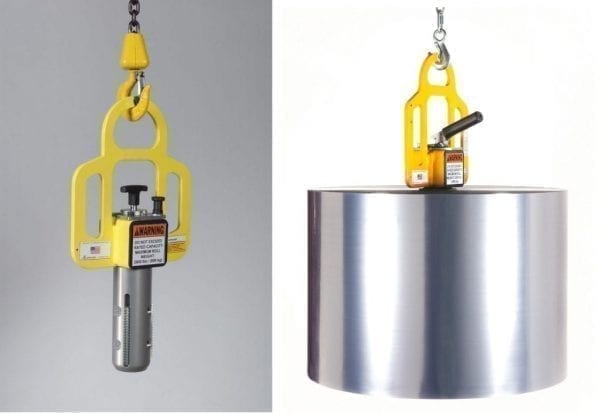 Heavy rolls and reels need to be handled with care. Our Vertical Roll Lifters has you covered, to confidently handle materials safely and easily. The VRL (Vertical Roll Lifters) range transports rolls by their core in a vertical position and have been designed for suspension from overhead cranes or hoists.
Vertical Roll Lifters are typically used in the pharmaceutical, food and packaging industries where quality, efficiency and utmost safety are the standard. They afford problem free lifting of reels with easy operation by a single person. There is no loss of material due to damage, even with sensitive goods.
These devices are used to move rolls to pallets, work tables, trolleys and carts. The mandrel is inserted into the Lifters core and the expanding segments grip the item with a strong, spring-loaded safety mechanism. The mandrel grip/release function is by release lever. It is not possible to release the load while it is suspended.
A number of models are available with varying lifting capacities and functionalities.
Product Variations
Image
Description
Product Code
Price (excl. GST)

Vertical Roll Lifter
500kg capacity
Suit 75mm diameter core

VRL-1000-3C

Vertical Roll Lifter
500kg capacity
Suit 150mm core diameter

VRL-1000-6C

Vertical Roll Lifter
Expanding mandrels can be swapped quickly and without tools
Mandrels sold separately
1000kg capacity

VRL-2200

Vertical Roll Lifter
Expanding mandrels can be swapped quickly and without tools
Mandrels sold separately
2000kg capacity

VRL-4400

3″ mandrel with expanding grippers

3-MNDL-TG

6″ mandrel with expanding grippers

6-MNDL-TG