Drum Lifters Forklift Mounted Auto Clamping
+ Add to Quote Request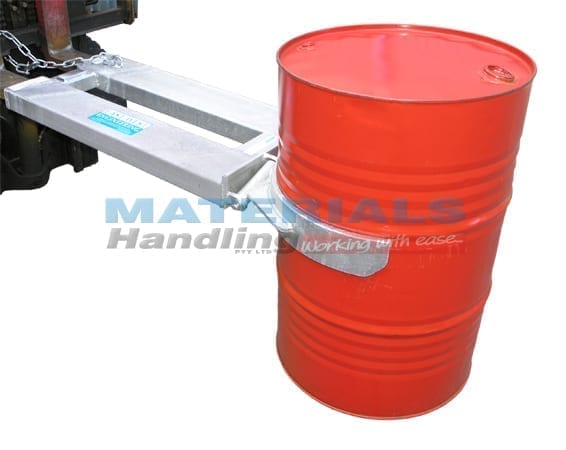 Our Auto Clamping Drum Lifters have a mechanical clamping action that is incredibly efficient. This automatic handling feature ensures 205 litre drums are secured for movement and transportation. The mechanism also allows drums to be placed safely and accurately.
A great and smart device for drum handling and storage applications, the unit also adjusts the strength of grip according to the drum. That is, the heavier the load is, the tighter the Auto Clamping Drum Lifter will grab. To release the drum, the operator simply lowers the heavy load and drives the forklift backwards.
Our Auto Clamping Drum Lifters are very easy to use. A forklift driver does not need to leave the driver seat to operate the attachment. Quickly improve your handling techniques with this amazing attachment.
Additional Information
How does it work?
Auto Clamping Drum Lifters are an attachment that's secured onto a forklift. An operator grips a drum by pushing the clamp arms of the device against the drum centre. The machine will automatically grip around the drum and lock under the rolling hoop (when the drum is raised). The heavier a load, the tighter the grip will adjust to. To release the drum from the attachment, lower the heavy load and reverse the forklift backwards.
Our Auto Clamping Drum Lifters are available in a standard model (code: DLM50) that is suitable for 205 litre steel drums. It boasts an incredible safe working load limit of up to 500kg. The support arms are adjustable (if required) to ensure clamping is completely secure.
DLM50 Specifications:
Working Load Limit: 500 kg
Unit Weight: 65 kg
Fork Pocket Size: 190 x 90 mm
Fork Pocket Centres: 300 mm
Zinc-plated finish
Continue browsing our wide range!
We have a number of lifting and handling solutions on offer. Check out our other Forklift Mounted Drum Lifting options!
Click the PDF button to learn more.
Product Variations
| | | | | |
| --- | --- | --- | --- | --- |
| | Forklift Single Drum Lifter | DLM50 | $670.00 | |