Aluminium Dock Plate
+ Add to Quote Request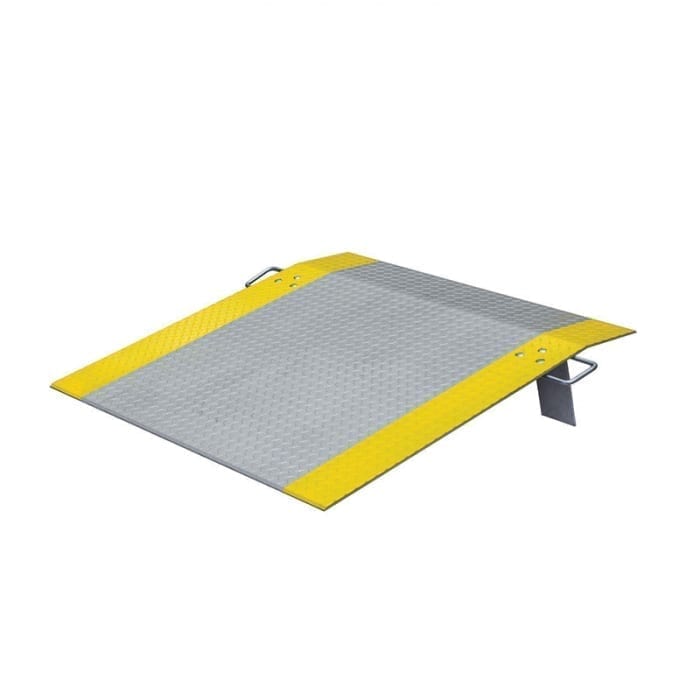 Our Aluminium Dock Plate is a ramp that assists in bridging the gap between a truck or container and the loading dock floor. Not all trucks are the same height, therefore gaps can occur due to varying height differences from the ground. Dock Plates are a lightweight, quick ramp solution that assists in connecting the floor and the load height. 
Made from a strong aluminium construction, it is suitable for light applications and smaller loads, such as handcarts, pallet jacks, trolleys, dollies and foot traffic. With a simple and flat plate design, the ramp has a maximum capacity of up to 1075 kgs. It is not ideal for powered equipment, like forklifts, as this product cannot bear the weight. Stronger container ramps may be necessary if that is a requirement.
The Aluminium Dock Plate only weighs 45 kg and has carry handles, so it can be easily transported around an organisation. Locating legs ensure the plate doesn't slip out from a container or truck. 
Additional Information
The Dock Plate is a light-duty pallet ramp!
Perfect for lighter jobs, the Dock Plate can be easily installed for quick access when loading or unloading trucks. It bridges the gap between a vehicle and loading dock and is rated to 1075 kgs, with 125 mm between levels. Model MDP4848 is lightweight and easy-to-use. To prevent the plate shifting or slipping out of place, it features locking legs. Loading and unloading tasks are more efficient thanks to this device!
MDP4848 Specifications:
Maximum Height Difference – 125 mm between levels
Length – 1220 mm
Width – 1220 mm
Thickness – 10 mm
Maximum Capacity – 1075 kgs
Total Unit Weight – 45 kgs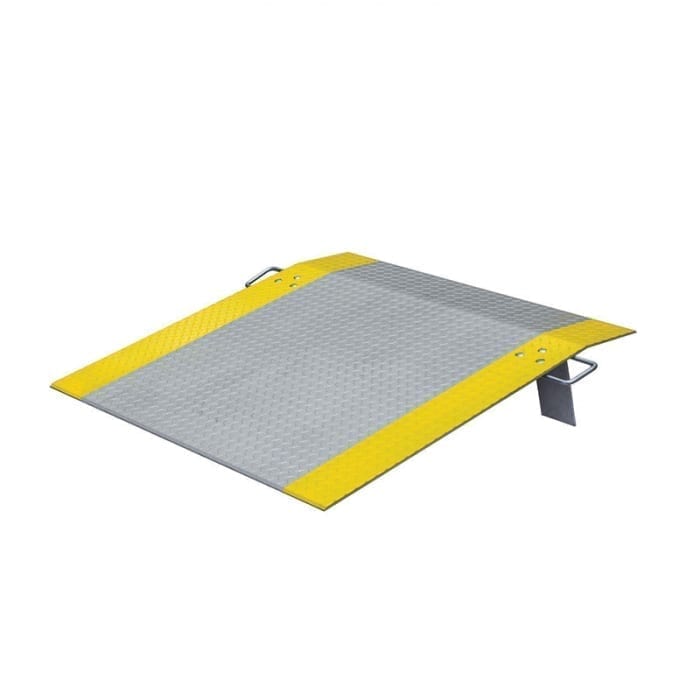 Dock Plate or Dock Board?
Although similar in name, a dock plate and dock board both suit different purposes and applications. Our Aluminium Dock Plate is designed for lighter equipment and applications. It can also be moved by one or two people with its in-built handles. Alternatively, dock boards are suited to heavy machinery like forklifts, and are subsequently heavier in nature, thus requiring a forklift to transport them throughout a workplace.
Looking for a more heavy-duty alternative?
Try our Aluminium Dock Board or view our full range of container loading and unloading devices.
Click the PDF button to learn more.
Product Variations
Image
Description
Product Code
Price (excl. GST)

Aluminium Dock Plate
Max. Capacity – 1075 kgs
Unit Weight – 45 kgs

MDP4848