Traffic Safety Cones
+ Add to Quote Request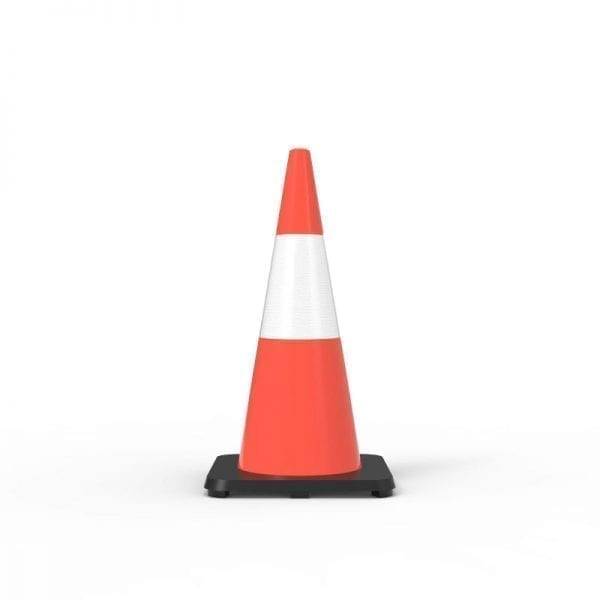 Our reflective and fluorescent Safety Cones help redirect traffic and protect working areas. They are ideal roadworks, civil engineering, schools, councils, car parks, retail and other similar applications. With a one-piece construction (on our 450 and 700 mm models), they are durable and perfect for both indoor and outdoor use.
Traffic Safety Cones also make great temporary barrier solutions. Simply connect chains, bunting flags or barricade tape to the cone. Alternatively, we offer an Extendable Bar, which provides a sturdier and more robust solution. Furthermore, the cones feature a reflective band that provides an inexpensive and visual safety warning.
Also known as a 'witches hat' or road cone, they are perfect for areas with difficult layouts. Their heavy-duty build takes up little space and they can easily be stored and transported to work sites. Our 1-metre tall model also has increased stability with a 7 kg base and large footprint.
Additional Information
Our Safety Cones are available in three sizes!
Choose from either our 450 mm, 750 mm or 1-metre tall safety cones. They are supplied as a standard high visibility orange with a reflective collar. An alternative yellow colour is also available. All safety cones are U.V stabilised to minimise fading.
Specifications: 
Material – Flexible fluorescent orange with plastic or rubber base.
Height – 450 to 1000 mm (depending on the model selected).
Weight – up to 7 kgs.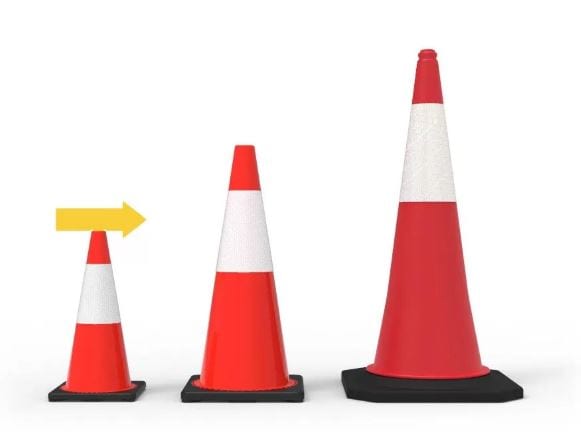 Easily team our Traffic Safety Cones with an Extendable Barrier Bar. 
By adding our lightweight extendable and retractable cone bar (Code RCB2), you can easily create a temporary barricade. The bar extends from 1.2 m to 2 metres and fits all standard Traffic Cones. Made from durable ABS plastic with rubber hooks at each end, it loops over the top of each cone and sits securely in place. The bar also has a reflective yellow and black colour for high visibility and safety precautions.
Please Note: Cones are purchased separately.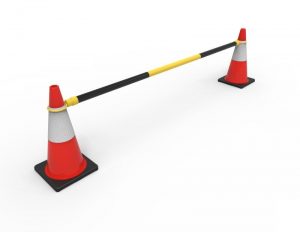 View other Workplace Safety Equipment!
Browse our entire Traffic Control and Hazard Warning range to find other great solutions.
Product Variations
| | | | | |
| --- | --- | --- | --- | --- |
| | Traffic Cone – 450mm Reflective | BTC450R | | |
| | Traffic Cone – 700mm Reflective | BTC700R | | |
| | Reflective traffic cone 1000mm – Hi-Vis Reflective | BTC1000R | | |
| | Rubber Base Weight 6kgs to suit BTC1000R Traffic Cone | BTC1000B | | |
| | Traffic Cone – 1000mm Reflective – Safety Yellow | BTC1000Y | | |
| | Retractable cone bar – 1.2 to 2 metres | RCB2 | | |
| | Traffic Cone – 1000mm Reflective – Value Pack of 10 | BTC1000R-VP | | |
| | Traffic Cone – 1000mm Reflective – Yellow – Value Pack of 10 | BTC1000Y-VP | | |