Bike Racks
+ Add to Quote Request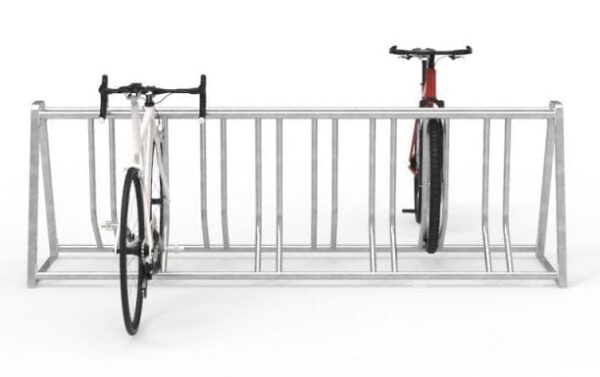 One-piece design Rounded Bike Rack Rails consist of 48mm diameter x 3mm wall, heavy galvanised pipe and are 850 wide x 800mm high. The surface mount rack has a 6mm thick fully welded base flange. The below ground rack has welded starter bars for concrete footing installation.
There are also the Schoolies Racks available that can accommodate 8 bikes of varying sizes for casual bike storage. They are manufactured from mild steel and hot dip galvanised. Designed to be relocatable it can flat pack for easy transportation for various events. It can lock one wheel to the frame, and is only available in a hot dip galvanised finish.
Our Wall Mounted Racks are sturdy one piece, mild steel and hot dip galvanised bike rack, designed to be to accommodate 1 full size bicycle with the ability to lock one wheel and the frame for total security. The bike is suspended on plastic coated prongs to protect the rims from possible damage. Can be used indoors or out. Available in galvanised or galvanised with black powder coating.
Product Variations
Image
Description
Product Code
Price (excl. GST)

Bike rail 850 x 800mm below ground – Galvanised

BR1G-BG
$152.00

Bike rail 850 x 800mm surface mount – Galvanised

BR1G-SM
$152.00

Bike rail 850 x 800mm below ground – Galvanised & Powder Coated

BR1P-BG
$184.00

Bike rail 850 x 800mm surface mount – Galvanised & Powder Coated

BR1P-SM
$184.00

Bike rail 850 x 800mm below ground – Stainless steel

BR2SS-BG
$444.00

Bike rail 850 x 800mm surface mount – Stainless steel

BR2SS-SM
$537.00

Bike rail 862 x 800mm below ground – Stainless steel

BR3SS-BG
$430.00

Bike rail 862 x 800mm surface mount – Stainless steel

BR3SS-SM
$517.00

Schoolies rack for 8 bikes galvanised
H x W x L 826 x 610 x 2320mm

BRS8G
$1,062.00

Wall mounted galvanised

BR4G-WM
$127.00