Steel Speed Humps
+ Add to Quote Request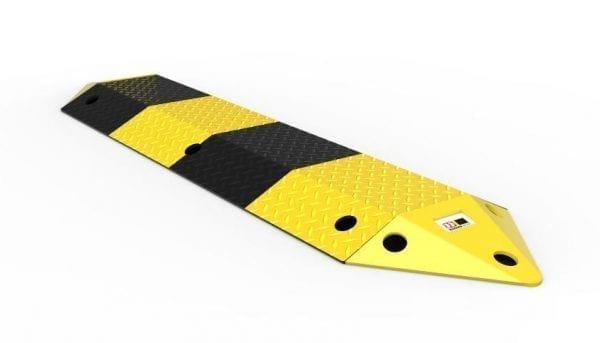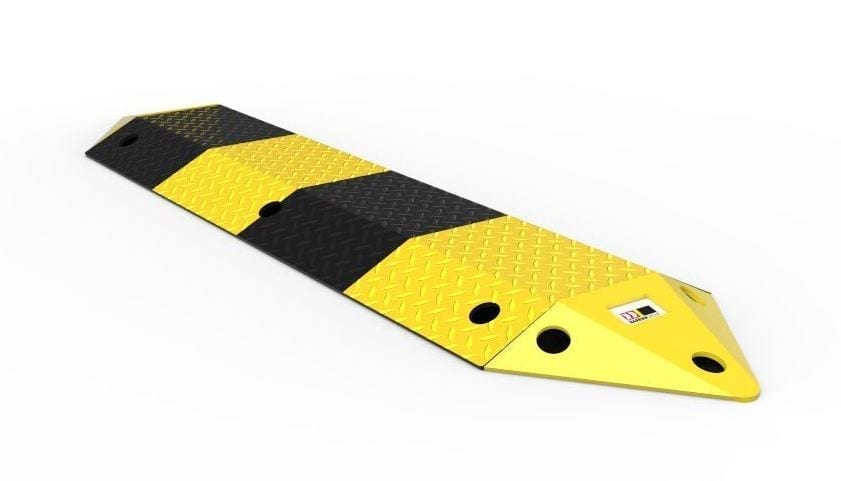 Our Steel Speed Humps are a truly dependable and strong speed control system. Consisting of durable, independent steel modules, the traffic control items are most suitable in car parks, shopping centres, factory complexes, terminals, transport depots and other similar industries. Their rugged design ensures they are long-lasting and are able to withstand frequent traffic.
Each end of the Steel Speed Humps is finished off with a pair of end caps. These rounded parts are made from an extremely long-lasting rubber. That means, they can support seriously heavy vehicle applications (including B Doubles) and withstand these heavy loads. Their super-strong chassis construction features a 6 mm floor plate and 6 bolt fixing making these speed bumps virtually indestructible.
Additional Information
Our Steel Speed Humps are practically indestructible! 
Each speed bump is designed and manufactured in accordance with relevant safety standards, like AS2890.1-2004 Parking Facilities. They are built with a five-year structural guarantee (conditions apply) and can be used with or without end caps. Steel Speed Humps can support more than four times the load bearing contact area with the road surface, which makes them a super alternative to other competitor products. These units are supplied and come complete with all relevant fixings. They do not require a rubber underlay to prevent rattles. They feature independent modules for easy removal, where modules have a built-in bridge design to accommodate hoses or cables. Concealed fixings remain accessible.
Specifications: 
Length – 1 metre or 1/2 metre
Width – 350 mm
Height – 52 mm
Top skin – 3 mm floor plate.
Number of fixings – 4 (supplied)
Weight – 17 kg (9.2 kg for 1/2 metre)
Specifications for Heavy Duty: 
Length – 1 metre only
Width – 350 mm
Height – 55 mm
Top skin – 6 mm floor plate
Number of fixings – 6 (supplied)
Weight – 22 kg
Require an alternative solution?
View our wide range of Traffic Control and Hazard Warning systems!
Product Variations
| | | | | |
| --- | --- | --- | --- | --- |
| | Slo-Motion standard duty steel speed hump – 0.5 metre (fixings included) | SM500 | | |
| | Slo-Motion standard duty steel speed hump – 1 metre (fixings included) | SM1000 | | |
| | Slo-Motion heavy duty steel speed hump – 0.5 metre (fixings included) | SM500HD | | |
| | Slo-Motion heavy duty steel speed hump – 1 metre (fixings included) | SM1000HD | | |
| | Rubber Speed Hump End Caps per pair – Black | SMEC | | |
| | Speed Hump Awareness Sign Kit | BSHKIT | | |
| | Speed Hump Ahead – Sign Kit | BSHKIT2 | | |