Short Fixed Jibs (for Forklifts)
+ Add to Quote Request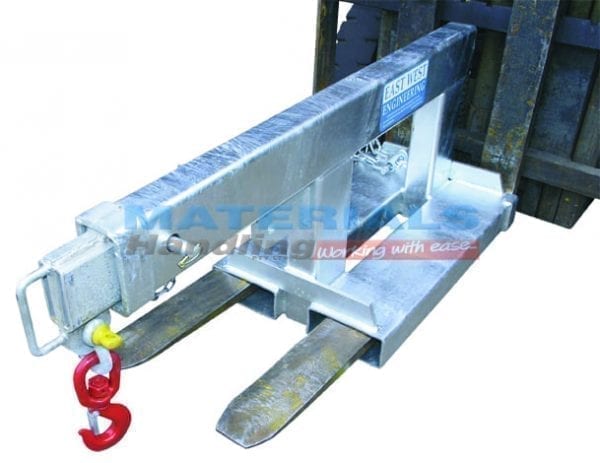 Short Fixed Jibs are fixed in a horizontal position and assist with many lifting applications. They slip-on as an attachment to a forklift and easily convert the vehicle into a small crane – making it ideal for most lifting and maintenance requirements in confined spaces. 
These jibs are designed as an affordable solution for general purpose lifting. When fully extended, they have a reach of up to 2 metres (depending on model). Three types of Short Fixed Jibs are available with varying Working Load Limits (WLL) – codes: MFJS25, MFJS50 and MFJS100.
They are able to move in small spaces and have an overall length of 1.3 metres when closed. Each jib features a zinc finish and is supplied with a safety swivel hook and shackle.
Additional Information
These slip-on attachments instantly convert a forklift into a small crane for handling those delicate or irregularly shaped goods. The shackle is quickly moved into one of the lifting positions. These appliances carry their own rating plates, so they can be used by any of your lift trucks and have a galvanised finish.
A general purpose jib at an affordable price. Able to manoeuvre in a confined space, then extend to 2m. Overall length when closed 1.3m.
The MFJS100 is a wide pocket jib  used where the fork or its attachment preclude the use of the narrow fork centres on the other jibs.
MFJS25 Short Fixed Jib Specifications:
Safe Working Load (SWL) – 2500 kg maximum
Unit Weight – 100 kg
Load Centre – 790 mm
Pocket Size – 185 mm x 65 mm
Pocket Centres – 275 mm
Horizontal C of G – 630 mm
Vertical C of G – 135 mm
MFJS50 Short Fixed Jib Specifications:
Safe Working Load (SWL) – 4750 kg maximum
Unit Weight – 130 kg
Load Centre – 780 mm
Pocket Size – 185 mm x 75 mm
Pocket Centres – 275 mm
Horizontal C of G – 700 mm
Vertical C of G – 165 mm
MFJS100 Short Fixed Jib Specifications:
Safe Working Load (SWL) – 4750 kg maximum
Unit Weight – 130 kg
Load Centre – 780 mm
Pocket Size – 185 mm x 75 mm
Pocket Centres – 275 mm
Horizontal C of G – 700 mm
Vertical C of G – 165 mm
Product Variations
Image
Description
Product Code
Price (excl. GST)

Fixed Jib (Short) with Telescopic Extension
Working Load Limit – 2.5T

MFJS25

Fixed Jib (Short) with Telescopic Extension
Working Load Limit – 4.75T

MFJS50

Fixed Jib (Short) with Telescopic Extension
Working Load Limit – 10T

MFJS100