Dangerous Goods Storage Cabinets Corrosive Substances Polyethylene
+ Add to Quote Request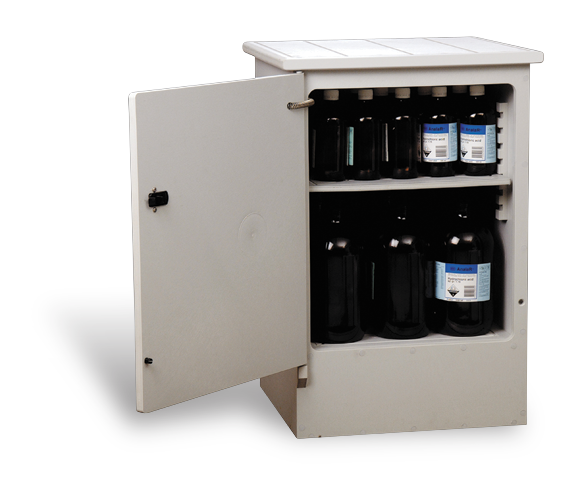 With a smart, modern profile, our Polyethylene Corrosive Storage Cabinets are innovative and built to last. As a genuine, non-metallic range of safety cabinets, they feature a completely metal-free design suited for the long term storage of most Class 8 Corrosive Substances. 
These cabinets feature dual compartments that allow incompatible items to be safely stored within the same case (like acids and bases). The storage solution easily meets Australian Standards as a product built from high-quality and durable strength and has been tested by the CSIRO for chemical resistance. As its name suggests, the cabinet is made from 100% high-density polyethylene.
Additional Information
Polyethylene Corrosive Storage Cabinets comply with Australian Standards!
With a heavy-duty, welded polyethylene construction, these devices are chemical and corrosive resistant. Their state-of-the-art powder coat finish ensures high durability and performance. The cabinets have a range of features including adjustable shelves and self-closing doors that can be locked.
Features: 
Designed and manufactured to comply with relevant Australian Standards.
Made in Australia.
Heavy-duty construction made from polyethylene.
No metal parts; fully welded design.
Corrosive resistant latch and comfortable ergonomic handle.
Perforated adjustable shelves for free air movement; adjustable at 100 mm increments (optional extra shelves).
Optional flash arrestors and venting openings (for mechanical ventilation systems).
High capacity liquid tight containment sump that contains spills – 150 mm deep.
State-of-the-art powder coat finish.
Sequential door closing system. The door will also not open inwards and can be opened from within the cabinet.
Mandatory warning signs and distinct safety directions that comply with AS1216 and AS1319.
Polyethylene Corrosive Storage Cabinets Options: 
Code
Dimensions
Weight (kg)
Storage Levels
Max Capacity
H
W
D
CP500
EXT
790
510
470
45
2
Litres
50
INT
590
470
410
2.5 L Winchesters
6
CP1000
EXT
790
990
470
90
2
(per compartment)
Litres
100
INT
590
2 x 470
410
2.5 L Winchesters
12
CP1600
EXT
1215
990
470
135
2
(per compartment)
Litres
160
INT
1015
2 x 470
410
2.5 L Winchesters
36 *
CP2500
EXT
1790
1100
490
225
3
(per compartment)
Litres
250
INT
1590
2 x 520
430
2.5 L Winchesters
72 **
* with 3 Storage Levels
** with 4 Storage Levels
Looking for an alternative Dangerous Goods solution? 
View some of our other products like our Powder Coated Steel and Alternative Polyethylene range.
Click the PDF button to learn more.
Product Variations
Image
Description
Product Code
Price (excl. GST)

Poly Corrosive Substance storage
Class 8 Corrosive Substances 50L

CP500
$2,153.00

Polyethylene Corrosive Storage Cabinet
Class 8 Corrosive Substances 100L

CP1000
$3,185.00

Polyethylene Corrosive Storage Cabinet
Class 8 Corrosive Substances 160L

CP1600
$3,884.00

Polyethylene Corrosive Storage Cabinet
Class 8 Corrosive Substances 250L

CP2500
$7,293.00