PaloMat Pallet Dispensers
+ Add to Quote Request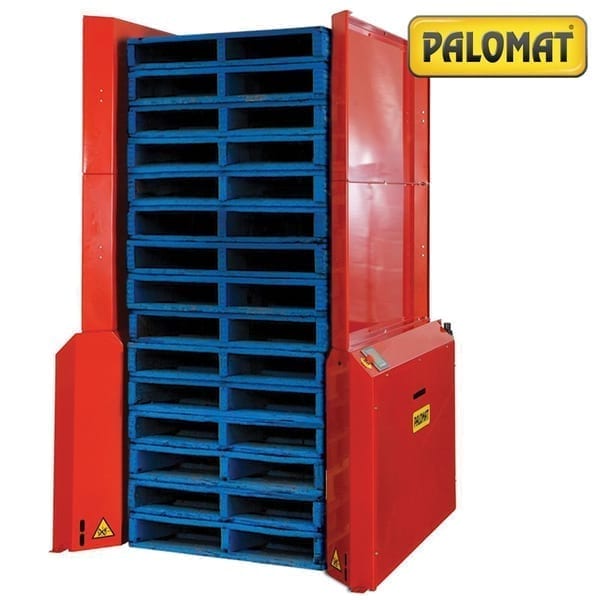 The PaloMat is an automatic pallet dispenser, used to stack and destack loads of pallets. It increases efficiency in the workplace by allowing pallet jacks and other floor-level pallet trucks to retrieve a pallet.  Typically used in order-picking applications. Featuring a touch-panel display, automatic and manual mode these are operator friendly and trouble free.
This pallet stacker improves operational productivity and performance.  It provides safe and quick pallet handling for warehouses, distribution centres, factories and companies with high pallet turnovers. The unit creates storage and assists with the organisation of heavy loads, meeting Workplace Health and Safety requirements. Separating forklifts from the order-picking zone is a huge advantage.  Take a look!
Additional Information
Incredibly easy to use!

With its advanced touch panel display, the PaloMat is simple to operate and requires little training.  The user inserts and removes pallets into the system via a hand pallet truck or forklift truck.  The PaloMat detects the object via photo sensors and automatically begins it's cycle.  According to the users selections, the system will either automatically place a pallet on the floor or retrieve a pallet to be added to the stack, one by one (as shown in the opposite video).
The device can hanldeup to 25 pallets at one time.  To complete this activity, a stack will be inserted into the machine, which will automatically start dispensing a pallet to the floor level one by one.  The same applies when selecting the stacking mode. Pallet handling is carried out completely at floor level. The unit is operated automatically and manual override actions are selected via the touch panel.  Its a simple process but saves so much for your organisation.
So many benefits for your organisation!

The PaloMat increases efficiency, time and productivity in any working environment. A fully automatic and operational unit, it requires little maintenance or training for users.  The advanced touch panel allows for simple operation and operator confidence.  It optimises pallet flow by increasing storage space and creating a tidy working space.
The device aids in efficient pallet management and reduces any potential risk of damage to pallets, often caused by careless handling methods.  The best feature of this device is that it removes manual pallet handling – meaning strain and injury risks are a thing of the past! There are many advantages of introducing this unit into your workplace. Check out the above video to learn more.
Technical Data and Specifications
PaloMat is typically for up to 15 pallets, optionally 25 or more pallets – please speak to one of our representatives.
Stainless Steel models are available.
Can be customised for cool room environments (zones down to -25 degrees Celsius).
Offers integrated conveyor options.
Requires only 240V 10A single phase power supply (general power outlet).
| | |
| --- | --- |
| Pallet Size (L x W x H) | Number of Pallets |
| 1200 x 800 x 150 | 15 pallets |
| 1200 x 1000 x 150 | 25+ pallets |
| 1200 x 1200 x 150 | 25+ pallets |
| 1170 x 1170 x 150 | 25+ pallets |
The PaloMat pallet dispenser is a standard pallet stacker.  The unit offers a range of possibilities when it comes to different pallet sizes and types.  Specific solutions can be customised and offered to aid your requirements.
Need to see more?
We have a wide range of pallet dispensers available. Discover your solution or contact one of our sales representatives for more information!
Product Variations
| | | | | |
| --- | --- | --- | --- | --- |
| | Dispenser for up to 15 pallets | MHPDS15 | | |
| | Dispenser for up to 25 pallets | MHPDS25 | | |