PaloMat Pallet Dispensers
+ Add to Quote Request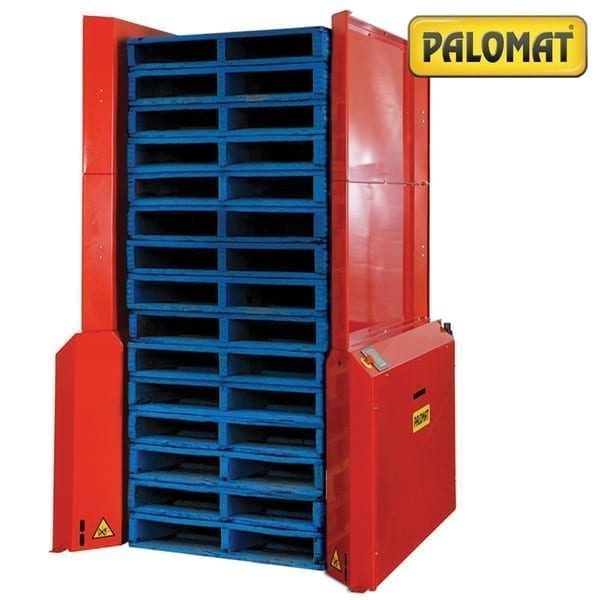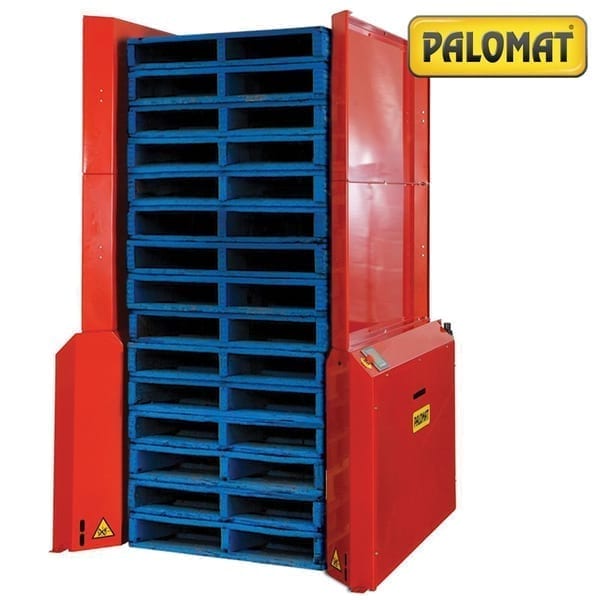 The PaloMat is an automatic pallet dispenser, used to stack and un-stack loads of pallets. It increases efficiency in the workplace by allowing pallet jacks and other floor-level pallet trucks to retrieve a pallet. Typically used in order-picking applications. Featuring a touch-panel display, automatic and manual mode these are operator friendly and trouble-free.
This pallet stacker improves operational productivity and performance. It provides safe and quick pallet handling for warehouses, distribution centres, factories and companies with high pallet turnovers. The unit creates storage and assists with the organisation of heavy loads, meeting Workplace Health and Safety requirements. Separating forklifts from the order-picking zone is a huge advantage.
Additional Information
The PaloMat is an easy-to-use device with so many benefits!
With its advanced touch panel display, the PaloMat is simple to operate and requires little training. The user inserts and removes pallets into the system via a hand pallet truck or forklift truck. It then detects the object via photo sensors and automatically begins its cycle. According to the user's selections, the system will either automatically place a pallet on the floor or retrieve a pallet to be added to the stack, one by one.
How does it work? 
The device can handle up to 20 pallets at one time. To complete this activity, a stack will be inserted into the machine, which will automatically start dispensing a pallet to the floor level one by one. The same applies when selecting the stacking mode. Pallet handling is carried out completely at the floor level. The unit is operated automatically and manual override actions are selected via the touch panel. It is a simple process but saves so much for your organisation.
Features of the PaloMat: 
Saves on space by organising pallets and ensuring a tidy work area.
Optimises pallet flow and improves the working environment.
Increases efficiency and reduces pallet costs.
Requires no manual pallet handling, therefore reducing hazardous tasks with less absence due to injury or illness.
A leaner machine that reduces time spent per pallet and increases efficiencies with less required resources.
Ensures safety – removing injury risks (like jammed fingers or feet).
Less truck driving.
A great solution for your workplace. 
Increase worker efficiency, time and productivity with the PaloMat. It's a fully automatic and operational unit, that requires little maintenance. The advanced touch panel allows for simple operation and operator confidence. It optimises pallet flow by increasing storage space and creating a tidy working space. The device aids in efficient pallet management and reduces any potential risk of damage to pallets, often caused by careless handling methods. The best feature of this device is that it removes manual pallet handling – meaning strain and injury risks are a thing of the past!
Technical Data and Specifications:
PaloMat is available in 7, 15 & 20 pallets capacity.
25 and 30 pallet units are available to special order.
Units 20 pallets and over are supplied with a wired interlocked safety door to prevent pallet stacks falling.
Stainless steel models are available.
Can be customised for cool room environments (zones down to -25° C).
Offers integrated conveyor options.
Requires only 240V 10A single phase power supply (general power outlet).
Complete with Siemens S-1200 controller
The PaloMat pallet dispenser is a standard pallet stacker. The unit offers a range of possibilities when it comes to different pallet sizes and types. Specific solutions can be customised and offered to aid your requirements.
Benefits of a pallet dispenser for your business
If your business needs to move pallets in your warehouse or distribution centre, then a pallet dispenser is an essential piece of equipment for a variety of reasons. It increases productivity, reduces injuries, ensures less broken pallets, and increases the time that can be saved by using a fully automatic dispenser.
Saves time and improves processes
Automating your packing and unpacking procedures is a well-known strategy for saving time and increasing productivity in warehouses and distribution centres. With a PaloMat pallet dispenser, there's no need to wait around for a forklift or second operator to move, stack or retrieve the pallets. That's because all of these operations can be performed quickly and efficiently by the automated dispenser, without any other assistance other than a single operator.
Fewer operators required
With fewer operators required to move, stack and retrieve pallets, your company saves money because you don't need such a large workforce. Since the movement of pallets can also be performed faster using an automated dispenser, than with two operators working together, your company can increase productivity and revenue even further.
No forklift needed
With our automated pallet dispenser, you no longer need the services of a forklift and experienced driver to move, stack and retrieve your pallets. This means you can, once again, increase productivity in other areas of your warehouse or distribution centre by reassigning the forklift and driver elsewhere. They can be deployed to perform other operations that still require the services of a forklift.
Reduces injuries and improve productivity
The introduction of automated equipment helps to lower injuries caused by repetitive actions, as well as by lifting heavy pallets incorrectly. Back injuries and those caused by repetitive actions result in a large number of hours lost to sick leave every year. The ability to stem this loss and keep your employees healthy and safe at work is an important part of maintaining the wellbeing of your employees.
Reduces damage to pallets
Manually moving, stacking and retrieving pallets can often result in broken pallets. These breakages can be caused by incorrect stacking or pallets being dropped during manual handling. They can also be the result of incorrect retrieval by forklifts or because the forklift is the wrong size for the pallets, leading to unbalanced loads. Another cause of broken pallets in warehouses or distribution centres is where the layout is not conducive to the smooth operation of forklifts. With inadequate space to manoeuvre, pallets can inadvertently be damaged. This is where a pallet dispenser can make a big difference because it can operate in narrow aisles and small spaces where a forklift would struggle to manoeuvre.
A cost-effective solution resulting in more profit
All of this means that when you introduce an automated dispenser into your workplace, your company saves money and makes more profit. This is down to a combination of factors that include less sick leave due to injuries caused by manual handling, fewer operators required to move the pallets around and a reduction in broken pallets. Saving not only time, because your pallet stacking and unstacking operations are faster with a pallet dispenser, but also not requiring two employees for these operations and redeploying the forklift, are all additional areas where this cost-effective solution plays its part.
Need to see more?
We have a wide range of pallet dispensers available. Discover your solution or contact one of our sales representatives for more information!
Product Variations
Image
Description
Product Code
Price (excl. GST)

Dispenser for up to 7 pallets

MHPDS7

Dispenser for up to 15 pallets

MHPDS15

Dispenser for up to 20 pallets
Has safety door wired to PLC

MHPDS20

Yellow front protection guards

MFTP