Long Container Ramp (8T x 3000mm)
+ Add to Quote Request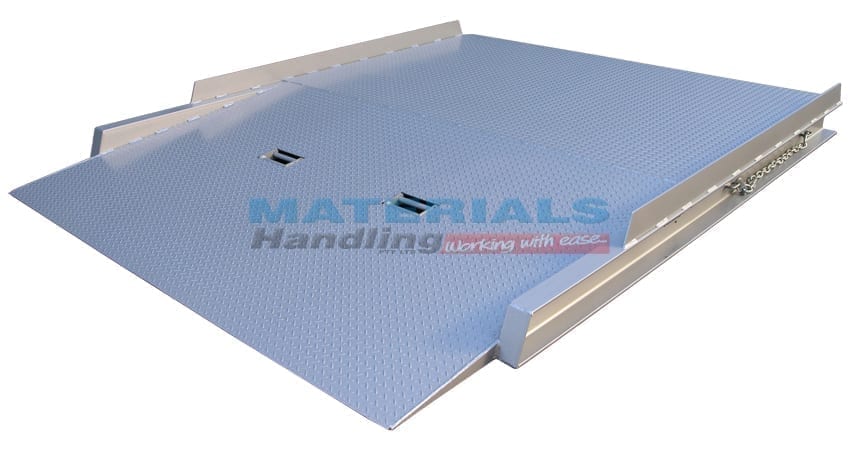 The Long Container Ramp has an extensive overall length of 3 metres and a Safe Working Load (SWL) of 8000kg!  The additional length allows operators to easily place and remove pallets into a container – first and second line containers as 1.5 metres of the length is horizontal.
Fork pockets have been included on either side of the ramp to allow easy transportation, accurate placement and movement of the device.  The Long Container Ramp also features a flip-up brackets and tine pockets for extra assistance.
When in use, the ramp is secured into place with safety chains, that are on either side of the ramp.  This ensures that the ramp does not detach itself from the container and thus prevents accidents from occuring.  Raised edges also ensure forklifts do not drive off over the side.
Keep browsing our range and view our some of our other container loading and unloading devices.
Additional Information
Need extra length on your ramp?  Then this model suits you!
The Long Container Ramp – code MCRL8 – features an extensive Safe Working Load (SWL) of up to 8000kg.  It also is full certified and comes with complete instruction manuals upon delivery.
Specifications:
Size:  3000mm (length) x 2320mm (width) x 160mm (height) – that is from ground to ramp deck.

Capacity:  8000kg SWL

Unit Weight:  600kg

Finish: Enamel Paint
Looking for an alternative model?
Then try our shorter container ramp that provides the same strength just over a shorter length.
Click the PDF button to learn more.
Product Variations
| | | | | |
| --- | --- | --- | --- | --- |
| | Forklift Container Ramp (long) – 8T | MCRL8 | | |