Hospital Bed Mover Gzunda
+ Add to Quote Request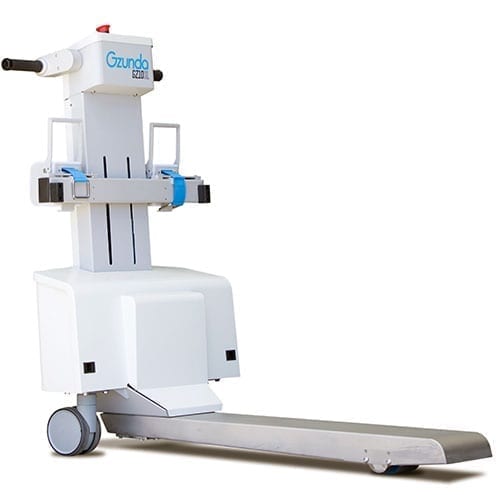 The new and improved Gzunda Bed Movers continue to increase safety in a variety of working environments.
Perfect for hospitals and aged care facilities, these units reduce the risk of manual handling injuries within the healthcare industry. A simple bed attachment, they securely grip into position to move heavy loads effortlessly. These bed movers are able to navigate beds through high traffic, tight corridors and in/out of lifts, they simplify tasks and increase efficiency.
This product is specially designed for moving a variety of hospital bed frames. It allows its operator to have the strength to effectively transport beds to improve safety and increase storage space – an essential for busy emergency departments.
Additional Information
Improve bed moving in your organisation!
Gzunda Bed Movers are incredibly easy to use.  A simple device, they feature a noiseless and powerful motor, that is completely emissions free!  Its slim, economical and attractive design ensures it's completely intuitive and innovative.  Its retractable handle folds away for extra storage, ideal when navigating lifts and confined spaces.
Keep staff and patients safe!
Gzunda allows medical staff to easily transport beds and patients safely around busy corridors.  The unit requires minimal effort, allowing an operator to manoeuvre beds and trolleys around facilities.
No pushing or pulling, straining or bending is required.  Let the Bed Movers do the heavy towing for you.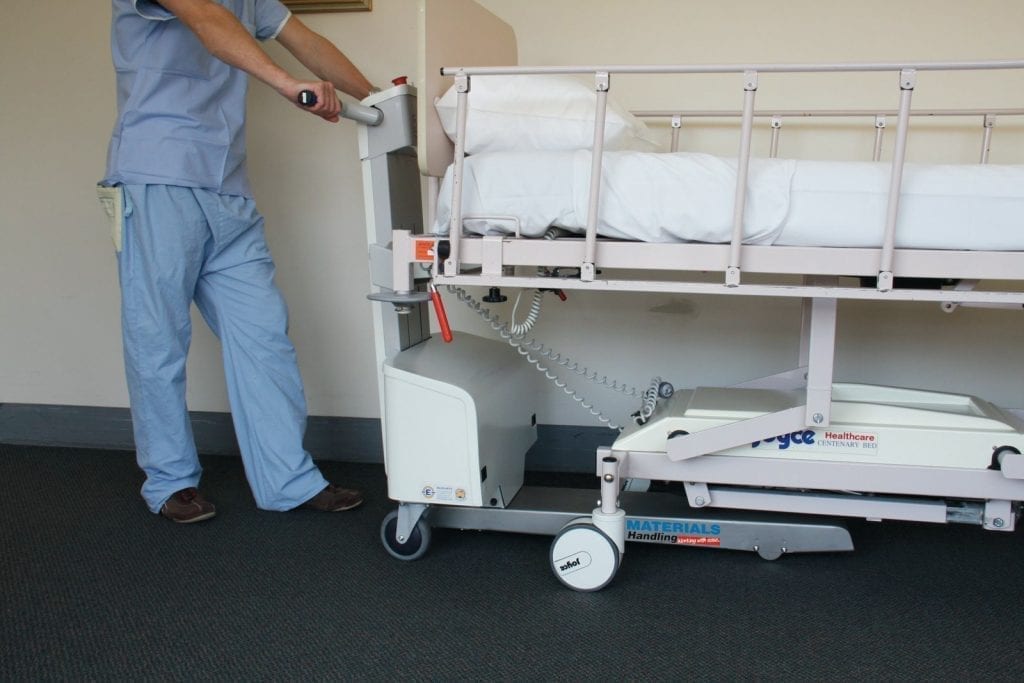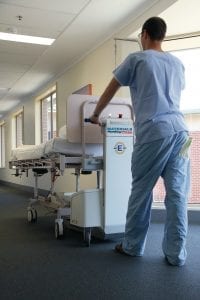 With Gzunda Bed Movers, employees have the strength of ten people! The once arduous task of moving heavy beds between rooms, wards, theatres, up slopes and around corners, is made easy.  The biggest advantage of this device is the reduce risks for healthcare professionals.  Such a benefit leads to more satisfied and safer working environments – the value of which, cannot be underestimated.
How does it all work?
Gzunda automatically attaches and detaches from beds with the push of a button.  Its low profile and stainless steel tine easily manage different bed designs without damage.  Each unit features a command panel with an on/off key, emergency stop button, battery condition monitor, auto-attach button, horn and three maximum speed settings.  The direction of the bed can be controlled by variable control and an ergonomic twist grip handle. Each unit is supplied as standard, with a sealed, maintenance-free, lead-acid battery and charger.
Three models are available!
Gzunda MELGZS Bed Mover
A silent, fast and powerful unit, the MELGZS Bed Mover is simple to use. It can moves beds, with or without patients, up or down ramps, over carpets, into lifts and around tight corners. It features non-marking tyres, smooth operation and is Australian made and designed.
Capacity – 600 kg
Height – 1230 mm
Length – 1245 mm
Two widths available (please enquire)
No under-bed clearance required
Push-button hitching
Gzunda MELGZN Bed Mover
The MELGZN Bed Mover features similar attributes as the above model but is an intelligently designed slimline version.  It's compact and easily moves around tight corridors, with a towing capacity of 500 kg. Additionally, a bariatric model is available with an 800 kg capacity.
Moves 500kg capacity (800kg for bariatric model)
Push-button hitching
Please view the brochure for dimensions
Alike MELGZS with non-marking tyres, simple to use, quiet and smooth operation
Australian made and designed
Requires 100 mm if clearance under the bed (can be modified to 90 mm)
The Bed Mover can detach easily, ensuring an operator can move many beds as required. Its 'safety back-off reversing bar' prevents users from being jammed against obstructions. When activated, these feature reverses the bed mover in the opposite direction of travel. The Gzunda Bed Movers sleek and innovative design ensures a safer workplace. It bears the burden of heavy loads, making it an ideal partner in the healthcare industry. Improve Occupational Health and Safety processes in your organisation with this unique unit.
Leading model of hospital bed movers
The Gzunda Bed Movers combine all the safety, mechanical and operational features you and your team will want from your hospital bed movers.
Simple operation
These bed movers are perfect for use by hospital staff thanks to the simple operation and intuitive controls. Using and moving these pieces of equipment is easy and doesn't require lots of training.
Intuitive controls
The button and mechanical operation of the bed movers is equally intuitive. Operation is designed to be simple at all levels to ensure safe and comfortable transport.
No noise
These noiseless machines are designed for use in hospital environments. All features, including the operation of the motor, work silently ensuring no other patients, staff or visitors are disturbed.
No emissions
Safety and health is the top priority in all work environments, including hospitals. The Gzunda Hospital Bed Movers make no emissions and are 100% safe for use in medical environments according to industry, Australian and international standards.
Reliable motor
The powerful internal motor provides all the momentum you need to move and transport beds around the hospital. Reliable and hardy, the motor is designed for regular and long-term use.
Compact size
The economical design of these hospital bed movers takes into account the corners, hallways, elevators and doorways of hospitals. Plus, the compact size allows for easy manipulation and movement without compromising ergonomics or mobility.
Easy transport
The durable wheels and robust structural integrity of the bed mover allows for easy bed transport. Designed specifically to require minimal physical exertion, hospital staff no longer need to pull, push, strain or push. As a leading cause of injury in hospitals, decreasing the need for staff to use their own body strength for movement is an invaluable benefit.
Durable material
Hospitals are busy places and you need a bed mover that can keep pace with the environment. Made from durable and sturdy material, the Gzunda models are all solid investments that will last over the long-term.
Strong power
No matter how heavy the load, the strong motor and reinforced power will help any member of staff to move beds and patients of all weights and sizes. 
Sealed battery and charger
The lead acid battery comes completely sealed and protected ensuring safety in operation and set up. There is no requirement for ongoing battery maintenance either. Plus, all models come with a battery charger.
Reinforced tines
The reinforced tines are made from powerful and high quality stainless steel. Not only does this provide easy and efficient use, the use of stainless steel offers durability and rust/corrosion resistance leaving the bed mover to look as good as new for a long time.
Multiple speed settings
With three different speed settings and maximum speed limit, the Gzunda hospital bed movers allow for enough versatility of movement without sacrificing safety.
Auto attach button
The auto attach feature means connecting and disconnected beds to the machine is simple, efficient and hassle-free. 
Horn accessory
The horn accessory on the bed mover provides an often necessary communication device when moving hospital beds through busy hallways, around corners or in urgent emergencies.
Emergency stop button
In the event of an emergency, bed mover operators can engage in an automatic stop button which will cease continued movement immediately. This safety feature is a must have in all quality hospital bed movers.
Ergonomic handle
The twist grip handle is ergonomically designed for comfortable use. Moving beds down long hallways and across large hospitals shouldn't put a strain on any joints or muscles. Combined with smooth, strong mobility, the well-designed handle offers easy, stress-free use.
On/off operation
Operational with an on/off key, the hospital bed mover can be used with complete confidence and in compliance with hospital, national and international industry safety standards and guidelines. 
Multiple models
The Gzunda hospital bed movers come in three distinct models with varying capacity limits, dimensions, sizes and features.
 Gzunda MELGZS Bed Mover

 Gzunda MELGZN 

 MELGZBDH Bed Mover
Need other healthcare solutions?
View our bed mover range or alternatively, search for products via our healthcare industry catalogue.
Click the PDF button to learn more.
Product Variations
Image
Description
Product Code
Price (excl. GST)

Gzunda slim-line bed mover
500kg capacity at 6 degree incline
Hitch ordered separately

MELGZN

Gzunda bariatric bed mover
800kg capacity at 6 degree incline

MELGZBDH

Gzunda split-tyne bed mover
600kg capacity at 6 degree incline
For beds 800mm wide. Hitch ordered separately.

MELGZS

Gzunda split-tyne USA bed mover
600kg capacity at 6 degree incline
For beds 900mm wide. Hitch ordered separately.

MELGZUS

Retractable powered 5th wheel KIT with 'Gzunda' style control
A retrofittable kit for converting hospital beds into powered ones

MP5WB

Flex hitch kit

MHTFLEX001