Gravity Roller Conveyors
+ Add to Quote Request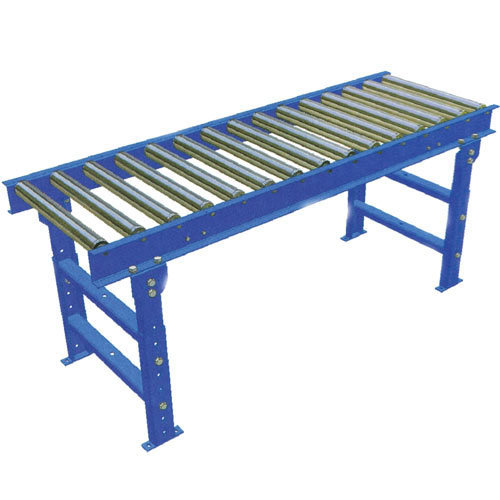 Our Gravity Roller Conveyors are an inexpensive and essential solution to freely move goods at any stage of an operational line. They're a reliable, efficient and safe transportation device.
Able to move heavy and awkward shaped items, these conveyors are a crucial part in manufacturing and packaging lines. The units are incredibly versatile as they include innovative interlocking hooks allowing for the addition of a conveyor sections as per workplace requirements.
When selecting a conveyor it is recommended that a minimum of three rollers are supporting the footprint of the smallest product. This ensures goods can be transported with absolute ease. Load sizes will determine the roller pitch required for your conveyor system by applying this rule. Customised conveyor systems are available upon request.
Additional Information
Gravity Roller Conveyors have so many benefits!
Remove strenuous manual handling activities, by ensuring your workplace adopts a conveyor to move goods over long distances. Our Gravity Roller Conveyors are notorious for simplifying processes and increasing productivity.
Our conveyor frames feature a durable powder-coated finish and are available with either poly (plastic) or galvanised steel rollers. The straight frame rollers can be set at 75, 115 or 150 mm pitch. Alternatively, the 90° curved frames are only available with steel rollers and rollers are all set at 75 mm pitch.
Conveyor rollers are 50 mm diameter and have a spring-loaded shaft that allows them to easily fit into the frames. The galvanised steel rollers can handle a total capacity of 110 kg each, whereas plastic rollers have a capacity of 50 kg each. Frames come complete with a hook and keeper that allows them to be quickly and effortlessly joined together.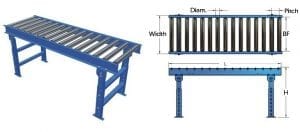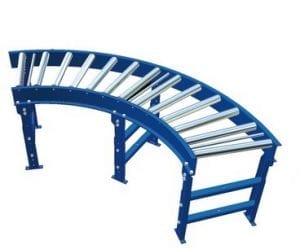 Technical Specifications
Frame details: Lengths – 1500, 3000 mm and curves 45° 90°

Frame widths: 300, 450 and 600 mm (overall width)

Roller lengths: 230, 390 and 540 mm (overbearing dimension)

Rollers per 1500 mm frame:

75 mm pitch = QTY 20

115 mm pitch = QTY 13

150 mm pitch = QTY 10 

Rollers per 3000 mm frame:

75 mm pitch = QTY 40

115 mm pitch = QTY 26

150 mm pitch = QTY 20

Stands are height adjustable from 715 – 1015 mm
Our conveyors are easy to order and can be fully customised!
It's incredibly easy to get your hands on a Gravity Roller Conveyor. Simply select the:
Length and Width
Pitch
Type of roller (steel or plastic)
Quantity of Frames, Rollers and Number of Stands.
Our conveyors can also be built to suit your specific requirements. We can completely customise the conveyor systems to suit your requirements. Just specify your length, width, pitch or roller requirement and we'll develop the solution for you.
Please Note: Frames and rollers are purchased individually for the straight conveyors. The curved conveyors are ordered complete with rollers fitted into the frame.   
Not sure if this is what you require?
Then check out our range of Powered Conveyors. These incredible solutions will help you make your material handling processes completely autonomous.
Click the PDF button to learn more.
Product Variations
Image
Description
Product Code
Price (excl. GST)

230mm Steel Roller for 300mm Frame

CL1770G

390mm Steel Roller For 450mm Frame

CL1772G

540mm Steel Roller For 600mm Frame

CL1773G

230mm Plastic Roller for 300mm Frame

CL2766

390mm Plastic Roller for 450mm Frame

CL2767

540mm Plastic Roller for 600mm Frame

CL2764

Straight Conveyor Frame – 300 x 1500mm

CL1910

Straight Conveyor Frame – 300 x 3000mm

CL1912

Straight Conveyor Frame – 450 x 1500mm

CL1914

Straight Conveyor Frame – 450 x 3000mm

CL1916

Straight Conveyor Frame – 600 x 1500mm

CL1918

Straight Conveyor Frame – 600 x 3000mm

CL1920

300mm 90 Degree Frame with Twin Steel Rollers at 75mm pitch

CL3009008

450mm 90 Degree Frame with Twin Steel Rollers at 75mm pitch

CL4509008

600mm 90 Degree Frame with Twin Steel Rollers at 75mm pitch

CL6009008

Height adjustable support stand suit 300mm wide frame
Elevation range 715 – 1015mm plus the conveyor frame

CL1851HD

Height adjustable support stand suit 450mm wide frame
Elevation range 715 – 1015mm plus the conveyor frame

CL1863HD

Height adjustable support stand suit 600mm wide frame
Elevation range 715 – 1015mm plus the conveyor frame

CL1869HD

300mm 45 Degree Frame with Twin Steel Rollers at 75mm pitch

CL3004508

450mm 45 Degree Frame with Twin Steel Rollers at 75mm pitch

CL4504508

600mm 45 Degree Frame with Twin Steel Rollers at 75mm pitch

CL6004508