Pallet Bin Tippers Floor Mounted
+ Add to Quote Request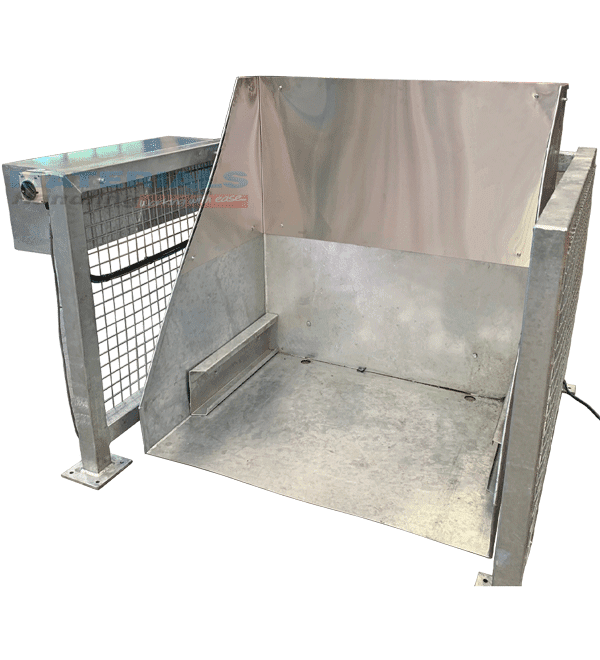 Our Floor Mount Box Tipper is a great bulk bin tipper that easily handles Nally bins, Chep boxes or wheelie bins. The device rotates bins up to 130 degrees and efficiently controls the emptying of containers. As such, it makes for a beneficial waste management solution in any workplace.
With this pallet bin tipper, safety side barriers are included to protect users from the tipping action. It is also suitable for forklift or hand pallet jack bin loading. The tipping function is controlled by the operator through hydraulic lever control, meaning the forklift operator doesn't have to leave their seat during the process. This further improves productivity and user abilities.
Featuring a capacity of 1000 kg, this device can be custom engineered to suit any application or bin size. The bin tipper is constructed with a zinc-plated finish.
Additional Information

Bin Tipping in under a minute!
The Floor Mount Box Tipper easily empties bins in a quick and responsive 42-second cycle (from the ground to full tip, and back to ground). Each device has a bin retainer fitted to suit the required container size, with the whole tipping action height approximately 900 mm above the floor. The tipper can also be optionally supplied with stainless steel back inserts or as a fork carriage model (on request).
Effortless tipping and waste management
The MFMBT1 Floor Mounted Box Tipper is intended to tip nally bins, chep boxes, and wheelie bins with ease. Its universal design allows the cradle to be customised to suit any application or bin type on request, making it popular in the manufacturing, agriculture, fresh produce, and mining industries.
Customised to suit the application
Floor mounted box tippers make your waste management processes easier and safer. So, no matter if you're moving goods into a secondary container, pouring produce into a blender, or tipping wheelie bin waste into a skip, these devices can assist many applications.
Increased workplace safety
By providing stability throughout the tipping process, floor-mounted tippers serve to improve worker safety. The 240V AC (1.5kw) Hydraulic Power Pack controls its 130-degree tipping motion, allowing emptying of contents into a secondary container, bin, or even a takeaway conveyor, depending on your warehouse line configuration. An emergency stop switch and side guard barriers are among its safety measures.
Features: 
Easily rotates and empties bins of almost any size, with a 130-degree rotation.
Suitable for forklift or hand pallet jack bin loading.
The device is operated via hydraulic lever control, with a hydraulic power pack supplied (240-volt 2.2kw)
Safety barriers are supplied to ensure protection during tipping action.
Bin retainer fitted standard to suit mega bins.
Wheel guide fitted standard to retain 80, 120 or 240 L wheelie bins.
Tipping height is approximately 900 mm above the floor.
The complete tipping action is a 42-second cycle – from the ground to full tip and back to the ground.
Available with a stainless steel back insert or as a fork carriage model on request.
The tipper can be customised to suit any application or bin type/size.
Specifications:
Working Load Limit (WLL) – 1000 kg
Rotation – 130-degrees
Dimensions – 1910 x 1555 x 1400 mm
Dimensions at full rotation – 1910 x 2185 x 2610 mm
Unit Weight – 500 kg approx. (subject to configuration supplied)
Fork Pocket Size – 185 x 60 mm
Fork Pocket Centres – 900 mm
Please note, bins are not included.
Require another waste management solution?
View our great range of Skips, Tippers, Kibbles and Bulk Bags!
Click the PDF button to learn more.
Product Variations
| | | | | |
| --- | --- | --- | --- | --- |
| | Floor Mount Box Tipper 1000 kg | MFMBT1 | $10,530.00 | |
| | Floor Mount Box Tipper 1000 kg with stainless steel insert | MFMBT1-SS | $11,840.00 | |