Fibreglass Extension Ladders
+ Add to Quote Request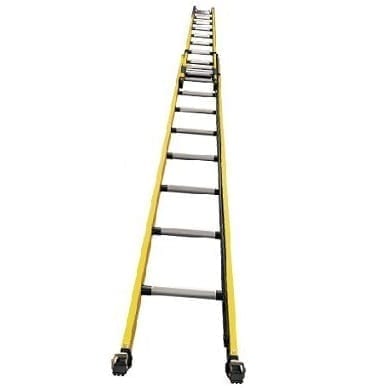 Fibreglass Extension Ladders are a strong construction ladder which is tougher than any other comparable product on the market. It has even been proven to be stronger than aluminium.  This Extension Ladders light weight nature means it's easy to transport and handle and its sections are effortless to move up and down.
This product has been built in accordance to relevant safety codes, including the specifications as set by standards AS/NZS1892 Portable Ladders and ANSI A14.5-2000 Ladders Safety Requirements.  These Fibreglass Extension Ladders have a higher load rating than 'C' section ladders.
We offer this product in two different models:
PowerMaster

– for the everday user with specially designed non-slip "D" profile rungs. Rating is 140kg for all PowerMaster ladders. 
TradeMaster – the cost-effective solution with specially designed non-slip round rungs. Rating is 160kg except for MFED94 – 140kg & MFED98 – 120kg.
Product Variations
Image
Description
Product Code
Price (excl. GST)

PowerMaster Closed height: 2.70m Extended height:4.00m Weight: 5.5kg

MFED40

PowerMaster Closed height: 3.30m Extended height 5.20m Weight: 18.5kg

MFED52

PowerMaster Closed height: 3.90m Extended height 6.40m Weight21.6kg

MFED64

PowerMaster Closed height: 4.50m Extended height 7.60mWeight 27.1kg

MFED76

PowerMaster Closed height: 5.10m Extended height:8.80mWeight 31.5kg

MFED88

PowerMaster Closed height: 5.80m Extended height 9.40m
Weight: 35.5kg

MFED94

TradeMaster Closed height 2.70m Extended height 4.00m Weight 13.4kg

MFER40

TradeMaster Closed height 3.30m Extended height 5.20m Weight 16.5kg

MFER52

TradeMaster Closed height 3.30m Extended height 6.40m Weight 16.5kg

MFER64

TradeMaster Closed height 4.5m Extended height 7.60m Weight 25.4kg

MFER76

TradeMaster Closed height 5.10m Extended height 8.80m Weight 29.0kg

MFER88

PowerMaster Closed height 5.80m Extended height 9.80m Weight 35.5kg

MFED98