Ezi-MT Wheelie Bin Tipper (65 kg)
+ Add to Quote Request

The Ezi-MT Wheelie Bin Tipper is a cost-effective and safe solution for emptying bins and waste products. Designed for low volume, light-duty applications, this device is capable of lifting and tipping loads up to 65 kg. The tipper is suited to operations that would empty approximately 6 bins per day – like offices, schools, restaurants, cafes, small businesses, local councils, small industries and remote locations.
This device uses a reliable tipping action that is powered completely by the user. Featuring a unique hand-winch design, there are no electrical components and the tipper is fully compliant with relevant Australian Standards and regulations. The weight of the bin remains within the footprint of the device, ensuring safety and stability even when emptying heavy loads.
Additional Information
The Ezi-MT Wheelie Bin Tipper is controlled completely by the user!
This is an economically designed tipper that takes the pain out of tipping bins. As a safe and easy solution, it is operated by a safety hand winch with no motorised pinch points and no electrical or hydraulic components to service. The frame comes as a flat-pack, substantially minimising freight costs and emissions due to transportation. It's also easy, quick and safe to install and start using in any workplace.
MT1500 Features:
Lifting capacity is 65 kg.
Tipping height of 1500 mm.
Extremely safe and stable design; the weight of bin stays within the footprint of the machine during tipping cycle.
Versatile cradle lifts 80-litre, 120-litre, 140-litre and 240-litre wheelie bins with no clamping or adjustment.
Powder-coated frame with zinc-plated cradle and guards, certified for outdoor use.
High-quality industrial winch.
No electrical or hydraulic components to service.
Shipped flat-packed to reduce freight costs and emissions.
Hazard guide and operating instructions supplied with the machine.
Rugged steel construction.
Designed and made in New Zealand.
MT1500 Specifications: 
Tipping Height – 1500 mm
Height – 2302 mm (cradle lowered); 2535 mm (cradle raised)
Width – 907 mm
Length – 924 mm
Weight – 110 kg
Capacity (max. bin weight) – 65 kg
Cradle compatibility – 60 L, 80 L, 120 L, 140 L, 240 L
Bin Throw –

~180 mm with 240 L wheelie bin / ~105 mm with 120 L wheelie bin

User Operation – Winch handle, grab handle, dual foot-brakes
Tipping Cycle Duration – Dependant on the operator (typically

~30 seconds)

Powder-coated mild steel frame, zinc-plated 1.6 mm sheet metal guarding, zinc-plated mild steel cradle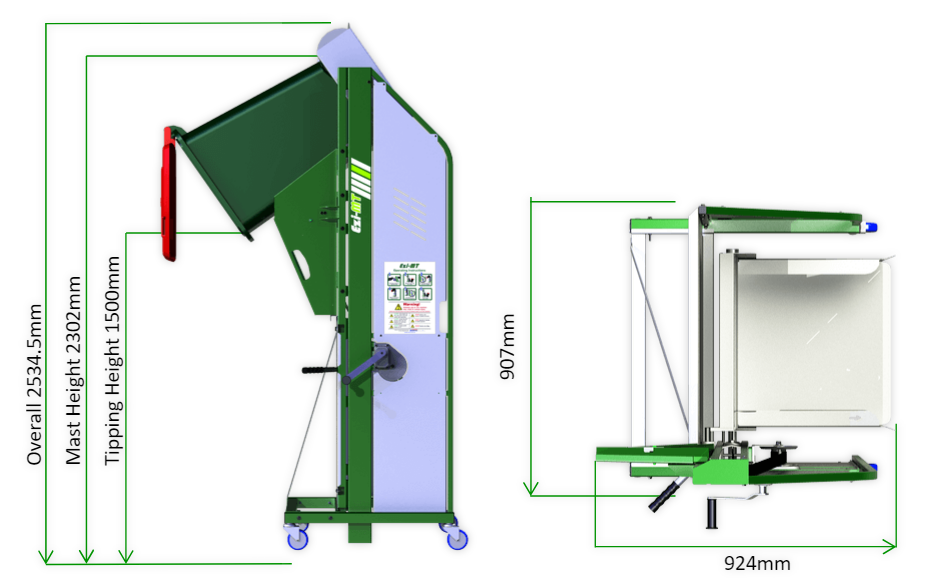 Looking for more power during tipping cycle?
View our complete range of various Bin Tippers to find the right device for your requirements.
Product Variations
Image
Description
Product Code
Price (excl. GST)

Ezi MT wheelie bin tipper
1500 mm tip height
65 kg capacity

MT1500