Multi-Tip Wheelie Bin Tipper (150 kg)
+ Add to Quote Request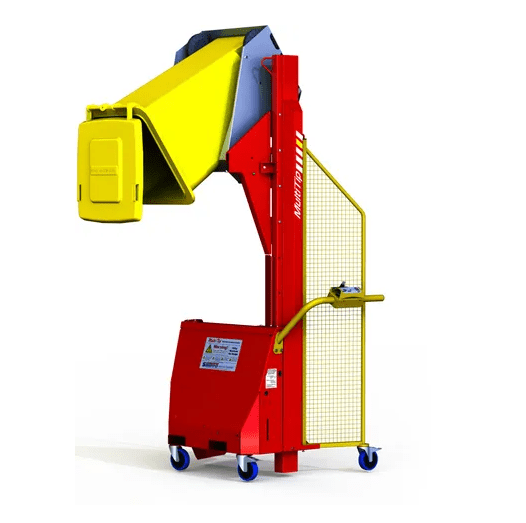 Our Multi-Tip Wheelie Bin Tipper is a cost-effective solution to waste management activities. It is incredibly easy to use and is capable of lifting and tipping loaded bins of up to 150 kg in a 15-second tipping cycle.
This particular model is best suited to operations where regular light tipping activities are performed (up to 10 bins emptied per day). Some organisations who have adopted the Multi-Tip in their working environment include offices, schools, restaurants, small industries, and warehouses. It is ideal for virtually any location as it's safe to transport and low-maintenance.
With its tough and modular design, the Multi-Tip is dependable and reliable. No cage guard is required as the unit required two-hand operation. This prevents an employee from accessing moving parts. The Multi-Tip comes standard as with a lift height of 1.6 m, however, alternative models are available (with lift heights between 1.2 m and 1.8 m).
Additional Information
The Multi-Tip is easy-to-use and ideal for light operations. 
With an innovative single-mast design, the operator has a clear and unobstructed view during use. This ensures safety and control. With a dual-hand system, moving parts cannot be accessed when the bin tipper is being operated. The single-mast is incredibly easy to maintain and clean if required. Use either indoors or outdoors, this Bin Tipper requires no regular maintenance. Its compact design ensures it can be used and transported around the workplace.
As standard, the Multi-Tip comes complete with a fitted cradle that lifts all common-sized wheelie bins. No clamping or modification to the unit or bin is required. However, custom-made cradles are available to empty any commercial container and to suit specific business needs. Various tipping heights of 1200, 1600 and 1800 mm are available.
The Multi-Tip is corrosion resistant and is practical for indoor/outdoor use. Its transportable features allow it to be used practically anywhere. Optionally powered by 240V, 415V or even solar power!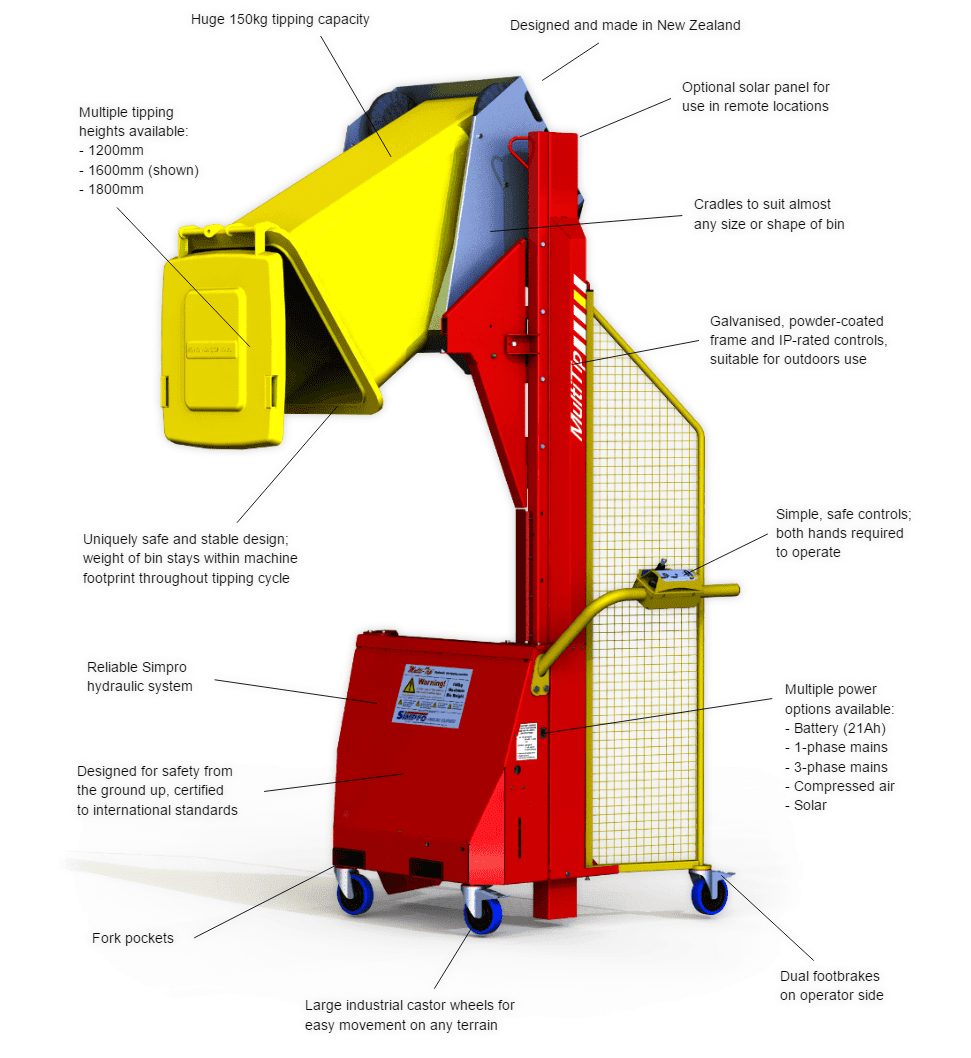 Specifications:
Tipping Height – 1600 mm (optional 1200 mm model and 1200-1800 mm adjustable model)
Height – 2380 mm cradle lowered / 2660 mm cradle raised
Width – 1237 mm
Length – 879 mm
Weight – 160 kg
Capacity (Max. Bin Weight) – 150 kg
Bin Compatibility – 60 L, 80 L, 120 L, 140 L, 240 L Wheelie Bins
Tipping Cycle Duration – 15 seconds
Powder-coated mild steel frame, powder-coated 25 x 25 x 2.5 wire mesh guarding, zinc-plated mild steel cradle.
User Operations – Raise/Lower buttons, safety button, key switch, battery indicator, master lockout switch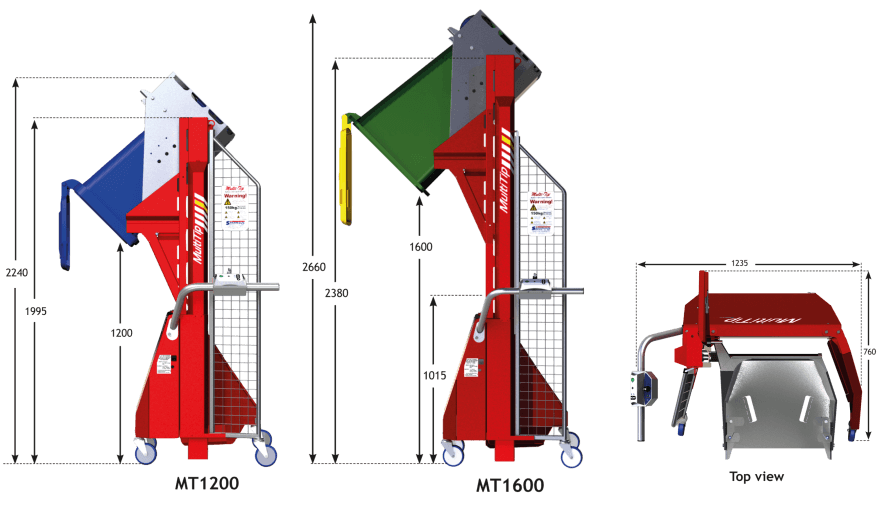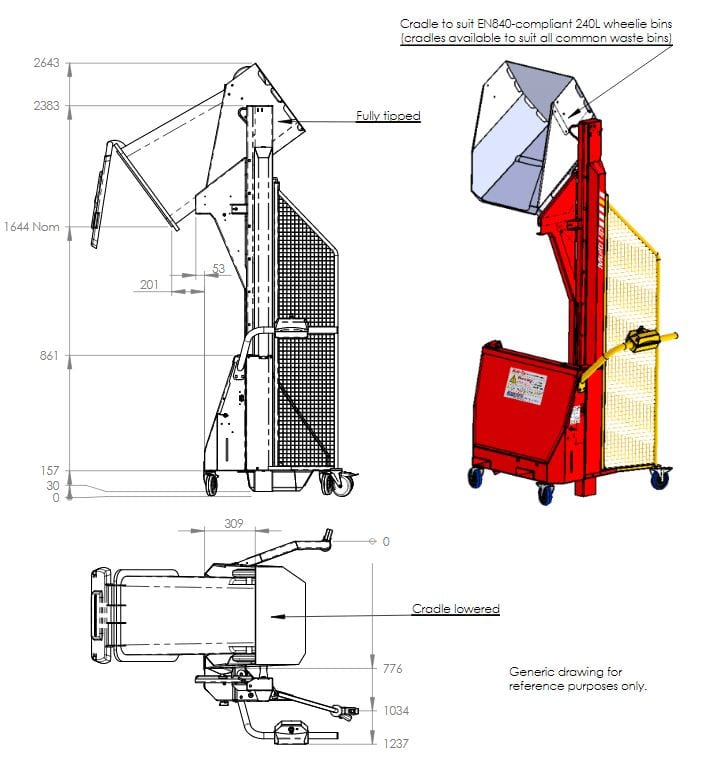 Need to lift at a higher capacity?
Check out our heavy-duty Dumpmaster Wheelie Bin Tipper for loads up to 250 kg. 
Product Variations
Image
Description
Product Code
Price (excl. GST)

Multi Tip wheelie bin tipper
1200mm tip height

MT1200

Multi Tip wheelie bin tipper
1600mm tip height

MT1600

Multi Tip wheelie bin tipper
1800mm tip height

MT1800