Container Unloading Conveyor – Tyres & Parcels
+ Add to Quote Request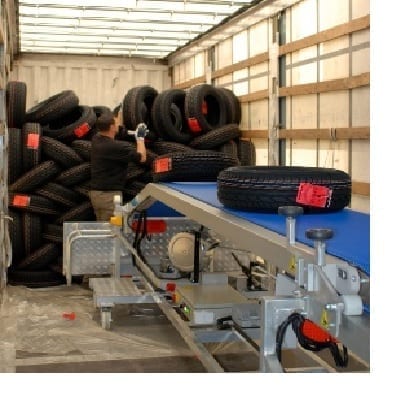 Tyre, Parcel & Sack Container Unloader & Loader with Aluminium Telescopic Conveyors
The unloading & loading of tyres & various other products like bags & parcels via these conveyors, using a height adjustable jack-up platform, reduces the physical burden as well as the risk of injury for employees in comparison to the manual loading process. Keeping these advantages in mind in combination with the increased work efficiency the initial investment in these conveyors gives a good return on investment (ROI) over a short time period. To guarantee ergonomic working procedures the platform can be automatically adjusted according to the level of the product being removed. Tyre & parcel conveyors are identical in their use. The only difference is, that parcel conveyors have additional ramps for carton boxes and the blue band conveyor belts have rubberized inlays. See the image above.
Almost every "major tyre manufacturer" (Michelin, Goodyear, Pirelli, Continental, Bridgestone, Hankook etc,) leading tyre distributors and logistics support companies, globally, have these conveyors in their warehouses.
You can reduce your loading and unloading time remarkably and permanently. On average our customers need 20-30% less loading time and increase the efficiency of their company´s work procedures. Furthermore these conveyors reduce idle times of trucks and the total shipping volume can be used more efficiently based on higher storability options. Because the conveyors are belt, not roller type, they easily handle flexible products like bags & sacks. See the video on the left. They can be optioned with barcode scanners or counting devices.
See the PDF's below for details and drawings and keep browsing our range to view some of our other container loading and unloading devices.
Product Variations
Image
Description
Product Code
Price (excl. GST)

Universal loads/unloads tyres
Adjustable lengths 7.9 to 20.7metres

C680000

Unload only for tyres
Adjustable lengths 7.8 to 20.7metres

C681000

Unload only for tyres
Adjustable lengths 7.3 to 16.7metres

C684000

Universal loads/unloads parcels
Adjustable lengths 8.5 to 20.7metres

C686000

Unload only for parcels
Adjustable lengths 8 to 20.7metres

C687000

Combination lift & drive platform
4metres long

C691000