Concrete Washout Bin
+ Add to Quote Request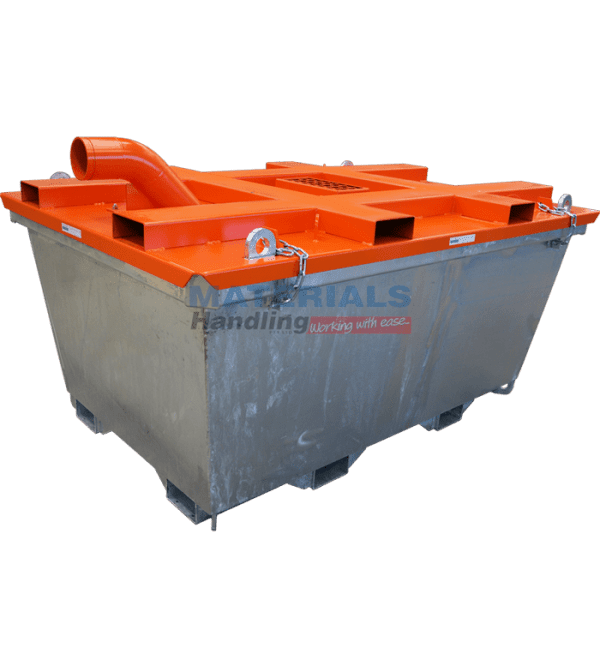 The MCPC Concrete Washout Bin range are a great solution when using boom and line concrete pumps. Featuring a heavy-duty construction, the bin ensures waste intake via its pipe and air vent. This innovative build removes risks of injuries often caused by blow-outs during line cleaning. They make an effective on-site solution and are manufactured in galvanised steel.
The Concrete Washout Bin contains hazards and offers a number of safety benefits. Complying with EPA requirements, the bin prevents pollution and cleanly stores cement waste. Crane lugs and fork pockets ensure the bin can be transported around a work site. This makes it flexible when using in different locations around a warehouse.
One disposable plastic liner is included with each of the MCPC Concrete Washout Bins to assist with easy, fast and cost-effective waste management. They are also optionally available for reorder.
Additional Information
Improve your processes with a durable Concrete Washout Bin!
These bins are a great tool for concrete applications and waste management.  It is used to control, capture and contain concrete washout and run-off, so excess materials can be disposed effectively. They are commonly used on construction and warehouse industries. The portable and flexible nature of our bins, makes them a leading choice for safe handling processes.
Overall Features: 
For use with boom and line concrete pumps.
Can safely be used with compressed air and water line cleans.
Easily removable exhaust air vent for sponge recovery.
Lid has been fitted with crane lugs and fork pockets for fit up and removal.
Lid is secured to bin via safety chains in four points.
Washout Bin is fitted with crane lugs for lifting and upending load.
Washout Bin also has four-way entry fork pockets.
125 mm NB waste intake pipe for quick and safe connection.
Option reducers are available to suit 100 mm, 80 mm or 50 mm pipelines.
Disposable plastic liners are available fir fast and safe waste management.
Lid finished with enamel paint.
Bin manufactured with a galvanised finish.
Select the right Concrete Washout Bin for your applications!
Three models are available to suit your workplace requirements.  With varying Bin Volume Capacities and Working Load Limits, a range of options are available to assist concrete handling and management.
Concrete Washout Bins Specifications: 
| | | | | |
| --- | --- | --- | --- | --- |
| Model | Bin WLL (kg) | Capacity (m3) | Overall Dimensions (mm)  | Unit Weight (kg) |
| MCPC17 | 2000 | 1.3 | 1830 x 1185 x 1280 | 380 |
| MCPC23 | 2000 | 2.5 | 2340 x 1545 x 1316 | 600 |
| MCPC23H | 5000 | 2.4 | 2340 x 1540 x 1324 | 850 |
Disposable Bin Liners are supplied with each bin and are also optionally available. Code MCPC17DPL suits MCPC17 bins and code MCPC23DPL suits MCPC23 and MCPC23H bins.
Looking for other Materials Handling solutions?
View our wide range of Skips, Tippers, Kibbles and Bulk Bags!
Product Variations
Image
Description
Product Code
Price (excl. GST)

Concrete Washout Bin
WLL (kg) 2000
Weight (kg) 380

MCPC17

Concrete Washout Bin
WLL (kg) 2000
Weight (kg) 600

MCPC23

Concrete Washout Bin
WLL (kg) 5000
Weight (kg) 850

MCPC23H

Disposable plastic liner for MCPC17

MCPC17DPL

Disposable plastic liner for MCPC23 & 23H

MCPC23DPL