Chemical Spill Kits
+ Add to Quote Request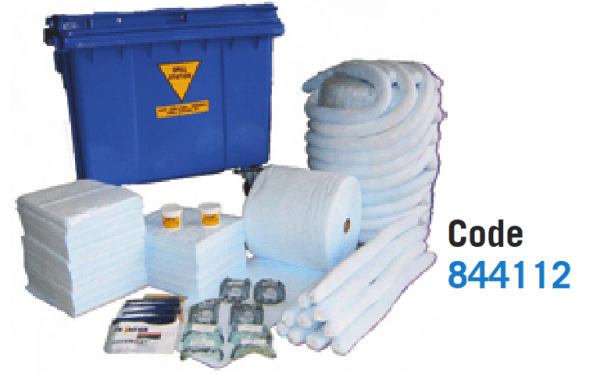 Our Hazchem Chemical Spill Kits are designed to have every tool you need to attend to a hazardous or liquid spillage.  Spill Kits should be placed in numerous locations around your workplace, especially where any chemical is used or stored.
We ensure that our Chemical Spill Kit meets all EPA requirements.  It contains pads which are dust, odour free and will absorb up to 20-times their weight in spill.  These Kits are ideal for acids, caustics, water and all known hydrocarbons.  Each Spill Kit is incredibly lightweight, meaning it is easy to use and transport.  There is no need for brooms or shovels.
The contents of each Spill Kit is in the brochure below below.  We supply every style with a highly visible, durable mobile bin, laminated instruction sheet, weather resistant cap and wall locator sticker.  Full or part refills of contents are also available.
Product Variations
| | | | | |
| --- | --- | --- | --- | --- |
| | Hazchem Spill Kit 870 Litre | 844112 | | |
| | Hazchem Spill Kit 400 Litre | 844113 | | |
| | Hazchem Spill Kit 150 Litre | 844114 | | |
| | Hazchem Spill Kit Refill 870 Litre | TSS660EAR | | |
| | Hazchem Spill Kit Refill 400 Litre | TSS300EAR | | |
| | Hazchem Spill Kit Refill 120 Litre | TSS120EAR | | |