Bicycle Holding Rails
+ Add to Quote Request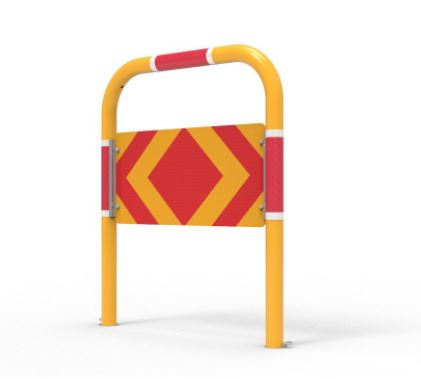 Pedestrians and cyclists both utilise Bicycle Holding Rails to either grab onto or lean on while waiting for traffic conditions to change. They are commonly used at pathways and crossings as a great safety measure. Pedestrians/cyclists can use the rail to support and protect themselves until it is safe to cross or continue their journey.
These rails are durable and made from a hot-dip galvanised construction. Finished with a safety yellow powder-coated paint, they come complete with Class 2 Red and White reflective bands. Available in surface mount and new concrete models with core-drilled sleeves to allow for easy replacement of damaged rails.
Choose from two designs: a rail only option or a rail with a target board.
Additional Information
Protect pedestrians and cyclists!
Bicycle holding rails are U-shaped rails that are placed along the border of a path, which approaches a road or another pathway. They aim to provide cyclists and pedestrians something to grasp onto or rest against while they wait for a suitable break in the oncoming traffic.
Ensure your holding rails are correctly placed
Holding rails must be positioned on the left side of the path, within easy reach of bicycles, to guarantee that they:
Allow bikers to come to a complete stop without dismounting or moving their feet off the pedals.
Encourage cyclists and pedestrians to come to a complete stop when necessary.
Assist cyclists as they hop off their bicycles, minimising the amount of time spent cycling through a junction. This also enhances their balance, thereby increasing their safety.
Give good warning of the presence of an intersection.
In addition to the benefits mentioned above, Bicycle Holding Rails have many other great safety features.
Features: 
Rails are used by cyclists and pedestrians at walkways and crossings.
Available in two standard widths for varying requirements.
Strong and durable design made from hot-dipped galvanised.
Finished in a highly visible yellow powder-coated paint.
Designed with Class 2 Red and White reflective bands.
Sleeve mounted installation for easy replacement of damaged rails.
Surface mount, new concrete and core-drilled sleeves available.
Full installation service available.
Specifications: 
Material –

Rail – 50 N.B. pipe (60.3 mm)
Sleeves – 65 N.B. tube (76.1 mm)

Finish – Galvanised and powder coated with reflective bands.
Height (above ground) – 1000 mm
Height (below ground) – 300 mm
Width – either 800 or 1200 mm
Weight – 13 kg or 16 kg (rail only and depending on the model selected)
Installation – Retained in the sleeve with Gibb key.
Find another Safety Barrier!
Continue browsing our wide selection of Barrier Rails and start protecting your work environment.
Product Variations
| | | | | |
| --- | --- | --- | --- | --- |
| | Holding rail 1200 x 1000 x 60mm | HR1200-BG | $320.00 | |
| | Holding Rail 1200 x 1000 x 60mm with Target Board | HR1200TB-BG | $897.00 | |
| | Holding rail 800 x 1000 x 60mm | HR800-BG | $282.00 | |
| | Holding Rail 800 x 1000 x 60mm with Target Board | HR800TB-BG | $659.00 | |