AIRO-VAC Compressed Air Industrial Vacuum Systems
+ Add to Quote Request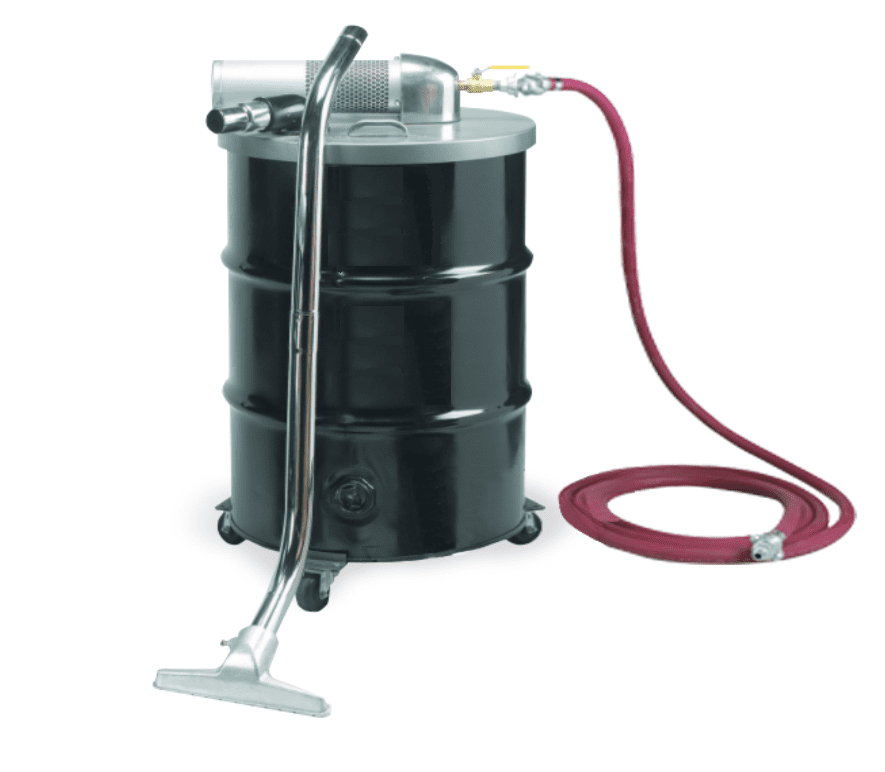 Our AIRO-VAC Vacuum Systems are heavy-duty cleaners able to collect a wide range of materials. With a robust industrial design for vacuum clean up, they are ideal for the recovery of abrasive blasting materials including cement dust, gravel, building materials, waste food products, and powder coating recovery. AIRO-VAC devices can be used for both wet and dry pickup. If using in a wet environment, removal of the filter cartridge is required and it should be replaced with an integrated float ball valve kit.
Place the complete AIRO-VAC lid assembly on a 205-litre steel drum and "hey presto" the empty drum is converted into an extremely powerful vacuum system. Powered by compressed air these units are basically maintenance-free. Only the filter cartridge needs to be changed. There are four models in the range with each model capable of producing 17inHg of vacuum.
These four units are also available in certified stainless steel models.
Additional Information
A great efficient cleaner!
Using the venturi principle, AIRO-VAC machines are able to produce up to 3 times more power than a 15 amp, 3000-watt electric vacuum cleaner! Each model is available with either a 38 or 50 mm vacuum hose. Cloth bag over filter element is also available (designed to increase the filter life).
Users can select their required length and type of hose, along with metal crevice tools, round brushes, gulper tools and wand kits or order ready to go kits. To purchase the lid assembly only individually, (minus the drum and drum dolly) exchange the code suffix below from "K" to "H".
Ready to Go Kit Consists of:
1 x Vacuum Generating Head (100CFM single head or 200CFM dual head)
A liquid shut-off valve (float ball)
10M of Vacuum Hose (38 or 50mm)
1 x Wet/Dry Floor tool with 1200mm wand
1 x Crevice Tool (38 or 50mm)
1 x Gulper Wand (38 or 50mm)
1 x 205litre Drum
1 x Castor Base (Drum dolly)
Anti-Static
When working with combustible dust, flammable or otherwise dangerous substances, or materials with a tendency to build static electricity during conveyance it is strongly advised to choose one of the anti-static, explosion-proof/dust ignition proof pneumatic vacuum cleaners.
HEPA Filtration
Standard cartridge filters are supplied with the units but High-Efficiency Particulate Air (HEPA) filter cartridges are available for toxic applications.
Require an alternative solution? 
For alternative waste disposal products, view our Vacuum Systems range.
Click the PDF button to learn more.
Product Variations
| | | | | |
| --- | --- | --- | --- | --- |
| | 100 cfm x 38mm Wet/dry Kit | AV-100-38K | | |
| | 100 cfm x 50mm Wet/dry Kit | AV-100-50K | | |
| | 200 cfm x 38mm Wet/dry Kit | AV-200-38K | | |
| | 200 cfm x 50mm Wet/dry Kit | AV-200-50K | | |