Stainless Scissor Lift Tables
+ Add to Quote Request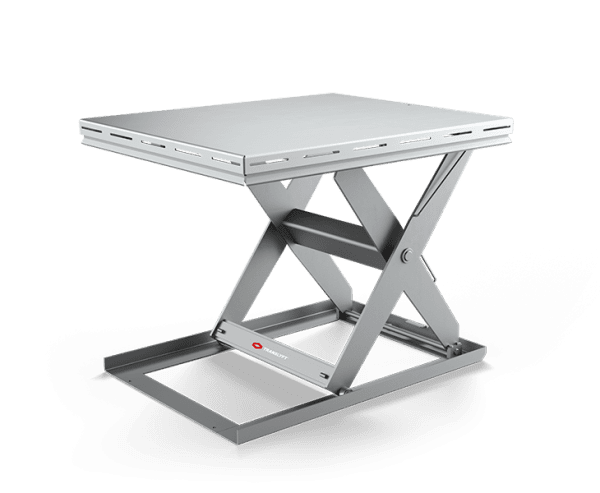 Our Stainless Scissor Lift Tables suit environments with high hygiene priorities, such as chemical, food preparation, manufacturing and pharmaceutical industries. They provide convenient and ergonomic working heights when performing loading and unloading tasks. Made from quality stainless steel materials, the unit ensures superb lifting and lowering functionalities, especially concerning heavy loads.
The table features a long-lasting and durable design that increases efficiency in any workplace by reassuring safety practices. Our Stainless Scissor Lift Tables can withstand wet areas and often used at various stages of the production process or during cleaning requirements.
Additional Information
Stainless Scissor Lift Tables are cost-effective and increase safety (especially in food production). 
Our range of Scissor Lift Tables features varying capacity sizes of 1000 – 2000 kg. The platform, base frame and scissor table are all made in a strong and corrosion-resistant stainless steel, and designed per relevant Australian Standards. Axles, wheels and bolts are also manufactured in the same. Lubrication points and pipes are electro-zinc plated as standard. This design allows the device to be used across a range of environments. For wet areas, we recommend the hydraulic power pack is placed in a protected place, i.e. the other side of a nearby wall to avoid unnecessary downtime.
Standard Features: 
Pressure compensating lowering valve
Safety trip bar on all sides
Maintenance safety bars for service
Power supply – 3 x 415 V / 50 Hz + earth + 0
Control voltage – 24 V DC
Electric box / Switches – IP 65
Motor – IP 54
Filter system – filter on oil tank and the oil return side
Noise level – 50-52 dB
Specifications: 
Capacity – 1000 – 2000 kg
Travel – 716 – 1600 mm
Closed height – 85 – 400 mm
Length – 1300 – 1500 mm
Width – 800 – 1200 mm
Stainless steel
Standard Type 2 Cylinders are included with extra surface treatment, and the piston, rod and cylinder tube are all in stainless steel. The tube is sand-blasted, primed and painted with two coats of polyurethane 2-component paint.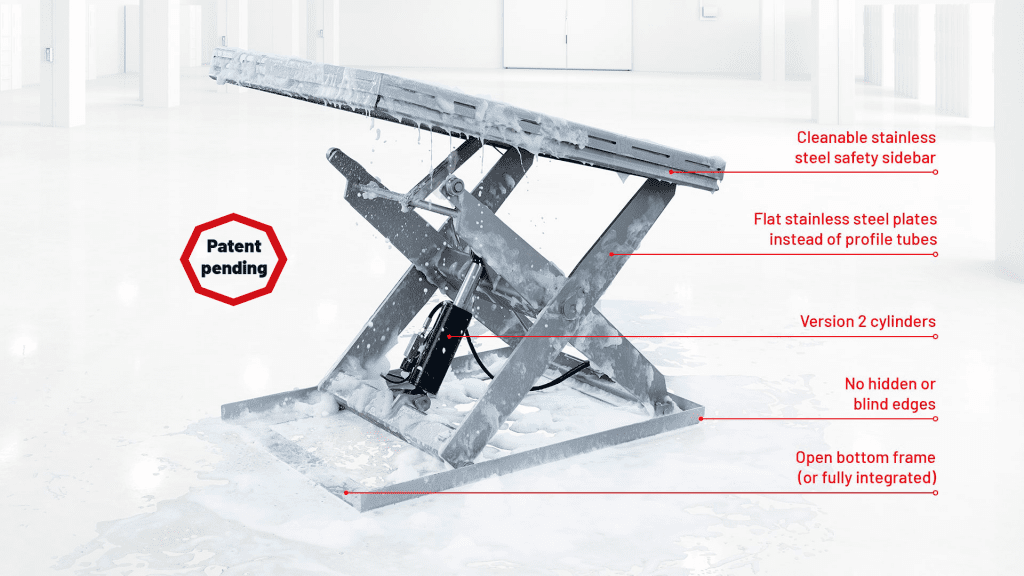 Need help with finding the right scissor lift solution? 
Contact our sales representatives with your specifications, like capacity, lift height, platform size and a brief description of the application. We'll provide the right solution to have you 'working with ease…'.
Product Variations
Image
Description
Product Code
Price (excl. GST)

Eurolift Stainless Scissor Table
Capacity 1000kg
Height Range 80- 800mm superlow
Platform 1000 x1500mm

MTCB1000FSS

Eurolift Stainless Scissor Table
Capacity 2000kg
Height Range 105- 800mm superlow
Platform 1000 x1500mm

MTCB2000FSS

Eurolift Stainless Scissor Table
Capacity 1000kg
Height Range 180-1010mm
Platform 1000x1300mm

MTL1000FSS

Eurolift Stainless Scissor Table
Capacity 2000kg
Height Range 230-1050mm
Platform 1000x1300mm

MTL2000FSS

Eurolift Stainless Scissor Table double vertical
Capacity 1000kg
Height Range 360-1960mm
Platform 1000x1300mm

MTLD1000FSS