Lo Lift Scissor Platform
+ Add to Quote Request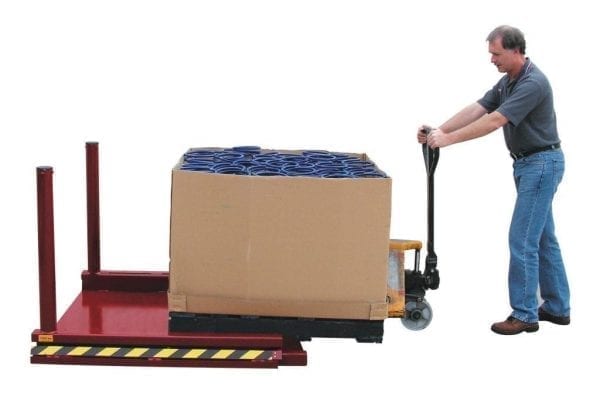 The Lo Lift Scissor Platform is a floor level, pallet-sized platform. It features an innovative low profile design that allows pallet truck and trolley access. There is no need to build a concrete pit, as this particular lift table is completely unique.
Featuring a minimal low height clearance, this device saves on installation costs. It provides a great alternative solution for workplaces where scissors cannot be used. The table has been built to lower its tray onto the floor, allowing access for pallet handling equipment. Goods can easily be rolled on or off.
The Lo Lift Scissor Platform is effective, robust and safe. Manufactured in Australia, it complies with relevant Occupational Health and Safety regulations and Standards. Keep browsing our range and view our some of our other container loading and unloading devices.
Additional Information
The Lo Lift Scissor Platform provides a safe, no pit lift table solution!
The clever design of this scissor table delivers an extremely low, near-zero, collapsed height of 40 mm to allow products roll-on access. The short transition ramp allows easy loading via a pallet truck or trolley. This solution is perfect when placed at a dock loading for safe access from the dock level to the ground floor. The Lo Lift Scissor Platform is designed and made in Australia, providing excellent quality and options for customisation.
MSA1000 Highlights:
Ultra Low Profile Design (40 mm)
Roll-on and off access for pallet trucks and trolleys
Single Pallet size to Multiple Pallet models
Does not require a cut-in pit for your facility (as per most traditional scissor lifts)
1000 kg lift capacity
Suits palletising applications, mail-sorting, leased premises, small docks and landing access hoists, etc.
The Lo Lift Scissor Platform is used in industrial applications where wheeled access onto the lift deck is essential. Its durable construction complies with relevant Australian Standards, like AS 1250. It has been adopted in workplaces who've needed to unload stillages, containers, bins and bags, as well as to service process and production equipment, and elevating products placed on conveyors.
Continue searching other products.
Require something else? View our entire Scissor Lifts and Load Levelling range.
Product Variations
| | | | | |
| --- | --- | --- | --- | --- |
| | Lo-Lift Scissor Table | MSA1000 | | |